Story by Dave Spanton
Bennets Bar, 8 Leven St, Edinburgh
bennetsbaredinburgh.co.uk
A truly classic old Victorian style pub that dates back to 1839 and is a true gem. The fit-out is beautiful and what gets you in the door is that it still has a 'jug bar' – an old Scottish pub tradition which was a section of the pub were the women and children would enter separately and stay unseen by the men folk and not distract them from their drinking. Different times now, that's for sure. The pub is popular with the theatre type as it's located right next door to the King's Theatre and not far up the road from the Canny Man's so make sure you swing past.
The Canny Man's, 237 Morningside Rd, Morningside
cannymans.co.uk
Okay, now we're talking. This old no-nonsense boozer is a must visit and hits all the right notes. Established in 1871 (and I'm told been run by the Kerr family since opening) you can feel the attention to detail from the owners. This is evident from the attentive and friendly staff and a bartender with good chat. The term 'free house 'or freehold is used to advertise some places I have noticed, and it tells punters that the establishment is not owned or under any brewery exclusive pour deals and therefore independent. What that means is that they can therefore offer punters any tasty real ales — and that's what you get at Canny Man's. A modest whisky selection is on offer, as you would expect, plus you need to try their smørrebrød (Scandinavian for open sandwiches) selection for which they are famous. They also do a smashing Sunday roast. Get down and check out this cosy and quirky pub which was easily my favourite boozer in the city.
Salt Horse Bar, 57-61 Blackfriars Street
salthorse.beer
This cosy little craft beer joint is just off the busy tourist thoroughfare that is High Street and down one of the picturesque laneways that make up this beautiful city. The place is made up of two shops — one being a craft beer bottle shop and the other the bar with 12 rotating local and international brews on tap plus over 300 bottled beers to order from. It feels more like a cosy café than the normal noisy bars with friendly staff that seem happy to guide you through some of the weird brews on offer. It seems that Scotland also has been taken over by the burger craze of the past decade and Salt Horse is no exception. I must say their classic cheeseburgers and loaded fries are done well and let's be honest, they go bloody well with a pint or two.
Oink, 34 Victoria Street
oinkhogroast.co.uk
Now I am including these little Scottish hog roast sandwich shops (I believe there are three in the city) as they proved popular for Sam and me for that between pubs go-to quick snack. They keep it simple with just tasty pork, stuffing, cracking, roll and sauce and they pump them out to queues of hungry late-night revellers. Simple good value food done well – check it out.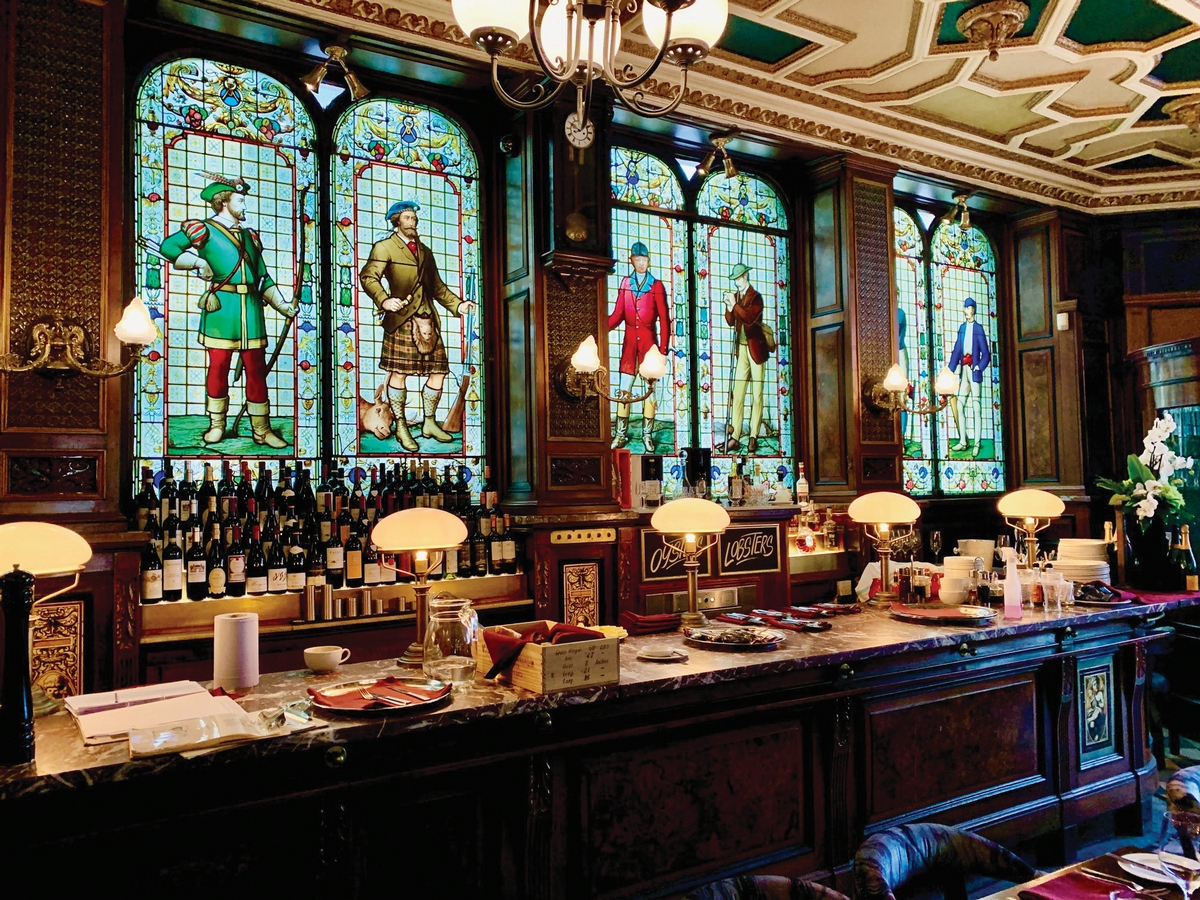 The Café Royal Hotel, 19 W Register Street
belhavenpubs.co.uk/pubs/midlothian/cafe-royal-circle-bar
The hotel's history extends back to 1826 at a location across the street from its existing Parisian building that it has occupied from 1861. The fit-out is a beautiful example of Victorian and Baroque design with its stunning stained glass and ceramic murals. I stumbled upon Café Royal while looking at the city's most famous accommodation hotel, The Balmoral, which is just around the corner and it seems popular with locals and tourists alike. What a great way to spend our last day in this beautiful country on our whisky adventure than with some oysters, Guinness and a few whiskies. Out of all the pubs we visited over the few days in Edinburgh I 100 percent suggest you put the Canny Man's then The Café Royal at the top of your list.
The Sheep Heid Inn, 43-45 The Causeway
thesheepheidedinburgh.co.uk
Just based on the fact this pub lays claim to being 600 years old means you need to pop in for a pint but to be honest it looks and feels more modern gastro pub for my liking and add to it the skittles alleys (a pinball style game) inside and you quickly understand it's targeting the more profitable tourist punter than your more old school local boozer which I must say I was hoping for. Putting that aside the pub is still very charming and does a roaring F&B trade. I'm told and it's a great place to visit if you have just climbed the mountain next door which is one of the city's major attractions thanks to Arthur's Chair.
The Bow Bar, 80 W Bow
thebowbar.co.uk
Situated on one of the most picturesque and busy streets in the old town and just up from the Grassmarket, the simple old school fit-out of the Bow Bar would have you to believe it has been around for generations. The truth is that it's only been around since 1987. It was painstakingly built from old materials bought at auctions like churches and railways. Now inside this simple one room pub you will see eight brass beer taps showcasing an ever-changing line-up of real ales along with a quality backbar of popular whiskies. The one downside is that they don't serve the nectar of the gods (Guinness) but instead do a stellar line up of craft ales.