This story featured in the August issue of Australian Bartender magazine which boasts a whole line-up of new contributors, including the magazine's founding editor, Naren Young. Here is is first in a series of monthly columns:
Now is the perfect time to reassess your drinks offering for a post-iso audience
Story by Naren Young
It's good to be back! Some of you might know that I started this magazine with Dave over 20 years ago and though I've been out of the mix, so to speak, for a while now, it's great to see Bartender Mag going as strong as ever with a lot of insightful content and global commentary. On that note, I'm going to bring you a series of articles, looking at what is happening around the world, especially during this difficult and rather confusing period in our history with some insights from some of the titans of our industry.
ADVERTISEMENT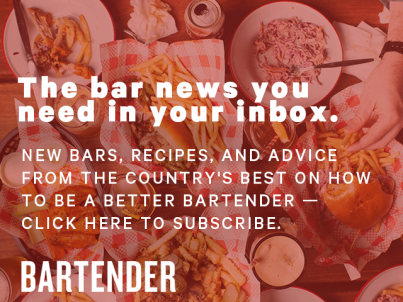 &nbsp
I've been based in New York City for the last 14 years and for anyone that watches the news for even a fleeting moment will know that the situation across the US is pretty dire, though Gotham City is definitely leading the charge in terms of bouncing back, albeit cautiously. The realities of the virus are hitting the hospitality industry especially hard; harder than almost any other part of the economy in fact. Almost 40 million Americans have filed for unemployment (myself included for the first time in my life) with an estimated 60% of these being hospitality workers, up and down the supply chain.
The struggles that we're going through are no different than many other countries, Australia included. That said, Australia's relative isolation and its much lower population (and the spread of that population) have perhaps resulted in your reopening of bars and restaurants at a faster rate. Of course, this is a broad generalisation, but it genuinely warms my heart to see some of my oldest pals, like Mike Enright, reopen the doors to The Duke of Clarence (one of my favorite bars in the country) once again. I wish him, and others following suit my sincere best wishes for the road ahead.
Reduced capacity in venues, social distancing and all these new normals that we're all navigating are exactly that: we'll all be going through similar situations, just at different times. It's up to us as operators, coupled with the behavior of our guests, that will determine how this all transpires and how we evolve coherently as a bar community globally. We can and should all learn from each other in terms of systems, best practices, protocols and creativity if we are to come out of this stronger and smarter.
In fact, it is that very word – 'creativity' – that is helping shape how we do move forward.
Bars have had to be more creative than ever and adjust quickly and even change their entire concepts and business models because of the new ways that our guests are interacting and indeed drinking. Over here, the laws pertaining to public consumption have been more lax than ever and many bars have shifted their operations to be entirely take-out and delivery because this is their only option for survival.
Whether that keeps many of them afloat in the long term (and this is a long-term problem), well, we'll just have to wait and see. That's why it's more important than ever to support your local bars: whether that's through buying cocktails, gift vouchers, merchandise, meals for front line workers, whatever it takes, now is the time to step up and do whatever you can financially afford at this time. Just the other day, I popped down to Clover Club in Brooklyn, one of America's most celebrated cocktail bars, where owner and industry luminary Julie Reiner was on the tools, making drinks for an appreciative crowd that were just glad to see them back open and making a go of it.
As I perused her menu and those of many other bars online, one thing I've noticed is a welcome return to simple, classic cocktails. At times like this, I really believe that people are looking for comfort in the familiar in their food and beverage choices. Lasagna, roast chicken, Spag Bol etc. They also want Martinis, Manhattans, Negronis and the like. Not that they ever went away. They've just seemed to manifest themselves in this time of crisis.
For some, the question begs: how do I maintain my vision and integrity of my bar while serving things I never normally would? For others, they don't care about this right now because they're just trying to pay their staff (many of whom are undocumented workers and can't claim any benefits) and keep the lights on. I totally get that mentality too. This is no time to be precious.
Does anyone really want those high concept, over-thought, exotic or esoteric drinks right now? Probably not. Such drinks do and should absolutely have their place in our industry; it's that kind of creativity that keeps this industry so exciting and dynamic. Just maybe not right now. The one drink that has emerged as THE drink of Covid (at least over here) is undoubtedly the Margarita. I've never drunk more Margs in my life as I have the last couple of months. There's a reason why it's the world's most popular cocktail, because you can get one in any style of bar in the world, no matter how high or low the concept. Sure, some of them might barely pass as an, ahem, 'Margarita', but you will get one. And surely that's one reason to celebrate right now.
Stay strong everyone and remember, now more than ever, to be kind, compassionate, empathetic, hopeful and helpful to each other.
Much love from the Big Apple x