Story by Amy Spanton. Photography by Black Sheep Design
18 York Street, Sydney
Princeofyork.com.au
We're mid-way through 2020 and at the time of going to press the Prince of York has been open less than 12 months. When it opened, it was billed as a bustling, sprawling, multi-faceted venue in an old bank building in the heart of the city, with the promise of dinner and dancing and a pending application for a 2am license. Then March came, and the team from Prince of York, who only had six months of operation under their belt, went into damage control mode.
That team includes behind Prince of York has some deep credibility in the hospitality game. Former Keystone Group Director (and one of the brains behind the Gazebo wine concept), Paul Schulte, was the driving force, pulling together some of his old hospo pals (who worked together back at Cargo bar circa 2003). Partners include Andy Emerson and Ed Loveday (Acme and Bar Brose), Executive Chef Sam Bull (Icebergs Dining Room & Bar) as well as bar manager Reece Griffiths (founder of Agave Cartel and the man behind Chula).
ADVERTISEMENT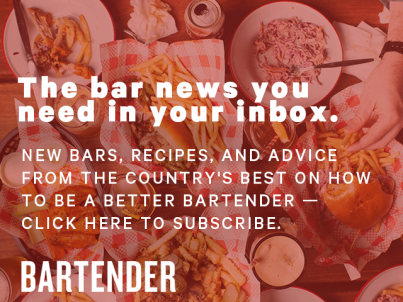 &nbsp
The venue itself has an enviable glass street front with an outlook onto York Street. It's an area that has become a real hub for small bars in recent years with the likes of Burrow Bar, Old Mate's, The Barber Shop, Ash Street Cellar and Gorgeous George, among others, all within a stone's throw.
The street-level floor is for eating from noon till late. Enter through the glass doors and it's the massive central concrete island bar that you'll notice first. Pull up a leather bar stool and kick back with a signature Rose Spritz (Rose, Fino sherry, elderflower and lychee). Exposed brick walls and black and white prints make this the perfect modern city eatery with great options for sharing (think octopus or spicy meatballs) or a big bowl of pasta for one – spaghetti crab in a bag is always a hit.
Next level down is the cellar bar which boasts an offering which has been a labour of love and is stocked with rare wines and Mezcals (note Griffiths influence here). Finally, on the ground floor is Pamela's – a tribute to Schulte's disco and Champagne-loving mum. Blush pink velvet sofas and a disco ball that spins perennially, this is the place to stow
your stuff in a locker and dance the night away. Well, it will be once social distancing restrictions end.
Given the current climate, the venue has used their sizeable floorspace to accommodate a total of 99 seated and socially distanced patrons in the various spaces. Staffing has been interesting, says Griffiths. When lockdown came into effect in late March, the venue was left with no choice but to scale back the staff to the management team who were entitled to JobKeeper and pivot to takeaway.
According to Griffiths, they are booked solid on the weekends and are still able to take walk-ins for lunch during the week. In fact, with the added stress on capacity, the bars in the local area have a Whatsapp group that they use to check availability for walk-ins with other local bars so patrons aren't left standing in the cold. "It's really been quite cool, to see all the ways the bars have been pitching in and helping each other," says Griffiths.
Read on as agave-loving industry stalwart, Bar Manager Reece Griffiths tells us in his own words about the last 12 months:
I ended up at Prince of York in 2019. I was looking for a role which would let me really get working on a new mezcal project that has been on the backburner, and also let me get back into my WSET study. Andy Emerson and Ed Loveday have been great mates for a long time (we all worked together at Cargo in early 2000s), and I have always loved their venues. So it was a no brainer for me.
Before COVID, it was a big change being back in the city, being open lunch and dinner seven days. Totally new clientele, totally new challenges, three bars, massive venue. It was amazing to see the energy in the city, and I think what we have created is pretty special, somewhere you can start with dinner and end up on the dancefloor.
Over the three levels we have a pretty continuous offering with some slight changes in focus. The major focus across the venue is of course wine, to quote Ed Loveday on it "We work with winemakers who are virtuous in the vineyards but don't fuck around in the cellar". I think that nails it. The Wine Bar is our main dining room. In the cellar we have a bigger bar and dining space which sees an extended seasonal cocktail offering, and our wine vault for rare and baller bottles. In Pamela's, we are all about tequila, mezcal, champagne and punch bowls. Dance floor drinks. Everything is about speed of service for us so bottled and tap cocktails play a big role for us.
The last four or five months have been pretty challenging. With the lockdown we essentially became three new businesses overnight, so flipping that on the spot was crazy. We had a food truck, cocktail delivery, wine shop, cook at home food and takeaway. I don't think anyone knew what the next day would bring so we just tried to roll with it and adapt as best we could. We turned the wine bar completely into a bottle shop, cleared all the beer lines and put all our cocktails on tap so we could bottle them easily and deliver.
I guess for us, we reacted as quickly as possible. For a big new venue like us, we had to try and keep cash flow immediately to keep people in jobs, so we pulled the trigger straight away and learnt as we went along. I think the biggest lesson I learnt from this is trying to diversify your business at all times. Seeing how other businesses did it was inspiring as well, Chau and Bryce at Burrow were epic and selfless with the way they adapted, and that shit was inspiring to see. All the bars helping each other when shit hit the fan was a very humbling thing to see.
Lockdowns are easing but I think the effects will be long lasting, and restaurant dining has changed forever. People are so excited to be out right now, and the energy is really positive, but it's not going to be easy. I really hope all these venues we love can pull through.
For me, in the next few years I hope to see a few projects that have been working on for a long time coming to fruition. This year I will be bringing over mezcals and sotols from Origen Raiz from Durango, which is a collab between Asis Cortes and Bildo Saravia, it's an amazing project I've been lucky enough to be involved with since nearly the first batch was made, so getting to bring this liquid to Australia is pretty special for me.
When life returns to normal, I'll be on a plane straight back to Mexico.