As told to Amy Spanton. Portrait by Christopher Pearce.
Pasan Wijesena, owner of Earl's Juke Joint and Jacoby's Tiki Bar in Sydney's inner west took the time to sit down with us when we did this month's photoshoot at Jacoby's for the issue that is landing now. With a pedigree that comes from a career working with Swillhouse owners Anton Forte and Jason Scott, Pasan got the itch to branch out on his own. Here's his story of bar ownership, starting with a commerce degree and some casual bartending.
My career in hospitality started while I was working in an IT company straight after university where I studied commerce. I was trying to get into marketing, did some bartending at night to try and mix things up. I decided to quit the IT job but meanwhile I kept bartending, never imagining it would be the career, and I just stuck with it. And it became a full-time job.
I met Jason and Anton at Oxford Art Factory and then we decided to set up Shady Pines and that's where it all started. I was there at Shady Pines for three years.
ADVERTISEMENT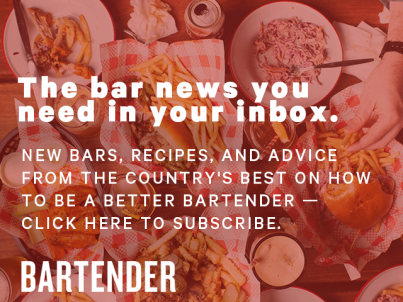 &nbsp
But first let's take a step back. Anton and I worked together at Ruby Rabbit, that's where we met and we had staff drinks one night and he was just talking and said he was going to GM at Oxford Art Factory with Jason. They were the two original GMs there. The idea for Shady Pines gestated there. The small bar license became a reality. We went on to do Shady Pines. After three years there, I had itchy feet and wanted to do my own thing.
I've always lived around Newtown, and there were no local bars. Jason really pushed me, he said "You know Newtown, you should definitely go and do a bar there." So that's how I started Earl's. Anton and Jason were really supportive of me. I think if you talk to any of that original crew at Shady Pines, like Jeremy Blackmore, Alex Dowd, a lot of good came out of that original team. It was a really inspiring environment.
I opened Earl's Juke Joint in 2013, so it's now seven years old. I then bought those guys out four years ago. So it's now completely owned by me and my dad. My parents definitely thought hospitality was a phase. They were always dropping hints like 'Maybe you'd like to take over your dad's engineering firm'. Funnily enough it was something as mundane as Masterchef becoming big to get them to see hospitality was a decent career choice. They could also see it was something I was really happy doing.
I love the hospitality industry. I love that you can indulge your creative side. I love the fraternal nature between other operators and staff. And I think ultimately you get to do what you love so it doesn't really feel like work so much. I also love the innovation. Seeing what venues are doing to stay relevant and connected to their guests during the pandemic is really inspiring. Right now, you're seeing the operators (who are able to) who genuinely love hospitality making sure they are still there for their staff and guests.
There are things I hate. There's the toxic masculinity which is in the industry but it's something that's being exposed and weeded out now. I have publicly spoken out against people. Without naming names – I've spoken to brands about people who represent them, and that our venues would refuse to stock their products unless steps were taken. It's important for those of us with a platform or in positions of power/influence to actually do something and not just espouse to do so.  In my environment we have zero tolerance for that stuff, we strike down on it pretty quickly. Having female bar managers makes a big difference to the culture of the venue. There is also the drug and alcohol dependence in our industry, which is again something that is being addressed with a bigger focus on mental health and health itself.
COVID has fast forwarded a lot of stuff for us. Your venue can shut down overnight and maybe bricks and mortar isn't enough anymore. Having something else to offer is definitely valuable – retail, merchandise, an online profile – all these things matter a lot more now.
Being in a local suburban area has definitely helped us. If we were in the CBD it would be a lot more difficult. Smaller venues are better positioned to pivot and make quick decisions.
As venue operators we have many roles. To provide guests with multi-sensory experiences, interesting, seasonal and sustainable menus, to provide the best quality customer service, to introduce them to a new artisan spirit or a well-made classic. However, one role that's always been implied but never really championed, is now at the forefront. To provide them with safe venues. And in the COVID era that means hygiene and social distancing. Communication is key. Use your socials, use signage. Talk to your guests. Nobody has been mad once it's explained to them why we need to do all these new things.
We are still at least 12-18 months away from a vaccine, so let's just get on with it so we can continue doing what we love: providing guests with a safe and considered environment is just as important as topping up water, and making a world class drink.
I think the hospitality industry will be different on the other side of this pandemic. I think operators with a solid business model will make it through okay. It's forced everyone to look at their business with a really critical eye, trim all the fat and be really efficient. It's rewarded venues with a good culture. For example, all our staff are on JobKeeper – all our staff have been with us for two years, some as long as seven.
In a weird way it has made cocktail bars special again. Now that we have reduced trading, the customers that are in here are staying longer and spending more money, they're getting served better. It's almost made it better.
Remember, the hospitality industry is FUN. The cliche is that people drink in good times, and they drink in bad times. But that aside, it's our job to keep connected to our guests, and to still offer them hospitality and a fun respite from life. Whether that's via a take-away cocktail, a socially-distanced room or a zoom panel chat or spotify playlist. We still can make things better for people, and people do want to support their local bars. Bars are all about the people, and that's never been more apparent or important that now.