Story by Dan Gregory, Bar Manager at Evolve Spirits Bar, Hobart
Last article I was diving into the classic cocktail book, finding old gems and polishing them up so they won't be lost in the pages. I also mentioned that the idea of creating a modern classic is done and dusted for the time being. I have been thinking about this more and I wonder if maybe that's because no one is keeping a detailed record of the drinks being slung across our amazing bars.
Drinks that will ultimately disappear in the POS system or a scrap of paper tossed in a desk drawer. I am personally very happy to share my recipes and re-worked specs with whoever would like to see them. The same goes for any recipes someone wants to share with me, I love trying new combinations and drinks that I wouldn't naturally think of at the time.
This brings me to a book that is close to my heart, The Joy of Mixology by the late Gary 'Gaz' Regan. This was the first cocktail book I read from cover to cover when I started bartending and probably the most read in my library. I always gravitated towards Regan's writing, one of the main reasons is his amazing ability to collect recipes and showcase bartenders from all parts of the world. You will find the usual mainstay classics with a bit of history and reference points. But also drinks that he's come across in his travels or from fellow colleagues such as Audrey Saunders, Ted Haigh and Robert Hess. This shows you that if we don't share or catalogue our drinks they'll stay in that dusty drawer.
ADVERTISEMENT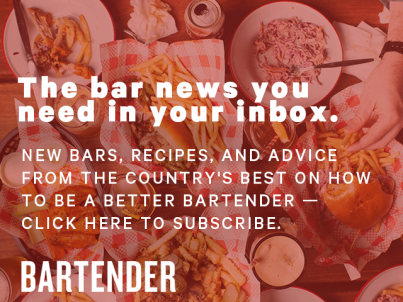 &nbsp
Not only does this book showcase a collection of drinks gathered from old to new recipes, there is a 2018 revised and updated version to sink your teeth into. Regan has broken the drinks down into families, which was super helpful when I was just starting out. There is even four and a half pages listing the density of spirits and liqueurs in a spreadsheet format. It's super nerdy but fun to see how many you can layer in a shot glass when it's quiet at work. I could go on about this book, but I can't stress enough if you've never
read it or it's been a while, get it in your hot little hands.
Given that Regan was always championing fellow bartenders' drinks, I would like to show some respect to this humble man and present you with two of his creations from The Joy of Mixology. Both simple on paper but complex in the glass, please try and play with the specs. If you find different specs balance better or another product which elevates the drink to a new level, hit me up as I would love to try it.
Tart Gin Cooler
50 ml gin (I used Lawrenny 1818 Settlers but anything over 45% works best)
50 ml ruby grapefruit juice (fresh is always best)
50 ml dry tonic water
2 dashes Peychaud's Bitters (or to taste)
Build in a frozen hi-ball
Add ice
Garnish with a grapefruit wedge.
Best served when in the sunshine or wanting a refreshing kick
Copper Swan Cocktail
40 ml subtle peated single malt whisky (I used Talisker 10yr, originally Highland Park which also works super well)
25 ml Marionette Apricot Brandy (if you use something sweeter up the whisky and drop the liqueur)
Add all ingredients to a chilled mixing glass and stir down well with ice.
Strain over a large cube of ice in a chilled rocks glass, garnish with a lemon twist or disc.
Best served towards the end of a long day or a nightcap