This column featured in our September issue of Bartender magazine with our new columnist, Macq01 Food & Beverage Manager, Emma Azon-Jacometti
For as long as a snow-peaked summit has provided its capital city's backdrop, Tasmania has held an undeniable appeal to visitors from all over the world. The state's bar industry has benefited from the rise of Brand Tasmania and the steady flow of tourists that comes with it. While they might travel here for different reasons, there's one common variable: they all need a drink. And as the Tasmanian wine, beer and spirits industry has really hit its straps over the past decade, so too have tourists' interest in and readiness to spend on local tipples. Tassie bars are booming.
That is, of course, until a cheeky little virus shut down the state's tourism industry for three months. Sure, there were stories of ingenuity and even business improvement as operators adapted to an unfamiliar environment, but for the vast majority of Tasmania's bars, it was a long slog of lay-offs that characterised the early months of 2020.
Premier Gutwein's conservative approach to reopening borders has paid impressive dividends in keeping Tassie as clean of COVID-19 as the air for which the state is famous, but it's also resulted in a new customer demographic in those bars around the state that have reopened. Gone are the mainlanders chasing a dram of the Sullivans Cove French Oak which they can't get their hands on at home, and in are the locals, finally free from iso-life and keen to drink just about anything, as long as it's with someone who isn't their cat.
And, thanks in large part to how seriously the state's drinkers have taken the #supportlocal movement, many Tasmanian bars are thriving. Those that made it through several months of closure or very limited trade have come out the other end with a tuned-up offering for a new market.
ADVERTISEMENT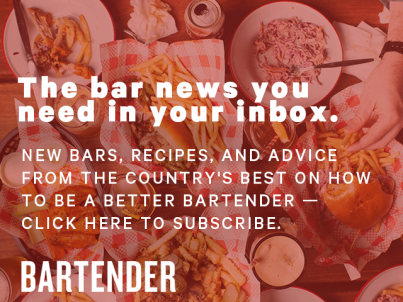 &nbsp
2017's Bartender of the Year Dan Gregory manages Evolve Spirits Bar on Hobart's waterfront and has noticed several changes to the drinking habits of his venue's clientele. Evolve is currently trading on Friday and Saturday nights only, and Dan says locals treat their weekends differently to the pre-COVID largely tourist crowd.
"Tourists tended to have one round of G+Ts and then head off to dinner or the next bar on their hit list," he says. "But the local crowd is more inclined to stick around for a few hours and make their way through several rounds of cocktails."
Additionally, he's noticed the no-standing-at-the-bar precaution has had an impact on guest behaviours. "Most venues are now offering lounge-style service, which feels like a treat to the customer," he says. "It makes it harder for people to leave, and easier for them to order one or two more drinks than they might have otherwise."
For many Tasmanians, annual holidays have been cancelled, so the Europe fund is getting a solid work-out on luxurious staycations that include long nights in local venues, with the added indulgence of an Uber fare home. It's resulted in a higher average spend and a larger number of libations per guest in the state's bars, and many operators are pleasantly surprised by the sustainability of their businesses in such uncertain times.
Try as it may to bring down an entire industry, coronavirus has nothing on Tasmanian bars. After all, locals are just like tourists: they all need a drink.