Of all the fun and flamboyant tiki drinks out there, it's hard to go past the Mai Tai. It's often described as the king of tiki drinks and attributed to the king of tiki himself, Trader Vic Bergeron.
From a cocktail history perspective, the drink traces its roots back to Trader Vic's Polynesian restaurant in the 1940s in Oakland California. He tested out this new drink on his friends, one of whom is said to have exclaimed 'Mai Tai-Roa Aé' which means "Out of this world – the best" in Tahitian. Hence the name.
Fast forward nearly 80 years and the folks at Jacoby's Tiki Bar in Sydney's Enmore are banging out some pretty tasty tiki drinks. The house grog (a proprietorial blend of unaged rum, aged rum, a dark Jamaican style rum and an overproof rum) is the key to emulating the classic tiki drinks of yesteryear says Jacoby's owner, Pasan Wijesena.
Thanks to Jacoby's for hosting us for our photoshoot for the September issue and to bartender Tim Ross for his drink styling.
ADVERTISEMENT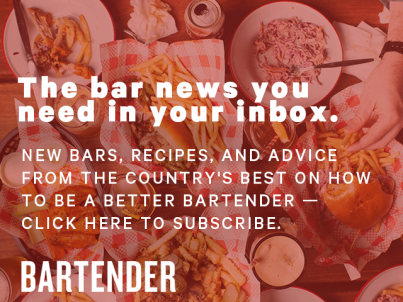 &nbsp
Jacoby's Mai Tai
45 ml House Grog*
15 ml curaçao
15 ml orgeat
30 ml lime juice
2-3 dashes Angostura bitters
Add House grog
Add curaçao
Add lime juice
Add orgeat
Add ice to shaker
Blend
Pour without straining into your tiki glass
Top with bitters
Add more ice
Garnish with everything you can
lay your hands on
Dust with icing sugar and … voila!
*House Grog A blend of unaged rum, aged rum, a dark Jamaican style rum and an overproof rum. (Proportions are secret) to try and emulate the classic recipes that called for a blend of different styles eg Puerto rican, Jamaican, Cuban.