Never did we imagine a time when brand ambassadors would be grounded and kept out of the bars they frequent. When coronavirus set the bar industry (and the world) on fire, brand ambassadors, like their bar industry brethren, had to come up with new ways to stay relevant. We all want to be here on the flipside of this, so how does that look? In our September issue, we asked nine of our industry's brand ambassadors to talk about how their lives have changed since coronavirus.
Next up in our series of interviews we have Sai Hamsala from Diplomatico Rum.
This year has thrown a massive curveball at everyone in our industry, and the world, how have brand ambassadors maintained their relevance?
The best way to connect with someone and create an experience is to meet them face-to-face, as we do in masterclasses, parties and socialising. Our challenge? We had to pivot our connection to adding value to our friends from the comfort of their home. I took to social media with inspiration to encourage everyone to take the time out for themselves and enjoy staying at home with liquid luxury.
Brand Ambassadors all over streamed live with international industry connoisseurs like Dave Broom, and our community champions like Stephano Filardi at Maybe Sammy to bring the late-night bar conversations home.
In your role specifically, what do you miss the most about life before COVID?
I miss the simple things! I miss the busyness of hosting great nights for people and organising events to create experiences for people! Asking myself the question "how do I bring the face-to-face experiences through a screen?" forced me to become creative.
I miss holding events at bars and learning new things from well-known international guests like Ian Burrell at Beneath Driver Lane in Melbourne, sharing well-crafted rum cocktails at Lobo in Sydney, or hosting fun parties at Rude Boy in Hobart.
ADVERTISEMENT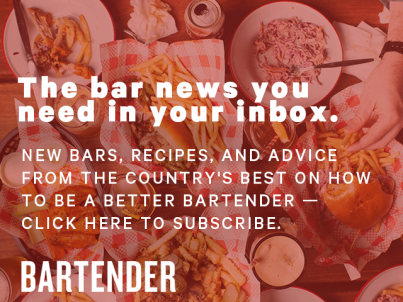 &nbsp
It has been said that this pandemic will change the hospitality industry forever. Do you agree with this or not? Explain.
Our hospitality industry has changed. It has shifted out of their comfort zone and defined the new norm for brands and how the industry interacts.  We're changing our service methods to the world of digital with online stores selling merchandise (like Chau Tran's HospoThreads), selling specially crafted cocktails (Cocktails on the Couch with PS40, Sydney) for home consumption, online education platforms and events. One thing that won't change is people will still come to bars for great drinks, awesome experiences and human interaction.
What are your hopes for 2021?
I hope I wake up and 2020 is all a dream! Failing that, my hope for 2021 is there a vaccine, the virus is defeated, we can remove social distancing and travel restrictions, so, that we can continue to create exceptional experiences for our industry in person!