Never did we imagine a time when brand ambassadors would be grounded and kept out of the bars they frequent. When coronavirus set the bar industry (and the world) on fire, brand ambassadors, like their bar industry brethren, had to come up with new ways to stay relevant. We all want to be here on the flipside of this, so how does that look? In our September issue, we asked nine of our industry's brand ambassadors to talk about how their lives have changed since coronavirus.
Next up in our series we have Erica Richards, Premium Spirit Brand Ambassador from The Exchange.
This year has thrown a massive curve ball at everyone in our industry, and the world; how have brand ambassadors maintained their relevance?
It sure has! We've had to learn new techniques very fast in order to stay relevant. At the Exchange, we immediately developed a plan to take our trainings online to Facebook Live in a platform called the Social Exchange – Drams from Afar. We felt very strongly that the most important thing we could do for our industry at that point in time was to help them stay connected, and so with very little planning, we just set our phones up and jumped into a Live space.
Another way the Exchange strived to remain relevant during this time was to team up with the other Beam Suntory ambassadors from around the world once a week on a zoom or teams chat.
The Exchange have also been putting a lot of work into a new program, the Healthy Bartender Project (working title!). We're trying to start the conversation, to acknowledge that this is a difficult industry to work in even without the COVID threat, and that there are ways to improve your lifestyle and wellbeing.
In your role specifically, what do you miss the most about life before COVID?
I really miss seeing everyone on a regular basis! In SA we've been lucky enough to have a relaxing of restrictions for a while, so we've been able to get back into trade, but yesterday the SA Government announced another tightening of restrictions, so we're just waiting to see how that will play out.
It's also been really devastating for us to have to cancel the Perfect Blend for 2020. There were so many amazing entries this year, and we were really looking forward to seeing the finalists compete in Bali.
ADVERTISEMENT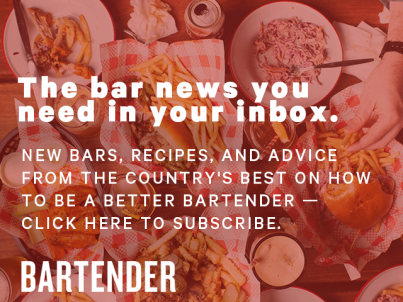 &nbsp
It has been said that this pandemic will change the hospitality industry forever. Do you agree with this or not? Explain.
I certainly think that the pandemic has forced us to look at our industry in a new and often exciting way. I've spoken with several small bar owners, who have told me that they're seriously considering keeping the reduced capacity and increase in patrons being seated moving forward. The per head spend has in many cases increased as people feel more comfortable in the venue and more relaxed, and in many cases the overheads, such as security and staff costs, have decreased. So it's not all doom and gloom! Our industry has been working on paper thin margins for a long time now; maybe it was time to re-evaluate our offerings.
As far as specifics go, Beam Suntory have developed a new initiative in response to the constantly changing face of the industry at the moment.  It's called the IDEA LAB, which you can read all about on page 14.
What are your hopes for 2021?
I hope that we can get back to a stage where we can hang out with our mates in the industry without having the threat of another wave hanging over our heads. And I hope that the conversations surrounding the mental health of those in the industry resonate, and that we come out of this stronger and fitter, both mentally and physically, than ever!