Photos & Video by Christopher Pearce
The Speakeasy Group, headed up by Sven Almenning and Greg Sanderson, includes the two Mjolners, two Eau de Vies, two Nick & Nora's and Kiss Kiss Bang Bang. They are known for their dedication to cocktail excellence and also a little bit of theatre in their drinks. When asked to present a 'How To', Alissa Gabriel, the bartending guru that she is, instantly knew that this delicious dessert in a cup was the one. So get your nitro on, and
give it a try.
1: Add frozen cranberries to blender
2: Add lime juice
3: Add cranberry juice
4: Add orange syrup
5: Add orange liqueur
6: Blend all
7: Strain
8: Pour strained ingredients into bowl of electric mixer
9: Slowly add nitro while churning
10: Add some more nitro, cos we can
11: Scoop sorbet into coupette
12: Top with Champagne
13: Garnish with mint
14: Voila!
ADVERTISEMENT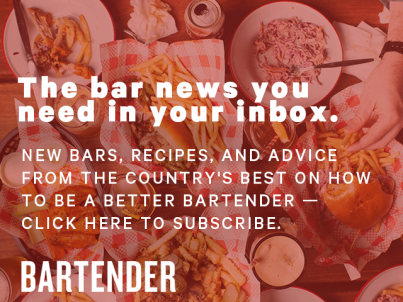 &nbsp