Story by Naren Young
Photography by Shawn Campbell
One thing that the best minds in our industry have in common is the understanding that we're more in the business of curating experiences for our guests than creating weird, esoteric, Instagram-friendly cocktails that we hope as many people 'like' as possible. This is much easier said than done, either way it needs to come from a place of sincerity, passion, love and servitude. That also becomes even more difficult during these trying times we're now in. So how do we maintain a high level of service and push the boundaries with these guest experiences during Covid?
Creating an experience that is in line with a bar's identity is definitely easier when operating under somewhat normal circumstances. Duh. For us in the US, or New York specifically, things are most definitely far from normal. There have been some improvements, however, such as outdoor dining being allowed, which has been a huge lifeline for many businesses, for now at least. There's still no drinking or dining permitted inside at all.
Before outdoor dining was allowed, many of us could only serve take out drinks and this meant everything in plastic cups. It's not exactly easy to deliver something exciting when this is your serving vessel. But it's not impossible and for someone that prides themself on the presentation of their drinks. I wanted to go above what most other bars in the city were doing which was simply handing over their drinks with no garnishes and in generic cups. By adding a simple adornment and a nice sticker, that exchange now becomes more of an experience for the guest, rather than just another ubiquitous Margarita served in a lifeless coffee cup.
ADVERTISEMENT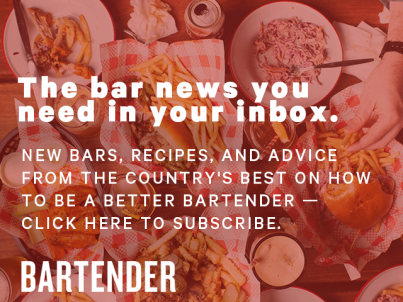 &nbsp
Which brings me to my point of 'how do we create a memorable guest experience during these strange times, when budgets are tighter, service models are different, staffing levels are askew and expectations have perhaps changed?' In many places, even several high end venues with once highly trained staff, service standards have dropped and become more relaxed, something I'm always reminding my staff to be more diligent about, especially at a time when serving drinks in plastic cups has perhaps resulted in us hospitality professionals letting their guards down a little.
As we refocus our energies and attention on these important aspects of our business during a time when expectations from our guests are perhaps different than they were only earlier this year, truth is, everything is shifting and operators need to move with the times and adapt to make sure that we're still offering unique, engaging and sincere experiences to our guests. Guest experience can manifest itself in myriad and subtle ways: from the music you play, uniforms, lighting, serving vessels, verbiage, menu design, staff interaction and way too many more. Just because it's Covid doesn't mean that we shouldn't be looking at small ways to try and improve each of these on a daily basis.
One little touch of 'love', as we call it, is to offer an 'amuse booze' of sorts to our friends, locals, regulars. It's something small, thoughtful and economical as no bar can afford to be giving away product as frivolously as they once might have. For me, these little gestures really help to elevate the guest experience and can still be executed well during this time. Maybe it's a little white port and elderflower tonic or an Adonis cocktail, both of which can be served in smaller portions but with great impact. Right now, it's more important than ever to cultivate new regulars and coddle our locals so they return several times per week and help us get through this.
I spoke with Alex Day, one of the partners in the Death & Co. brand and someone whom I deeply respect. As someone who has worked at the very highest levels of the bar industry over the last decade and prides himself (and his bars) on providing curated experiences to his guests, he too has seen the need to reconfigure the way he does business through a new lens.
"We've always considered community to be the foundation for everything we do and every decision we make. Over the last many months, we've done much soul searching about who we are as a company when we're disconnected physically from our community and we've collectively decided to lean into engaging them in a different way, intellectually and emotionally. That mindset has been hugely important as we've been reopening and re-engaging physically with our guests.
"Instead of shoe-horning our old experience into the new world, we identified what about the Death & Co experience is survivable and financially viable, and built a new approach from there. This may seem ephemeral, but it translates into big systematic and tangible shifts in our world. I hope this has built a deeper level of trust with our guests, engendered empathy for the situation in general, and set the foundation for people to return to our bars confident that while it's not the same D&C experience right now, you can trust it'll be a great experience regardless."