Story by Ollie Margan, Manager Maybe Mae, Adelaide
Few names are more recognisable in Adelaide's liquor scene than Erica Richards. I have a tremendous amount of respect for Erica; have done since entering the industry seven years ago. Whilst the local bar scene has only really been given airtime in the last decade, Erica kicked off her bar career in 1998. After working in seminal venues such as Vodka bar, she moved into brand roles with Southtrade and Beam-Suntory. Her current role is as premium spirits ambassador for The Exchange (SA/NT). In short, she has done it all.
Erica reflects on an industry of two parts – male dominated management positions and female dominated support positions; a boring narrative that whilst evolving in the right direction, remains problematic. The 'glass ceiling,' as it was observed, was a culmination of several factors – some more dated than others. Namely, the difficulty of night work in a world that does little to support women transitioning away from traditional family roles, a lack of female role models in positions of power, and the archaic 'boys club' culture. Pretty lame really, isn't it?
Twenty years on, Erica is looking to evolve the status of women in the industry. Together with local venue owner Marcus Motteram of Hains & Co. the concept of 'Pouring Ribbons' was born. A liquor focused, education and networking platform "by women, for women." Since March 2019, on the first Wednesday of every month, Erica has assembled a group of up to 35 young women, hospitality or not to learn from a featured presenter. A cigar & whisky pairing, cheese & whisky pairing and the art of the aperitif cocktail are all cited as some highlights.
ADVERTISEMENT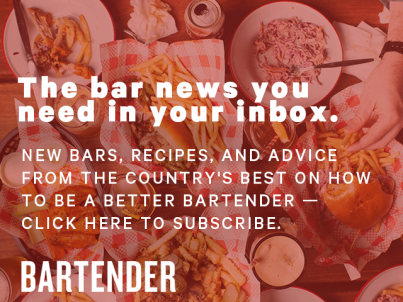 &nbsp
The idea of a male only trade session would sound absurd to most, no? That's just it though, most co-ed sessions may as well be. These events are often dominated by male bravado – unbridled conviction and competitive instincts tend to rule the floor. It is hardly an arena to foster the education of the softer spoken, regardless of gender. Rarely designed to diminish the input of women, it routinely does.
Erica and I agreed that there is the common defence from operators that lack of women represented on their rosters is proportionate to those that possess requisite skills. If this is true, then initiatives such as Erica's 'Pouring Ribbons', Kayla Grigoriou's 'HERd', and Paige Aubort's 'Coleman's Academy' are essential. If this is true, we have failed women at a base level. A broken system that fails to foster the talent of young females, inhibiting their rise within the ranks.
Erica believes that significant progress has been made over her twenty years in the industry, but there is still opportunity to further level the gender playing field in hospitality.
Follow Pouring Ribbons on social media for information on how to attend or host a satellite event in another state. @pouringribbonsadl