'Bartenders' and 'Boxers' have more in common than most would perhaps care to muse. Although part of a team, both Bartending and Boxing are performed as an individual craft, demonstrating unique versions of a 'sweet science', where the fundamental building blocks of each artform are rehearsed with endless repetition, grafted with personalized sinuous flair, resulting in a signature style that captivates onlookers under bright lights.
Bartenders walk onto a shift to mix multiples of harmonious drinks all at once to perfection while schmoozing captivated crowds. The boxer displays stunning offense and elusive defense. Both perform under extreme pressure with finesse when it counts most.
Both industries have been affected in the same way during these remarkable times. We can learn a lot from boxing. To best meet the current situation head-on, we should all adopt the fighter mentality and approach to health. Boxing teaches discipline, confidence, respect, self-value and mental fortitude.
The Boxer faces adversity every time they step into the ring, which is almost every day – our Bartender Boxers can attest to that. In both instances, if we don't believe in ourselves, if we fear the unknown, then the battle is already lost. The boxer like the bartender, both believe without a doubt that they will meet the challenges on stage each night and deal with them as needed.
Why Bartender Boxing? Because boxing prepared me both mentally and physically through 30-years in this industry globally. I knew what it had done for me and what it could also do for so many others. Through the BBO, we've helped hundreds of people in our industry. I know Boxing can do the same for you.
ADVERTISEMENT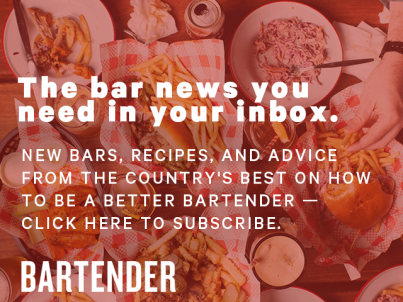 &nbsp
The Bartender Boxing Organization was conceived to empower our industry and transform lives while in promotion of the great sport. Amidst current world events, the role of the BBO has never been of more importance. Where we've not been able to return to our gyms, we've spent a lot of time offering live workouts and launched a new industry support initiative and training hub in recent months.
We have been quietly working on our second online instructional series called '12-Rounds'. They are presented by Raj Nagra and Bernard Hopkins from Golden Boy and feature former and current world champions alongside some of the best prospects and contenders, brought to you by 10-time, 6-division world champion Oscar De La Hoya's, Golden Boy Promotions.
The series features 12 curated videos; designed to teach various aspects of boxing to all levels of bartender boxer at home. The instructional series is provided by BBO in partnership with Golden Boy Promotions and proudly presented by Hennessy USA. The '12-Round' series preview launches on Sept 21st at TOTC on-demand through 4-videos, after which we'll be releasing a new video each week on our Instagram @bartenderboxing from October.
Content will be complied and stored on our website at bartenderboxing.com/stickandmove and our followers/members will automatically go into a draw to win autographed gloves from October through December.
"Golden Boy is thrilled to be partnering with Bartender Boxing and Hennessy USA to bring a series of boxing videos to the bartender community," says Oscar De La Hoya. "We understand how hard this industry has been hit and are providing a platform to keep people engaged through fitness as well as foster a sense of community" says Bernard Hopkins. "Stay strong, everyone."
For more info visit: www.bartenderboxing.com/stickandmove