Images by Sarah Hewer
We first heard about Bobeche when Joe Sinagra was at the helm at its opening back in 2012. It's great to hear about bars that stand the test of time. And this one, that sits below The Heritage Wine Bar at Brookfield Place in the Perth CBD is doing classic cocktails and doing them well.
New bar manager, Patrick Carpenter has recently taken charge and plans on putting his stamp on the venue. Here's what he had to say:
I first dipped my toes into hospitality back in 2005 on the day I turned 18. I grew up in Rocky Gully which is a farming community in the south-west region of Western Australia. Our next-door neighbours owned and operated a small winery and I was hired to facilitate wine tastings at their cellar door. Soon after that I began working in pubs in the city pouring pints. As soon as I made my first mojito (I can remember this moment as if it were yesterday) it was obvious that this was what I wanted to do.
ADVERTISEMENT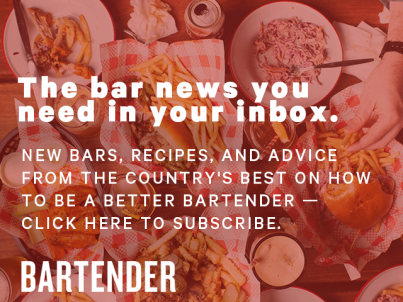 &nbsp
As with all of the serious moves I have made in hospitality, I need to thank my good friend and mentor, Mr Joe Sinagra. As a Bobeche management alumni returning to his old haunt, Joe informed me that Ed Wolkowinski (owner) was interested in meeting me and the potential for me to take on the role as manager of Bobeche. I promptly jumped at the opportunity to sit down with Ed and was fortunate enough to be accepted for the role.
Bobeche is and always has been hallowed ground to me, it was one of the first cocktail focused small bars in Perth that blew my mind with its offering and it still retains the same level of integrity and finesse that I experienced years ago. As I was first learning the nuance of the cocktail, Bobeche was the venue that I would frequent to gain knowledge and inspiration.
There are countless reasons as to why I love hospitality. We are a bastion of escapism from the brutality of modern society. As soon as our guests walk through the doors, the world is left behind and for a few hours they don't have a care in the world. Facilitating a moment of peace like that isn't a job, it's an absolute pleasure.
WA is in a bubble right now. The game definitely changed with the border restrictions set in place. From a boots on the ground perspective, the comradery and caring attitude that I have personally seen exhibited by our fellow man throughout this process has been truly inspiring. We're all in this together and everyone is on the same page, it's hard to not feel particularly patriotic about everything.
The COVID experience has been an enlightening time for all of us. As the potential capacity of guests has decreased, the concern for spend-per-head has increased. This shift in service has re-focused our industry to what is the most important of all; the customer. Despite not being able to fill your venue like sardines in a tin you can still generate the same level of revenue by providing the best service possible and increase that spend per head through caring and consciences service.
There are few things that I do not enjoy about the hospitality life. The antisocial hours are a bit of a pain as I would love to spend some more waking hours with my wife and our pupper. What I abhor is when bartenders place themselves beyond their station. We make drinks, not judgements. There is nothing to be gained through arrogance and entitlement.
As soon as the restrictions are lifted, my wife and I will take a leisurely trip to Melbourne and soak up the scene that originally inspired me to sling tins but as far as work is concerned, we will continue to focus on each individual guest as if they were our last.
In five years, I would hope to have my own hole in the wall, a 30-seater Mezcaloteca with nothing but stone walls and unlabelled glass receptacles. My respect and adoration for Mezcal will never die and I would love to be able to translate this passion through the craft of bartending in my home town. More than anything else I would hope that in five years' time the majority of speed rails in the country would be populated with Australian products.
If I could have a drink with anyone in history I would have to go with Albert Camus. We would drink coffee to begin with as it was the great philosophers drink of choice. An Alsatian gewurztraminer would follow with whiskey to finish as the sun sets over the Algerian seascape.

Signature Drink:

The Flora Dora Fizz
30ml gin
20ml strawberry ferment
15ml crème de frambois
30ml lemon juice
5ml black peppercorn tincture
egg whites
2 dashes Peychaud's Bitters
ginger beer

"A house favourite, for this iteration of the drink we have changed up the process 
and added a couple of flavour bombs into the mix along the way. 
We put strawberries under a dry lacto ferment which develops a complex, 
umami that gives the cocktail some serious body. 
The strawberry syrup is shaken hard with gin, crème de frambois, lime juice, 
a black pepper tincture (strawberry and black pepper is a match made in heaven) 
and some egg white for texture. 
A spritz of ginger beer brings the fizz and we 
finish the drink off with a dusting of strawberry powder"