Story by Jonathan Carr, Group Bars Manager, Liquid & Larder
Images by Christopher Pearce
While some of our guests think of bitters as something that we go 'Dashy-Dash' on top of an L.L.B. at the pub, bar folk know them to be an integral part in classic cocktails dating back to the dawn of said libations.
Often referred to as the bartender's salt and pepper (though I still like to add salt to a lot of drinks), aromatic bitters can provide depth and length to a well-made cocktail. However, unlike potable bitters, those fancy Italian aperitifs and digestives that tell you to add more and more, most of us know that even one dash too many can change a drink for the worse. That is unless you love a Trinidad Sour, or just need a hangover cure like the 'Problem Solver' cocktail (see recipe).
ADVERTISEMENT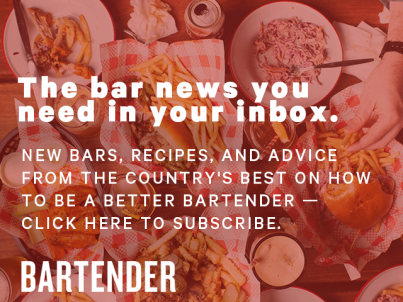 &nbsp
Aromatic bitters were referenced in the first written definition of the word 'Cock-tail' (The Balance and Columbian Repository of Hudson, New York, 1806) in what we now describe as an Old Fashioned. So, it's fair to say that bitters in cocktails originated in the U.S, right?
Dave Wondrich, the famed booze historian suggests that's not the case, saying: "I think that the cocktail goes back to London in the early 1700s when patent bitters were first being advertised as a hangover cure when mixed with canary wine or brandy. By 1750, they were being mixed with Burnt Brandy, which was made by lighting brandy on fire and melting sugar into it".
Apart from burnt brandy sounding delicious, it's fair to say that London won that battle at least. The aforementioned bitters advertised was called Stoughton Bitters and was patented in 1712. Back in the United States, it wasn't until the 1850s that bitters really boomed thanks to the temperance movement and high taxes. 'Alcohol' was 'bad' but a slug of 47% medicinal bitters in the morning was just a way of preventing malaria. Genius.
Back to cocktails, the Baltimore based Abbott's bitters are said to have been used in early Manhattans. Sadly, Abbott's didn't make it past the 1950s and went extinct like so many of the earliest brands (like Bokers) until they were revived in the 2000s. Though you really can't talk about aromatic bitters without mentioning Mr Antoine Amedie Peychaud and Dr Johann Siegert. In two very different parts of the world, these two gentlemen created very different bitters, for very different reasons and yet they have both stood the test of time.
First up, we have Peychaud's bitters. Antoine Peychaud perfected a family recipe and started selling it in his apothecary on Royal Street in The French Quarter, New Orleans. Peychaud's would add in some French brandy for good measure into an egg cup or jigger named a Coquetier.
By 1850 at the Sazerac Coffeehouse (a popular boozer at the time), owner Sewell Taylor combined his exclusively imported cognac of the same name (Sazerac du Forge et Fils Cognac) with Peychaud's Bitters and the most famous New Orleans Cocktail was born. Thomas H. Handy of (now named) Buffalo Trace Distillery fame bought the coffee house as well as the Peychaud's recipe, resulting in it surviving Prohibition in the longest-running distillery in America.
Angostura Bitters, on the other hand, was created by the good doctor as a way to keep soldiers going in the tropical regions of the Caribbean. Perfected in 1824 Siegert's Amargo Aromatico was being used to quell sailor's seasickness and the word spread far and wide. After some great marketing that distinctive bottle is the bitters of choice for classic cocktails and the Lemon Lime Bitters alike.
After the 2000s renaissance of classic cocktails, every dedicated, arm-banded bartender was making their own bitters before it got weird to do so. If you can't do it better for cheaper, right? Jokes aside, homemade bitters and a demand for all types of new flavours have led to some incredibly creative new drinks and interesting twists on classics that couldn't have been possible before. Thus, it's part of our bartender's handshake that we have a shot of bitters at some point, probably regretfully.
So, what are they? "…The term 'bitters' refers not to a specific flavour but rather to the category of aromatic solutions made with bittering agents such as gentian root and chinchona bark," writes Brad Thomas Parsons author of 'Bitters: A spirited history of a classic cure-all'.
The natural ingredients in bitters, like flowers, herbs, spices, barks and roots that are infused into high strength alcohols or glycerine (otherwise used in cosmetics – I looked it up) can be an acquired taste (like that first-ever, warm, shot of Campari at 2 am) due to to a human defence mechanism against potential toxins that are deeply ingrained in us like fight or flight.

Problem Solver (#4)
An ode back to working at Mojo record bar with some stellar humans 
who could create a party often offering ourselves as tribute.
30ml blanco tequila
15ml Jack Daniels
15ml Angostura Bitters
30ml lime juice
15ml agave (1:1)
2 dashes Tabasco
Pinch salt
Shaken and dumped into a beer glass, no garnish necessary.
Recipe courtesy of Jonathan Carr


Adonis
A perfect night starter with just three ingredients: 
sherry, sweet vermouth and orange bitters.
Named after a long-running Broadway show, so you know it's classy.
45ml fino Sherry (Tio Pepe)
30ml sweet vermouth
3 dash orange bitters
Stirred Down and served up, an orange twist to garnish.
Recipe courtesy of Jonathan Carr


Livin Da Vida Coco
20ml gin
20ml Campari
30ml salted coconut & cacao nib wine
2 dashes black walnut bitters
Stir all ingredients together and
pour carefully in frozen rocks glass with Barebones ice
pre-prepped and garnished with desiccated coconut & dried blue flowers
Nat Ng, Door Knock, Sydney


The Champagne Cocktail
90ml champagne
10ml brandy
Half a teaspoon sugar
2 dashes of Australian Bitters
Lemon
Splash 2 dashes of Australian Bitters into a champagne flute with the sugar.
Add the brandy.
Gently pour in chilled champagne of your taste. Garnish with a lemon twist.