A tribute to one of Brisbane's most iconic cocktail bars by Dan Gregory, GM, Goodfellas Group, Brisbane
The family and I are settling back into Brisbane very well, still acclimatising from a warm 17°C Hobart to a very sweaty 37°C. With all our belongings temporarily in storage, I haven't had my books on hand to read, so I was a bit stumped for inspiration this month. But one afternoon, whisky in hand, I was looking through some old boxes I have had stored at my parent's place. I stumbled across an old cocktail menu I had the privilege of helping to write for a bar I am glad I had the chance to tend. Lost now to history and stories of the past… I am of course speaking of The Bowery.
Sadly, The Bowery mixed its last cocktail on January 26, 2020 but will never be forgotten. Stephanie Canfell and Cam Birt's baby came to life back in late 2003 and would become one of the most important bars not just for Brisbane's drinking scene but Australia's as well. With a list of phenomenal bartenders who have graced this room over the years, it was a must place to be. You could've at one time or other sat in front of Perry Scott, Anthony Friel, Mat Hewitt, Barry Chalmers, Nathen Beasley, Kat Wasiel, Ryan Lane… The list goes on, but I only have so much space to write! Sitting at that bar during the week, with live jazz and a Brooklyn in hand was my happy place. Being situated in the middle of Fortitude Valley, the cool interior of The Bowery was refuge for many from what sometimes felt like the wild west of this crazy part of town.
I was incredibly lucky to have had an opportunity to manage The Bowery back in 2009, and I can safely say this is the reason I've gone on to work in the places I have. When it came time for me to write a new menu, I took taking the task very seriously as there were a lot of eyes watching to see where this young lad would take it.
I had the help of a gentleman and one of my first mentors 'The Reverend' Shay Leighton, who was already a veteran of the bar and knew the legacy of past bartenders and drinks. We wanted the menu to have history, information about ingredients, showcase house drinks of the past and forgotten classics which at the time was still a thing.
ADVERTISEMENT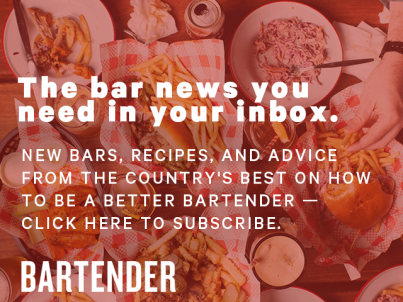 &nbsp
I remember holding the menu for the first time, in awe of how amazing it felt in my hands thanks to Steph's amazing dedication to detail, design, printing and the stock she used. And we hit the nail on the head, coming out of that year with Best Cocktail List at the Australian Bar Awards and Gourmet Traveller. We had 500 printed, I sent a few out to people and still have a few in my possession and if you were lucky enough to sneak one out I hope it became a good toilet read.
I wanted to showcase two drinks from this menu, the first is from an industry legend and one of my favourite people who I had the chance to work with a few years down the track, Mr Barry Chalmers. Anyone who visited The Bowery would know the Mesha as it was pretty much on every menu from 2004 and on the opening menu at Eau de Vie Sydney, which Chalmers helped open. I moved to Eau de Vie after I left The Bowery, it was Barry's final weeks and I asked him for a Mesha as I liked the drink. He was confused at first and thought I was taking the piss as the Mesha is a crowd pleaser, a drink you can down before you can tap your card to pay. Not a typical highbrow bartender drink, but I loved it.
The second is the Strong Man Cocktail, created by me and named after the strong man of the infamous Bowery Boys, one of the gangs who ran the "Five Points" in the mid 1800's of New York. A drink that has followed me to a few bars after my time behind the stick here. A Calvados laced sipper that is bold in flavour and gave many guests the courage to face Fortitude Valley on a Friday night after exiting The Bowery.
You're a lucky person if you had the chance to visit The Bowery while its doors were still swinging, and if not, please pull up a chair at a bar in front of me one day and I will share some tall tales.
As Steph and Cam would always print in the cover of the menus, "To your health!".

Mesha
40ml Vodka
20ml Pineapple Juice
15ml Apple Liqueur
15ml Lime Juice
15ml Falernum
2 Fresh Raspberries
Method:
Pre rim a coupette with cinnamon sugar and place back in the freezer
Add all ingredients to a cocktail shaker, add ice, 
shake and double strain into prepared glass.
No garnish needed on top, serve immediately to guests 
to begin parties and lighten the mood.

Strong Man Cocktail
40ml Calvados
15ml Tawny Port
5ml Caramel & All Spice Syrup*
5ml Maraschino
2 Dashes Fee Brothers Barrel Aged Bitters
Method:
Add all ingredients to a mixing glass with ice, 
stir down well for a good dilution.
Strain over a large piece of ice and 
garnish with a bourbon-soaked cherry
Amazing with cheeses, chocolate or a side of Guinness
*Start with 500g of caster sugar, 
add a little at a time to a high sided, 
heavy based pot to melt and make a direct caramel. 
You cannot take your eyes off the sugar, 
so have everything measured and ready to go, pre pour 600ml water 
and count out 30 whole all spice. 
Once the caramel is a light golden 
turn down the heat and add all spice to toast. 
Now being incredibly careful add the water bit by bit. 
Watch out for the hot steam and make sure it does not bubble over. 
Add the rest of the water and lightly simmer 
till all the sugar has dissolved. 
Cool, double strain and bottle.