As told to Amy Spanton. Photography by Christopher Pearce
We meet Adam Lau, the Assistant Bar Manager at Grain Bar, Sydney
When I first started studying hospitality I didn't know what I was really getting myself into.  It was the versatility of the industry that drew me in.  Whether you're aiming to become a successful hotelier, owner or entrepreneur, the set of skills you learn across your studies and practices are adaptable, transformative and can be utilised in many ways.
I found myself in a hotel in Melbourne for my first industry placement and it was here I fell in love with the industry, the people, the job, passion and way of life. As a young boy, I never imagined working in a hotel overseas, surrounded by amazing opportunities – but here I am. To me, bartending is one of the most phenomenal and transformative career's and was the best decision I've made to date.
ADVERTISEMENT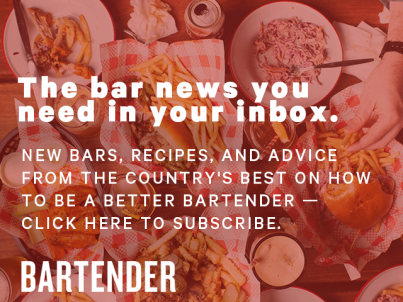 &nbsp
In 2017 I joined Four Seasons Hotel Sydney in the restaurant, Mode Kitchen & Bar. Throughout my time, I would walk past Grain Bar and be drawn in by the energy and atmosphere beaming from it. I loved the buzz and excitement around the bar scene, especially what the bar represented. A few years later, an opportunity arose for me to join the team at Grain Bar and I have never looked back.
Bartending is a universal language. Great hospitality can be found in all corners of the world and the opportunity to travel is endless. The diversity, community and strength of the industry is undeniable. In 2019, I had the opportunity to travel to China for a week of guest shift's and Italy for a global cocktail competition. It is fascinating that in the industry we all speak the same language no matter who you are and where you come from.
Undoubtedly, my parents have been my mentors and they have inspired me. From a young age, they instilled a set of ethics and values that have shaped me into who I am today.  They taught me the importance of passion, hard work and determination. One thing they told me that has stayed with me forever – 'it's not about the job itself, it's the attitude you bring that will set you apart. Always be humble, ego will engulf you.'
In 2018, I met the man himself – Cedric Mendoza whilst he was doing a guest shift in Grain Bar. Well known in the bar industry for being Manhattan's Head Bartender. Fast forward a few months, he joined the Grain Bar team and since then we have worked extremely closely for two years. Across this time, he has taught and technically trained me, honed in on my skillset whilst encouraging me to break through barriers and create unique cocktails.
I could sit here and list one thousand ways Covid-19 has impacted my life both positively and negatively. However, I like to look at the brighter side of things. Initially, when I was stood down due to the temporary bar closure, I took a step back, found my silver lining and started seeing the bigger picture. I had the opportunity to brainstorm and curate ways to elevate Grain Bar's service, product and overall experience when we were ready to re-open. Throughout this time, I discovered what really brings me joy in life. I read more, have spent the time learning things I wanted to discover and devote more quality time to my partner, friends and family.
One of the perks of being a bartender is having the knowledge and acquired palette to appreciate every spirit for their individual flavour, taste and notes. Mixing flavours and understanding their intricacy is one of my favourite things to do behind the bar. It's quite difficult to choose one particular spirit as they each have an important role when it comes to curating cocktails. It's like asking a father to choose who his favourite child is.
One thing that can be daunting to some is the crazy long hours working hospo. At times, we can work up to 12-14 hours a day. And then back that up again the following day. But once you step foot into a buzzing bar, it makes it all worth it. It's fun, enjoyable and rewarding because I am doing something that I love and am so passionate about. Some may call it a love-hate relationship, but the love is definitely stronger.
It's important to me to have short-term and long-term goals. Ideally, accomplishing my short-term goals should lead me to my future aspirations. In saying so, I don't set goals that can limit myself as you never know when opportunity will come knocking. For the time being, I am focusing on my technique, skills and knowledge of the industry – building upon what I have already learnt to ensure I have a solid foundation, making me ready for the next step.
If I could have a drink with someone (alive or dead) It would be Harry Craddock. I imagine myself sitting down with him in the Savoy in London, enjoying one of his famous cocktails – White Lady. The first cocktail book I read was his 'Savoy Cocktail Book' and I have looked up to him ever since. I relate to him quite often, as he too was a Hotel Bartender. I would love to pick his brain about the differences between hotel bars in the 20s and 30s, the challenges he overcame and his perception of the bar world today. Would be some pretty interesting stuff!
Whilst 2020 has been a challenging and uncertain year for us all – the community and spirit within each of us is tremendous and goes without saying, will be what gets us all through it together. And don't forget to celebrate friendship and conviviality with those near and far from you. Stay strong, good luck and let's see what amazing things we can create in 2021.