Level 46, 308-320 City Rd, Melbourne
thecloakroombar.co
Dual-purpose bars are not a new concept. We have had record store bars, barbershop bars and even places where you can get a blow-dry and drink Champagne. But this global concept of a tailor and bar in one has now arrived in Melbourne. So prepare to be cuffed and pinned while you enjoy some classic cocktailing with an epic view over the Melbourne city skyline.
Situated on the 46th floor of one of the city's newest skyscrapers The Cloakroom is the brainchild of men's tailoring business of the same name. Helmed by award-winning bartender, Tony Huang – formerly with Lui Bar at Shannon Bennett's Vue de Monde – the intimate and atmospheric venue is designed to "distil the essence of tailoring into a cocktail bar," according to The Cloakroom co-founder, Andrew Byrne.
ADVERTISEMENT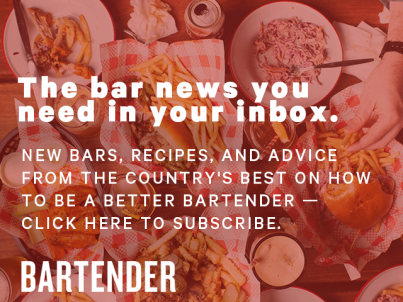 &nbsp
Founded in Brisbane in 2007 and specialising in made to measure suiting (tailored in Japan), The Cloakroom now has stores in Brisbane, Tokyo's Ginza district
and Montreal in Canada, with a dual tailoring and bar concept in Southbank's new
Shadow Play tower the latest addition to the menswear empire.
The success of The Cloakroom's original cocktail bar adjacent to its Montreal store prompted the team to lock in a similar concept for the company's Melbourne debut, with a focus on making drinks on a made-to order basis that reflects the company's philosophy when it comes to suiting. "Tailoring is a conversational thing – we hone our understanding of the customer and his personal requirements over conversations and the bar is very similar in this regard," says Byrne. "A bartender will have a conversation about why you're here and how you're feeling, and make a drink to your liking."
Serving bespoke drinks crafted from high quality spirits and fresh ingredients, The Cloakroom Bar also offers a tightly edited seasonal menu of bar snacks in the 40-seat space with panoramic views of the Melbourne skyline. The bar and tailoring studio have been designed by Melbourne architect Dion Hall (formerly with Projects of Imagination) who is responsible for Edwin Wine Bar and Cellar on the ground floor of Shadow Play, and is currently working on a revitalisation of the iconic Grandmaster Records studio in Los Angeles in partnership with EP & LP. "The Cloakroom Bar and tailor share material and tonal qualities focused to the furniture and objects and while the views are panoramic and vast, the interior footprint is quite intimate," says Hall of his work.
Collaborations with Australian creatives feature throughout the space – including a digital animation artwork by Brooklyn-based Australian artist Sophia Hanover in the entrance foyer with a second installation in development for the main interior space of the bar. Custom ceramic tables have been created by Melbourne artist, Shari Lowndes, and the store opening marks the debut of bespoke seating and furniture by Hall in partnership with Hugh Makin.
"Melbournians are sophisticated in their taste with a real appreciation of quality and style that touches everything from fashion and art to food and cocktails," says Byrne. Traditional notions of a "gentleman's club" have been eschewed in favour of custom contemporary furniture and mirrors, as well as a central "window display" style space for rotating art installations that separates the tailoring studio from the bar. This dual-concept tailoring studio and cocktail bar is something The Cloakroom team is particularly proud of.
"Our philosophy as a business is that we 'distil things to the point of perfection' and this governs our decision making for everything we do," says Byrne.