I want to start by saying I LOVE classic cocktails, and I probably drink more classics than I do exploring a venue's signature cocktails when I go out. I also make a bucket load of classics at home. That said, when it comes to how we do things in the Speakeasy Group, we take a pretty hard line on not listing (unless forced to by lockout law regulations) classic cocktails on our menus, and we also ask our teams to not push or recommend classics to our guests.
Obviously when our guests order classics, we want our teams to serve them at a consistently high standard, which is why we have specific group specs for all the most popular classics and we have our own Internal training and tests on classic cocktails that we host on Ananas for our teams. But, classics are not our game, and nor do I think it should be yours.
Classics don't "exceed expectations"
This is really my main issue with promoting and selling classics in cocktail bars.
It is nearly impossible to exceed a guest's expectations by serving them a standard classic cocktail made to generally accepted and agreed upon specs. If your ingredients are the same, and the methods are the same as those used by every other bartender in the world, what do you think is going to be so special about your drinks versus the millions of other examples that have been made of this drink before?
The answer is nothing.
ADVERTISEMENT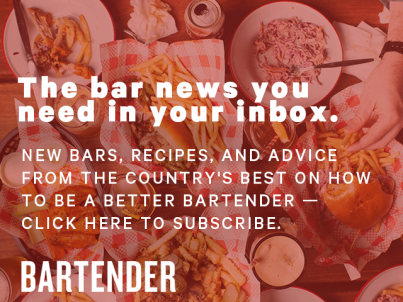 &nbsp
When you push, recommend and sell classic cocktails the best outcome you can hope for, from a customer experience perspective, is that you meet their expectations. Meeting expectations however doesn't give you five star reviews, loads of tips, or not even necessarily return business. Exceeding expectations does, which is why creating your own unique drinks are more likely to wow and surprise than just pushing out drinks that have been made all over the world for a century.
Although we happily serve classics, we try as much as possible to guide our guests away from them and onto our signature drinks where we feel confident we provide a unique experience for our guests. Our Espresso Zabaione on the Eau de Vie cocktail list is a great example. When guests ask for an espresso martini we recommend the Zabaione instead. And so rather than offering a stock standard drink, we are able to put on a show for our guests that have them returning again and again bringing friends and family along who also return for more.
Classics are often inconsistent
Most venues still don't have strict specs for all their classic cocktails, and even if they do they don't necessarily teach and test everyone on how to make them in a consistent manner in their venues. If venues don't have a system such as Ananas for training and testing their teams on their classic specs, bartenders tend to simply make these classics the way they either prefer them personally or the way they were taught at some job in the past, neither of which is likely to be exactly the same as the rest of the bar team.
This means that one bartender may make their Margaritas using a 60ml pour of tequila, whilst someone else makes theirs using a 45ml pour. They may also use different brands.
One person uses agave syrup, another pours Cointreau, or triple sec. Not only does this lead to inconsistent drinks and mixed experiences for the guests, but it also leads to unnecessary wastage.
Classics are an expected minimum
This really is more of a sidenote, but one worth mentioning anyway. A lot has changed on the cocktail scene in the last 20 years and whilst listing Martinis and Manhattans 20 years ago may have been a good move to signal that you have a competent team of bartenders, today I'd say it would signal the opposite.
Guests who want classics will order them without looking at the menu. It's simply expected that everyone knows how to make them. (Which again stresses the importance of having set standards and specs in place.)
Classics are a base to build on
Learning the classics are important for any bartender and understanding why they work are equally important. But getting married to whatever specs you first learned for them is dangerous as it both stifles creativity and curiosity. The best Negroni I have ever tried didn't feature equal measures, but had dialled up the gin, used a house blend for the vermouth and featured an orange flavoured ice sphere. It still looked and tasted like a Negroni… it was just a better experience than the original.
By breaking from the norm and creating your own twists and your own signatures you stand for something, and you stand out from the crowd, which is exactly what bars need to ensure guests keep coming back and keep bringing their friends with them.
Like I said, I love many great classics, but I firmly believe they do not belong on any cocktail list of note.
Sven Almenning is the founder of the Speakeasy Group, as well as the online training and management platform Ananas. He was given the 2009 Bartender Magazine Award for Outstanding Contribution and has been featured in the top ten on the Bartender Magazine Most Influential List at every award since its launch over a decade ago.