We chat with Pete Ehemann from The Cumberland about surviving COVID and his passion for hospo
The Cumberland is a 1920's inspired underground speakeasy, above which sits the Spanish style Cove Deli which serves charcuterie for the bar. There is a huge focus on guest experience and table service. With cocktails being a massive focus and close to 300 whiskies on the backbar. We also are heavily into local and native ingredients in both the bar and the Deli, with a strong focus on Aussie spirits as well.
I got my start in hospo because of my sister. I moved to Sydney for university when I was 18, where I did a Bachelor of Environmental Science. My older sister was working in hospitality at the time and got me a job working with Merivale. So essentially I needed a way to pay my bills and for uni, so I started working in bars and night clubs (back when they were a thing) to get me through uni. I soon grew to love hospitality, and after travelling overseas for several years and finishing uni, I thought I'd stick with what I really enjoy.
I'm part-owner and General Manager of The Cumberland. It's a pretty holistic role. I look after all aspects of the business. But being a small business I'm also very much present in venue and front of house generally 5 nights a week.
ADVERTISEMENT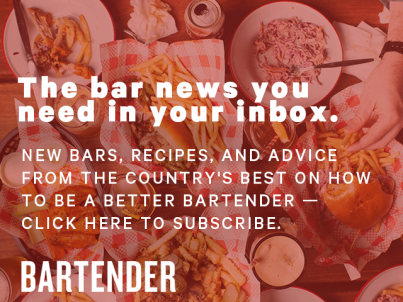 &nbsp
"People are what make a bar great. It's always the people. Whether it's the staff looking after you, or the people you are with, it's always them that make an experience amazing, or on the flipside, shithouse."
Career progression was pretty standard. I guess I took the usual steps, I progressed over about a 5 year period from barbacking to bartending to supervising and finally into management. With taking the Bar Manager role at Hemmesphere being a big stepping stone, where I was handed the reins from Sebastien Derbomez who was a big mentor for me, also working closely with the likes of Mikey Enright, Tim Philips and some of the nations best. having an amazing team and strong support network from other management definitely helped hone my managerial skills. From bar managing I then delved into various operations manager and venue manager roles, until finally deciding I needed a place I could call my own.
There's several major steps in transitioning. You need to be open to the idea of not always succeeding as well as having a strong will to learn from those around you with greater experience and skill sets. Communication is key, sponging information from those you respect whilst earning respect from those that may in turn look up to you.
I'd describe my management style as patient and assertive. I try to encourage those around me whilst offering strong support and open channels of communication. You need to look at things in a nurturing way, as everyone learns differently. My advice for rookie bartenders starting out in their careers: Be patient, be passionate, and inspire. If you want it bad enough, it will come to you in time.
People are what make a bar great. It's always the people. Whether it's the staff looking after you, or the people you are with, it's always them that make an experience amazing, or on the flipside, shithouse. After that, atmosphere is key, good music, and lighting are super important, drinks and food offering are up there too. I always say you can be served a shitty beer in an average setting, but by the most amazing or charismatic bartender or wait staff and have one of the best nights you've ever had.
2020 and then 2021. How hasn't it changed me!? It's definitely made me more resilient and patient. Opening a bar 5 months before the unforeseeable COVID hit has, to be honest, been hugely challenging as well as a little heartbreaking at times. We hit the ground at a sprint and saw it flourish, only soon after to be forced to close.  That being said, we fortunately made the right decisions and took the right measures at the right times to make it through. I've learnt more in the last year than I ever anticipated.
Five years from now I will still in the industry, with hopefully more than one venue, and influencing the aussie bar scene for the better!