Jono Carr is the former Group Bars Manager for Liquid & Larder as well as being a runner up in the Bartender of the Year comp. He is currently doing a stint at PS40 and writing a bunch of stories for us. Follow him @jonothandc
Seasonality:
Getting to choose the fresh and best ingredients is something we take for granted here in Australia where our seasons don't seem to end but that means we have to be careful about when the fruits we use are at their best to get the most out of them. Knowing what produce is in season is so necessary if you are using fresh ingredients in your list otherwise they won't always be their best.
Any chef will tell you that eating a strawberry out of season isn't really eating a strawberry. They are incomparable, really. One is bland and the other is a flavour sensation. This means we need to pay attention to where our produce comes from, which leads nicely into my next point.
Locality:
Knowing where that produce has travelled from to grace our bars is more and more important if you care about flavour. Bulletin place has a 'Meet the Producer' list that heralds farm to glass cocktails and it's a great initiative, something that, volume permitting, we could all learn from.
ADVERTISEMENT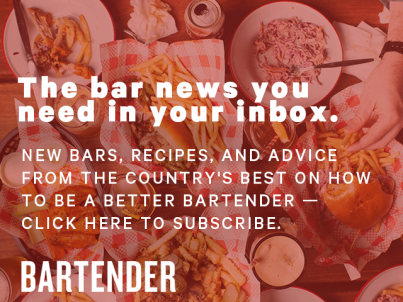 &nbsp
"Knowing where that produce has travelled from to grace our bars is more and more important if you care about flavour. Bulletin place has a 'Meet the Producer' list that heralds farm to glass cocktails and it's a great initiative, something that, volume permitting, we could all learn from."
We should all know where the oysters we are serving are from as it gives recognition to the nuance of flavours from different areas. We all know where the rum in our daiquiris is from but our citrus fruit doesn't get the same level of attention. Locality is a nice way of showing our guests that we care as much about the drinks they have as a restaurants cares about the food they eat. Its all going in the same place after all.
Zero/Minimal Waste:
Our bars are all at fault of this. Whether it be using boiling water to kill an ice well (aka frozen water) or discarding the flesh of an orange just to give an Old Fashioned a beautiful zest we could all do better. Dumping ice in a place where it will melt organically like a clean sink or the sidewalk (if it won't injure anyone casually walking past) is a better use of the clean drinking water we take for granted. Using fresh OJ in a cocktail or as a condiment is an easy way to ensure we do our bit. For example, PS40 make a Orange and Carrot Jam served alongside cheese to keep waste down.
A well thought out cocktail list should consider how many zests are used and think about if the flesh could be used in a different drink. Some bars are going even further than this, like RE which recently opened, that is aiming for a zero waste approach and has taken drastic measures to ensure it does, down to the coasters made of recycled goods.
A group that is making the most of its produce to limit costs and make better drinks is the Tio's/Cantina Ok/Cliff Dive team, they infuse their tequila with orange zests, flesh and some kaffir lime leaves so they don't have to add any curacao to their Margaritas, often referenced as the best in town.
"We peel two boxes of oranges for the zests oils, cut up 28 of them, adding some of the orange flesh then kaffir lime leaves to macerate into tequila overnight which means we don't have to add a modifier to our Margarita's" says Tio's bartender Emilly Thomson.
Group Bars manager Alex 'Happy' Gilmore backs this up with some science, with a glass of Rose' in hand at his Birthday party recently: "Using the temperature fluctuations in a venue to rapidly infuse flavours into a spirit (which is a solvent and will naturally strip everything it can from anything you steep in it) means we don't have to add anything else and we can use the juice for other cocktails".
Outdoor seating:
In a post COVID world our governments are trying to support our industry (it's pretty taxable, I guess) and one of the measures has been allowing outdoor seating on sidewalks and streets where its been impossible to have before. This has meant that bars have had to adapt to a new service style in some cases but has been helpful in the rebirth of some venues profitability after lengthy shutdowns decimated the war chests (read savings accounts).
Online bookings, take away and merchandise:
In a world still reeling from a global pandemic, online bookings have given a way for staff to forecast for numbers on evenings that before could have been uncertain. Increased booking fees have ensured people actually rock up. Love them or not, it helps cover the costs of a no show when space is at a premium.
Take away cocktail, wine and even booze bottle sales have helped bars try to give the experience we offer in venues to our guests in their own home. It won't ever be the same without our service to back it up but it's a nice way to stay current in their lives and make sure they come back to us on their carefully curated nights out. It's a nice touch to be able to offer a guest a take-home version of the drink they have been enjoying in all night. Not the citrus based one obviously, they don't travel well.
Not just bartenders are wearing other bars merch anymore, guests want to be walking, talking advertisements too. So having a cool tee or hoodie is a great way to market your venue on the literal back of someone else. Its' a small cost to pay (that can be recouped in garment sales) to have people talking about your venue. The Rambling Rascal' owners, Cosmo, Charlie and Dardan have nailed this, with pictures of their bars apparel coming in from all over the world, even Dave Grohl has been pictured wearing one of the Rascals tees.
Next level: So what's next for us?
I imagine we will keep learning from chefs and stealing their techniques to make even better cocktails. Evan Strove recently did something pretty wild (see pic above of his Zilber cocktail) for Diageo's World Class competition, getting him into the final and ultimately taking out the crown.
The drink featured an endofermented plum. "The whole inspiration behind that ingredient was tying into the tradition vs innovation element of the Johnnie Walker challenge," said Evan. "When you think Beaujolais, you think of carbonic maceration. Grapes, fermenting naturally, from within, under pressure.
"David Zilber was my chef, and when Noma did a pop up in Mexico, they served a dish that looked like a whole mango. Only, with a straw sticking out the top. He had injected the fruit with a carefully selected blend of cultures to endoferment (ferment from within). So, when you sipped, you were sipping the fermented liquid inside the fruit. I injected plums with lacto, sacch and pichia. Pressurised. Left for a week. Pressed the juice. Added sugar to make a cordial. All fermented acids. Really yum."
I can't wait to see what trends and techniques last, become the new 'normal' and what doesn't. While our industry stills deals with uncertainty I'm sure all good operators are doing their best to keep lights on and barstools warm, I'm looking forward to seeing how they do it.