Story by Jono Carr, who is now our regular drinks writer. You can reach him at drinks@spantonmedia.com
I've been fortunate to work some high-end events over the years which has given me the opportunity to try a little taste of some things I wouldn't otherwise be able to afford. Some events such as Diageo's Rare and Old releases where a Pittyvaich 27 y.o. from the silent (now closed) distilleries section took my heart among some other delicious whiskies.
Recently I was working with James Buntin, the Luxury Brands Manager for William Grant's at a BMW dealership for their ultra-high net worth clients. I was there making Old Fashioneds but the guests also received a taster of Glenfiddich 23 grand cru, 30 and 40 plus a casual 30 and 40 year old Balvenie.
I was allowed a wee taste of the 40 and Ooft. If I could drink it every day, I would. It did get me thinking of how these people who admittedly may not even "like whiskey that much" get to try these things and it was sad that we in the industry, who study, respect and revere these drams may never get the chance to. But luckily there are some amazing brands and bar owners and GMs out there who are doing the dramdest to make this happen,
ADVERTISEMENT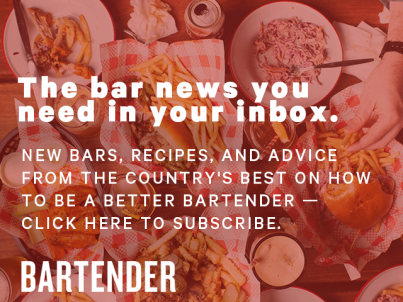 &nbsp
So, apart from sneaking a straw in, hopefully at your venue's owner's consent, or that once in a bar lifetime that a cashed-up regular buys you one, how do we get a chance to savour the rightfully expensive drams?
Break-even bottles
A feature of a few bars around the country that want to share something special with guests and hospo folk is the "break even" bottle. Bars like Hains and Co in Adelaide have done this to great effect when Marcus Motteram cracks a bottle of high end delicious booze from his expansive back bar.
Us purveyors of spirits here in Sydney are about to be treated to 12 weeks of 'Bootleg Bottles and Blues' on Sundays at the home of whisk(e)y- Baxter Inn. GM Tom Price says 'At Baxter we get access to whiskies that some people can't and we always want to show people them and let them actually touch, taste and smell them. So, we wanted to give something back and throw out some insane whiskies at a very low cost because not all of us can ford to pay $1500 for a measure. I know I'd rather pay rent." At Baxter you will be able to try Talisker 30 for $30 a measure. Yep, a dollar per year of aging.
Price told me that the first week's dram is a bottle of Pappy Rye and there's a Gordan and MacPhail Bunnahabhain 30 year old I can't wait to taste a few weeks later.
"There's no point having all these awesome bottles if we can't share them with the people that want to try them. Half serves is such an easy way to let people compare, try something a little more pricey, or simply try something really punchy without feeling it too much the next morning." – Bryce McDonough, Burrow Bar
15ml pours
Some bars are lowering the financial commitment to trying some rare spirits by allowing us a half measure at obviously half the price. Most till systems have the ability for this though bars like Burrow Bar (which recently changed location) actively suggest it, especially as they have a lot of cask strength bottles to enjoy. Bryce McDonough adds "There's no point having all these awesome bottles if we can't share them with the people that want to try them. Half serves is such an easy way to let people compare, try something a little more pricey, or simply try something really punchy without feeling it too much the next morning."
This is a great way to literally half the cost and maybe even do a comparative tasting of things that would otherwise break the bank.
Brands showing some love
A story of something pretty awesome I heard when asking around about this came from Alicia Clarke, a bartender at one of my favourite spots Double Deuce Lounge. She recalls a time she was working at Evolve Bar in Hobart when Ross Blainey and Luke Sanderson came in on a visit to Tassie. Under the guise of comparing their respective brands – Balvenie and Glenfiddich's 30 year old expressions – they each bought a measure and discussed why they preferred the ones they repped.
After a sip they offered the remaining to Alicia who was shocked and amazed to be able to taste these drams she felt were out of her reach. She says it started a love for the brands and led her to selling the rest of the bottle and other expressions to some wealthy regulars who loved the story (and whisky).
Talking to Ross Blainey, who now looks after both Balvenie and Glenfiddich here in Australia, he says that for him it's one of the most special parts of the job. "You can be in a bar and buy someone a whisky that they haven't had before and show someone something special and you know that when you see their face and how happy they are it's worth every penny" He suggests it's the people that deserve to try these things and have done the work that he tries to look after. "You get the feeling that it's going to make a difference to that person".
I am not saying that all hard working ambassadors need to go out and buy a high end spirits for barstaff with their very considered budgets each month, but simply that this kind of thing does build brand loyalty at a grass-roots level.
One suggestion I heard that encourages brand loyalty is this: If a bar does fork out for a high-end bottle, the company could discount a small portion for the barstaff to taste. This creates a two-fold effect of rewarding staff and also cracking that bottle that may sit unopened if not for the upselling ability of dedicated staff. In some cases, the bartender is the best salesperson a brand has, and if they've tried something, it's way more likely to move, right?
If nothing else, I hope this sparks a conversation that I would love to continue, not just so I can try some aged and rare spirits but so that we, as hard working bartenders, get the chance to taste, love and tell the story of these products that sometimes rarely get pulled down from the top shelf or sit in collectors home bars.