Interview by Jono Carr, drinks@spantonmedia.com
Images by Christopher Pearce
How did you get into the hospitality industry?
I have only been in hospo for about three years. Being really interested in the human mind I was at Uni studying psychology for a year but couldn't see myself spending another seven years before being able to practice. So, I regrouped and moved back to Tassie (from studying in Newcastle). I started as a waitress in a dive bar and by the end of the first week got thrown into the bar with a specs sheet and not much else. I took a liking to learning new drinks and after a little while guests started asking for me to come up with new drinks just for them. So, I did my research and realised that I enjoyed it, it was fun and nice to be creative.
So that gave you the bug then?
Yeah being thrown in the deep end there, which is a common trend in my Hospo life so far.
So, it was sink or swim and you chose to swim. You are at the Roosevelt now, what's your title and how did you get the gig?
I am assistant venue manager, being trained as venue manager. I was working at Rosenbaum & Fuller as bar manager for a year and looking for a new challenge. I met Ben and Naomi and they were keen to train me in the business aspects and help me grow with them. They really wanted someone they could trust with their business.
ADVERTISEMENT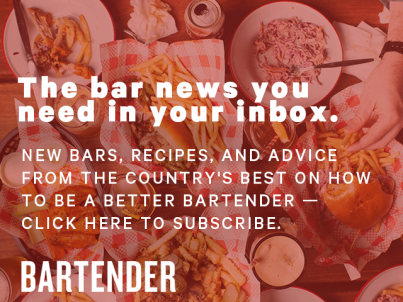 &nbsp
What are you drinking right now?
I'm drinking a lot of Whisk(e)y now as it gets into the colder months. I've gone down the Whisky train, lots of Balvenie and Macallan. My old go-tos were peated whiskies but right now I am enjoying more sweet and wine cask Scotch. If I am drinking cocktails it's a Dark rum Daiquiri with bitters, usually Diplomatico Reserva Exclusiva at the moment with about 5ml of Angostura bitters.
"My dislikes? Probably all those tiny cuts you get working in the bar that citrus gets into and are annoying all week!"
Apart from good Whisky, what are some of the things you love about hospo?
Creativity and independence, being able to have fun and be cheeky at work, definitely the interesting conversations that you get to have with different people. And especially working with a really good team here at The Roosevelt who are a smorgasbord of personalities.
What are some of the things you don't like about the hospitality industry?
My dislikes? Probably all those tiny cuts you get working in the bar that citrus gets into and are annoying all week (laughs). I've never been a morning person but more and more nights mean I am missing those mornings when I would get up early and do things.
Sadly they don't always go part and parcel with the hospo lifestyle. Last year was an interesting one for Hospitality with the lockdown, how did it affect your work life and in general?
I had only been in Sydney for a few months pre-COVID and hadn't really established much of a friends group so I found it quite lonely during lockdown. My best friend was here but lived in the city and I was in Bondi. I definitely gave up on Sydney a bit, I went back home and spent some time on the family farm.
How has the COVID experience changed your work life?
By the time Sydney was reopening I had this real itch to get back into it and a surge of motivation to fix the lifestyle stuff around the work. It meant that I could actually do the job I enjoy, I have carried that on, just being really grateful to be able to do my job.
When restrictions are lifted, where would you like to go/do?
I want to go back to Dubai where I was born. My brother is still there, my dad has worked there for a few years, and I miss the place a lot
Do you have any mentors or people that you really respect in this industry that have helped you along the way?
Yes, a big one for me, the first person who made me think that I could actually be a professional bartender and not that it's just a side gig, Niall Maurici. He ran the Glasshouse in Hobart when I worked there and is an encyclopedia on legs. He was very particular and pushed me to be creative and enter competitions. That was the hardest part of leaving there.
Where do you see yourself in five years?
I haven't been doing this very long so hopefully I have a lot more knowledge than I do now and I will be learning more about how to run a successful business and how to look after staff. Then maybe a Group Bar Manager role. down the line. Just seeing what it means to be in this industry for the long term.
If you could have a drink with someone (alive or dead) who would it be and what would you be drinking?
This is kind of a personal one, I've thought a lot about this and it has to be my Nan on my father's side. She passed away when I was in high school. She influenced me becoming more out there and being more extroverted and a huge part of my dad's personality came from her. I never really got the chance to meet her as an adult. So I think that if I got to sit down and share a bottle of wine with her, she would have some insanely funny stories.