Interview by Jono Carr. Reach out to Jono at drinks@spantonmedia.com or find him on insta @jonothandc
What is your background about how you got into the hospitality industry?
I started in a pub background, throwing kegs as a cellar assistant straight out of high school. Spent my days hunched over in 100-year-old cellars lifting heavy things. Moved on up to the pub floor then to nightclubs, restaurants, cocktail bars, and now I just stand around looking pretty at DK, a tough job but someone's gotta do it.
How did you get started at your current gig?
I believe it was an SOS call from you Jono… called into polish glasses on a soft opening, for what was meant to be a 2-hour shift. 8 hours and countless tequilas later I was still there, even called in sick to my other job the next day so I could come back. Haven't looked back from there.
What are you drinking right now?
'Shit Drinks'. All those drinks that bartenders used to turn their nose up at. I love to crush a Cosmo or a well-made Long Island. Bring back vodka classics they slap.
What are some of the things you love about hospo?
The ability to meet people, there are not many jobs in the world that you get paid to stand around chat nonsense over a drink. I've met some of my closest friends through this industry and it continues to offer opportunities.
ADVERTISEMENT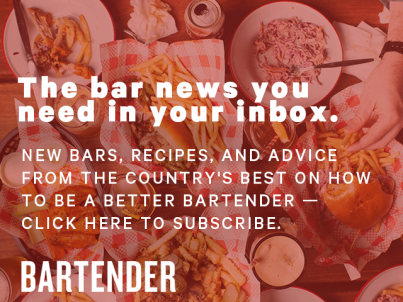 &nbsp
"'Shit Drinks'. All those drinks that bartenders used to turn their nose up at. I love to crush a Cosmo or a well-made Long Island. Bring back vodka classics they slap."
How has the COVID experience changed your work life?
It flipped it all on its head. I became a cleaner and delivery driver overnight the first time around. It forced us all to adapt and learn. I was lucky enough to be looked after by Nat, Justin and Sharon, with constant checkup calls and the support to learn some new skills, whether that be figuring out excel or assisting me in getting my WSETs.
What are some of the things you don't like about the hospitality industry?
There isn't much, especially watching the way everyone has bound together over these lockdowns nationwide, helping each other out, there isn't much to hate about it.
When restrictions are lifted, where would you like to go/do?
I want to stay in this country to start. Head to some other bar hotspots around this country. Drink some good booze from some talented bartenders.
Are there any bars overseas that are on your hitlist?
Probably the top of my list at the moment is New York, my brother is over there running some venues, I've had the virtual tour, but I'd love to go perch up a seat at one of them, then around to the other belter bars that the city has to offer.
Do you have any mentors or people that you really respect in this industry that have helped you along the way?
Is it awkward to say you? I've had plenty along the way, from my first job putting faith in a kid with no experience to, the group that gave me my first start here in Sydney, Swillhouse, teaching me how to make that guest experience the best regardless of the setting. To everyone that has helped me get to this position in DK, from previous managers and colleagues, and probably most importantly Nat, always there and believing in me.
Where do you see yourself in five years?
Well at least finished my uni degree… sorry Mum. But I'd love to still be working in this industry. I'm still young and have plenty to learn, if I can continue to grow, I'd love to be running multiple venues.
If you could have a drink with someone (alive or dead) who would it be and what would you be drinking?
As a sports nerd, I'd probably go some sports team. That or Bill Murray, doesn't that guy love his tequila? Also, probably good value for a laugh.
When restrictions ease, make sure you pop in and visit Nat, Liam and the team at Door Knock Sydney – B2, 70 Pitt Street, Sydney.