TUNE IN ON TUESDAY, 21ST SEPTEMBER FROM 7PM
THE COUNTDOWN OF THE COUNTRY'S BEST BARS, MANAGERS & OPERATORS WILL GO ON!
As most of you will know this year's Bartender Magazine Bar Awards is going to go ahead in a digital format on Tuesday, 21 September from 7pm to 9pm. We desperately wanted to do this in person but we will do what we have to in a pandemic and do the best livestream awards that we possible can!
Many cities and towns have little to no COVID restrictions and will be able to celebrate with family, friends and their industry mates to share this livestream together in style.
Follow the #barawards2021 and tag in your Bar Awards livestream photos and videos
Sadly, for lots of people in our industry, September is looking like a long, locked-down month. We know many of you will be tuning in from your lounge rooms. It will be a fun night and the event is totally free with not ticketing required. Just make sure you sign up to the Facebook event.
So, no matter where you are, whether you're at a bar with friends or at home with your Grandma, just make sure you tag us in at #barawards2021.
ADVERTISEMENT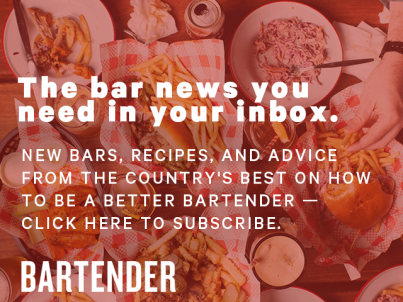 &nbsp
No one is under any obligation to do this. You can watch the livestream from wherever you like. In your kitchen, in your living room or in bed (if you're in lockdown still).
And for those that are planning livestream parties, all the info is here. And please get active on socials during the livefeed and encourage your attendees to do so using the hashtag #barawards2021. We will use these images, videos and comments throughout the night of the livestream.
To check in with all the finalists and all our awards sponsors simply click here.