Dan Gregory is a former Bartender Magazine Bartender of the Year. You can currently find him leading the team at The Gresham in Brisbane or @dan_gregory84
It has been an exceptionally long time since we have been able to leave our shores, hell even leaving the state is hard enough. When the family and I have down time and the travel bug starts to bite, I reminisce about adventures past to subdue the beast. I look at photos and souvenirs to conjure memories, or even open a bottle of whiskey. One I might have snuck through customs and which is now collecting dust. This brings back memories of distillery visits in places that seem unreachable for some time to come. But the best thing that offers me a glimmer of hope that there are adventures ahead, are the books that I have collected along the way.
There is a place that my heart cries out for the most, the city of New Orleans, and the book that delivers me some comfort is 'Tujague's Cookbook: Creole Recipes and Lore in the New Orleans Grand Tradition'. Now this may be a cookbook at heart, but it is also a history of New Orleans and the cocktails which have shaped this city. I was incredibly lucky to have visited Tujague's on my last trip to the US in 2018 and what I didn't know then was this would be my last chance to see this institution in the place it has called home since 1914. Tujague's actually dates back to 1856 but it has been situated in three different locations within the same street in the French Quarter, starting at 811, 823 and now 492 Decatur Street.
When you walked into this bar it was a trip back in time, being America's oldest standup bar, I was greeted with "step right up to the bar". I was lucky to be served that day by the legendry bartender Paul Gustings, a bartenders bartender and I felt privileged to be sipping a drink made by his hand. Crazy side note, when I was at the bar enjoying my Sazerac I turned and next to me was Dale DeGroff, even he looked starstruck being served by Mr Gustings.
But if you never got the chance to grace this bar before the move or want to reminisce about past visits, get this book. When you open these pages, it is such a detailed history of Tujague's, from the families and people who have owned it, to ghost stories which New Orleans is famous for in general. Chapter one, 'Cocktails from America's Oldest Standup Bar', starts with an amazing photo of the bar from the early twentieth century. Looking at this photo it amazes me that I stood here, such history. And that is where it takes you on the adjacent page with the history of the bar itself, which was there before Tujague's took over in 1914. Originally starting out in 1867 as Dutrey's Coffee Exchange, although what most patrons were imbibing was a lot more spirited than coffee. The two most famous drinks to come from this bar are the Grasshopper and Whiskey Punch. Yes, I had a Grasshopper when I was there and yes it was delicious. There are a few more classic drinks that grace these pages, the bar was famed for their Sazerac, Brandy Crusta, Pousse Café and Absinthe Frappé.
ADVERTISEMENT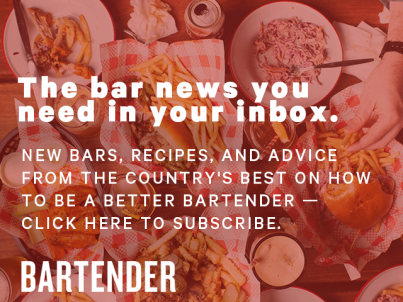 &nbsp
After this you have five chapters of classic New Orleans dishes, please don't pass over these sections. If you have been watching too much MasterChef and want some classic southern cuisine then dust off your apron and start cooking. The first chapter of these five is one of my favourites and is called 'The Butcher's Breakfast'. This is where the birthplace of brunch originated back in 1867, which started when Elizabeth Dutrey started serving hearty meals for the butchers every morning at eleven o'clock. They became so famous there would be lines around the corner to try the butcher's breakfast. And looking at these recipes they were very decadent indeed, just have a look at 'Liver à la Bégué'. But over these pages you have the likes of Miss Brenda's Red Beans and Rice, Creole Gumbo, Grasshopper Pie and more Shrimp and Crawfish recipes than you can poke a stick at. I'm in love with Creole and Cajun cooking so for me this is just as good as everything else in this book.
But we're here for the cocktails and the two that I will showcase are no brainers, first up the Grasshopper. Lore is said that in 1918, on the eve of prohibition, Philip Guichet participated in a prestigious cocktail competition in New York City. Being such a classic drink you might think he took it out with this green goddess. But unfortunately, it was placed 2nd, this is the only drink in history that I know of that it is so famous coming off as a second-place winner, crazy. And as always with classic cocktails there are conflicting stories, but I'm sticking to this one.
In Tujague's recipe they call for green and white crème de menthe, if you don't have an extensive collection of crème de menthe just add 1-2 drops of green food colouring to white. But for the love of good don't put it in your beer on St. Patrick's Day. And they also spike it with brandy in the mix and a small float of brandy on top once done. If you're like me and like your drinks on the boozy side, please try it this way for a superior Grasshopper.

Grasshopper
30ml Crème de Menthe (Green & White if you have it)
25ml Crème de Cacao (I used all white cacao)
15ml Cognac
30ml ½ Milk & ½ Cream
Combine all ingredients to a shaker,
Add ice and shake very well.
Double strain into chilled fancy stemmed glass.
Float ½ teaspoon of Cognac on top,
grate chocolate and mint leaf is optional.
The second is the Whiskey Punch, but hey wouldn't you know it, this was first place winner in the 1956 Early Times National Mixed-Drink Competition. And by the same gentleman as the second placed grasshopper. It only came to light in 2015 and began being served again when a framed group of photos were discovered in Tujague's third-floor attic. Philip had preserved a copy of his recipe behind these photos, and I'm glad he did. This is an amazing example of simplicity in a classic, this drink is a Bourbon eggnog style with the addition of orange blossom water. Sometimes the smallest touches to a drink will make the biggest impact and this is one of them. If you want to get your dairy intake for the day, please give these two drinks a go.

Whiskey Punch
45ml Bourbon (I used Eagle Rare)
45ml ½ Milk & ½ Cream
15ml Sugar Syrup (1.5 Sugar/1 Water)
1 Whole Egg (The smallest you can get)
4 drops Orange Blossom Water
Combine all ingredients to a tin,
Dry shake, add ice and shake long for silky texture.
Double strain into chilled stemmed glass.
Garnish with a grate of nutmeg
Best served next to a fire place.
I am looking forward to going to Tujague's 3.0 when I'm back in New Orleans, but until then, if anyone wants to join me in a five-course brunch and bottomless grasshoppers please get in touch.