This year's Bar Awards is going to look a bit different than back in 2019. Remember, the 'good old days' where people from across all the state lines could get together in one city and have a big party? That is not 2021 in our hermit nation. No it is not.
But we still have a great opportunity to celebrate in our own ways. So, chill the martinis, dust off your tuxedo. The time has come to announce all the 20th Annual Bartender Magazine Bar Awards winners. Tune in on Tuesday, 21st September from 7pm live on our Facebook page as we show the Logies how the bar industry does it!
Anyone can tune in, so make sure you RSVP to the event on the Australian Bartender Magazine Facebook page. It's free to watch and you can watch from anywhere. But if you want to go to a party (and your premier says that's ok) then there are a bunch of venues hosting little shindigs (see below).
Before this event kicks off we would just like to take this opportunity to thank all the sponsors who are continuing to support this event during these very challenging times. Without the sponsors, we wouldn't be able to acknowledge all your efforts over the last two years. So please consider these guys when you're next reviewing your suppliers: William Grant & Sons, Hendrick's Gin, Monkey Shoulder, Drambuie, Glenfiddich, Jagermeister, Fords Gin, ecoSPIRITS, Unico Zelo Wines, Young Henrys, Campari Group, The Blend by Beam Suntory, The Exchange by CCA, Moet Hennessy, De Kuyper & Bacardi Rum.
*Please get active on socials during the livefeed and encourage your attendees to do so using the hashtag #barawards2021. We will use these images, videos and comments throughout the night of the livestream.
We know our sponsors are doing loads of things behind the scenes to support the bars and finalists during these times. Click here to see what the folks from House of William Grant are up to in more detail but we know they will be distributing drinks and food to hundreds of people in lockdown.
ADVERTISEMENT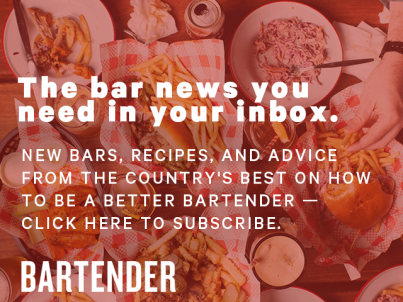 &nbsp
The folks at Beam Suntory are sending out Scholarship packs to Members of The Scholarship program. Each pack contains a cocktail from the minds of Tippling Club in Singapore and a selection of mini Beam Suntory products.
The team at De Kuyper are also sending out personalised packs to all the finalists in the Cocktail Bar of the Year category. Gift packs include bespoke artisanal chocolates that have been especially made with some of the best De Kuyper flavours! And a few other goodies included too.
Here is a list of the events we know about so far (list will be updated as we hear more):
Adelaide – will see Memphis Slims host the award show with cocktails by Maybe Mae, canapés by Bar Torino and an after party at Haines and Co! The teams from ecoSPIRITS and William Grant are on board for this event. Invitation and details will be shared on Adelaide Bartender Exchange.
Hobart – our friends at Rude Boy will host a soiree with Unico Zelo, Bacardi, The Exchange, Sailor Jerry and Savage Apple swinging the tunes late into the evening. Get your tins ready as there is also a wee cocktail comp rumoured for the night. For more details hit up the team here.
Brisbane – Cobbler will ring in the good times with cocktails, streamers and canapés covered. Invitation and details will be shared on Brisbane Bartender Exchange.
Cairns – The team from Three Wolves in Cairns will be hosting a Bar Awards party for the bars of FNQ with the support of Bacardi, Young Henrys & Campari. Reach out to the team for more info: threewolves.com.au
Perth – Foxtrot unicorn is hosting a live stream event of the Bar Awards with exclusive drinks list from Beam Suntory. Guests will be greeted with a complimentary Jim Beam highball on arrival, and the Bar Awards will be streamed on a projector in the main room. Guests will be encouraged to dress up as their favourite Hospo Hero with a prize for best dressed being given out at the end of the night. The Blend will also be opening up 10 new spots for The Scholarship in Perth. There will be a little area set up for finalists to tune into the Zoom so make sure you reach out to the folks at Foxtrot Unicorn in Perth.
Darwin – Smoke & Oak will be bringing the livestream to life for all the finalists in the NT. The occasion will feature bespoke cocktails created by the nominees for the night, snacks and tunes! Darwin Bartenders group will be live will all the details this week or reach out to the venue direct.
FINALISTS CAN ZOOM IN!
For all our finalists, you should now have a zoom link so that you can come along and accept your award on the night live on screen. If you haven't heard from us and you would like to be a part of the finalists zoom, please email amy@spantonmedia.com asap.