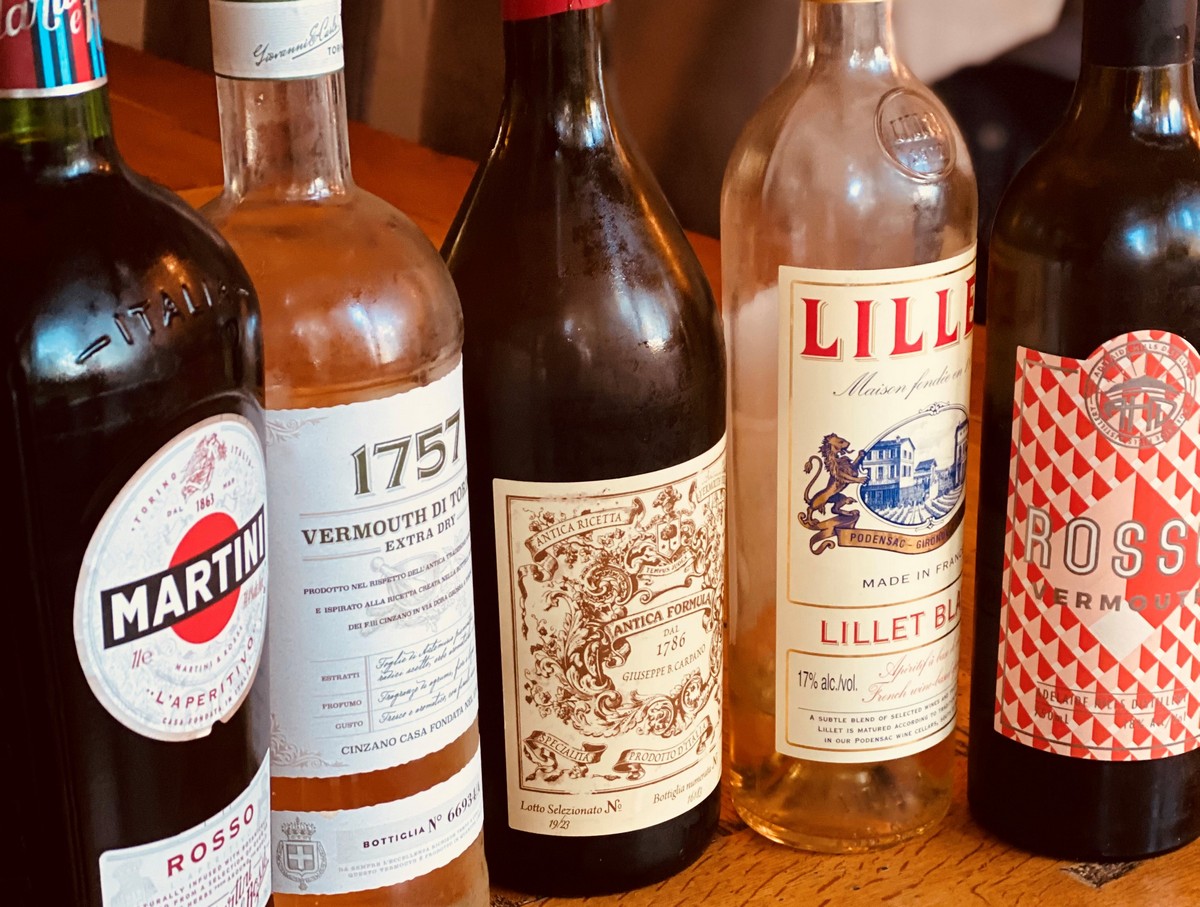 Aromatised Wines: Dave Spanton talks about the specialty list at Piccolo Bar. You can follow Piccolo Bar @piccolobarkingscross
Since deciding to relaunch the Piccolo café as a licensed aperitivo bar I have been hard at work building a drinks list that will shine a light on aromatised wines, aperitifs, and amari. As the Piccolo has some old school Italian heritage (and is all of 20sqm inside) I thought this was a no brainer. We are also in the midst of a vermouth/aromatised wine revival around the world, so I can't think of a better selection of drinks to hero right now.
The truth is all bartenders at all levels of experience use aromatised wines either a dry vermouth (think a Martini) or sweet style (aka a Negroni) vermouth in their cocktails. But let's move past just the consumption with cocktails and think about it as a stand-alone drink, much like it has been in Italy and France, the birth places of modern-day vermouth. This is what I have planned for Piccolo and what many great bars are already doing in Australia.
Aromatised wines have a long history dating back as far as 9,000 BC when wines were mixed with things like botanicals and used for ceremonies and medicinal purposes. The Romans also really loved their aromatised wines as it also helped make poor quality wines easier to drink, more palatable and aided digestion.
So what is aromatised wine? Simply put it's a wine that has been fortified (adding alcohol) and then flavoured with spices, herbs, roots, flowers, leaves and fruit. Sugar is almost always added to varying degrees to enhance the flavours.
Fast forward to the 18th and 19th centuries when many of the brands we know today were founded in Italy and France. These brands also started as a way to use lower grade wines plus creating tonics for medicinal purposes. They quickly moved past this to rather well thought-out wines and base spirits matched up with carefully selected botanicals, herbs and spices that have created some of the drinks world's most iconic flavours and brands. Add to that we are seeing amazing brands coming out of countries from all over the world today and this is in no small part due to the worldwide love affair happening with all things aperitivo/aperitif.
The challenging part has been to try to understand the many different styles of aromatised wines and settling on what selection of brands to stock. I have been reading up on the subject over the past 12 months and it is confusing. There are some rather relaxed rules and definitions on what defines any one style depending on what country you're in. So please don't take my research as law, as it's simply what I found to be some of the more interesting styles and explanations about what is a fascinating and delicious drinks category.
What is Aromatised Wine?
Simply put it's a wine that has been fortified (adding alcohol) and then flavoured with spices, herbs, roots, flowers, leaves and fruit. Sugar is almost always added to varying degrees to enhance the flavours. ABV for all styles sit somewhere between 14.5% to 22%.
What's the difference between fortified wines & aromatised wines?
Aromatised wines belong under the family umbrella of fortified wines, but the difference is that fortified wines have the added neutral alcohol but are not adding all the herbs, spices and sugar that you get with aromatised wines. Ports and sherries are the big players when you think of fortified wine and to be honest that is a monster of a category in itself and one that I just don't have room for at Piccolo. To be honest, there are a few bars doing a great job showcasing this and I am happy to leave that alone at Piccolo for now.
Varieties of Aromatised Wines
Vermouth
Vermouth is the king of aromatised wines and as such tends to have more rules around its production and classification. The base bitter agent for vermouth is wormwood with an ABV from 14.5% to 22% and a minimum of 75% wine. Traditionally speaking you had dry vermouth that was considered a French style and sweet vermouth an Italian style. These days, with all the new brands and innovation it doesn't stand up but it's worth knowing when someone asks. You should note that when you see Vermouth di Torino on a label the product must be made in the region of Piedmont. Turin (aka Torino to Italians) is the capital of Piedmont and considered the birthplace of modern vermouths, so this area is very special when it comes to aromatised wines.
The main styles that fall under the Vermouth banner are:
Extra Dry Vermouth: Light colour and as the name says very dry tasting with slight floral notes. A low added sugar content of below 30g per litre. Tailor made for the martini cocktail. Try Noilly Prat Extra Dry Vermouth, France
Dry Vermouth: Light colour and just a little sweeter, spicier, and herbaceous than Extra Dry. This style is traditionally known as a French Vermouth and works perfectly in cocktails like a martini or just sipped over ice. The sugar content sits at around 50g per litre. Try Dolin Dry Vermouth, France
Bianco/Blanco Vermouth: Light in colour and similar in tasting to sweet vermouths with a rich, tart, and citrus profile shining through. Perfect for sipping or with a mixer like soda or tonic. Sugar content of around 100g-130g per litre. Try Regal Rogue Lively White Vermouth, Australia.
Rose/Rosata Vermouth: Made with rose wine and showcasing a beautiful pink colour with a wonderful bittersweet citrus and floral profile. Perfect for sipping or with a mixer like soda or tonic. Sugar content can range anywhere from 50g-130g per litre. Try Adelaide Hills Rose Vermouth, Australia.
Sweet Vermouth: This dark looking style is normally made with white wine grapes then caramel is added giving it its sherry looking colour. Traditionally known as an Italian Vermouth it has loads of rich spice and sweetness that so many of the world's most famous cocktails depend upon (think Negroni & Manhattan). The added sugar content sits at around 130g per litre. Try Carpono Antica Formula, Italy.
Quinquinas
The predominant bittering agent for a Quinquina is chinchona bark whereas with the above vermouths it is wormwood. Chinchona bark contains intensely bitter quinine, hence the name 'Quinquinas' and was added to wine back in the 1600's by Spanish colonisers in Peru. They saw this native tree extract was successful in fighting off the fatal malaria. The French Foreign Legionnaire's in North Africa during the 1800's also had the same issue and the more palatable Quinquina Dubonnet was born originally for the troops. Try Lillet Blanc, France.
Americanos
As the name suggests, this style of aromatised wine was developed by Italian winemakers during the 19th century to cater to the American visitors who liked to add ice and soda to their drinks. The base bitter agent for Americanos is gentian which is a plant normally found in mountainous regions. That doesn't mean they don't also contain quinine or wormwood, it's just not as dominant. It has a similar added sugar content to sweet vermouth and appears with either a red or yellow colour and is best served neat or on ice with wedge of orange and splash of soda or tonic. Try Cocchi Americano Bianco, Italy.
Chinatos
The name comes from the Italian word for chinchona which is 'China'. Chinatos are a step up in flavour and are known as vermouths that have been cranked up with quinine and gentian but no other real guideline for this style seems to be obvious to me from my research. I have tried a few though and they are delicious and best served neat or on ice with a wedge of orange and splash of soda. Try Mancino Chinato, Italy.
Barolo Chinato
To be called a Barolo Chinato it must be made using Nebbiolo grapes from the region of Barolo. There can be no artificial flavours or colourings allowed to be added so what you see come from the minimum of one year aging in oak barrels that is also required. Widely considered to be the premier (and most expensive) aromatised wine style in the world its famous for deep rich, floral, citrus & bitter flavours that any serious aromatised wine list must include. Best served neat or on ice with a wedge of orange. Try Erbaluna Barolo Chinato, Italy.
Piccolo House Blended Italian Vermouth
On the suggestion of Alex Zanarini, who has been a great help in fine tuning the Piccolo cocktail list, we have implemented a house blended Italian sweet vermouth. We have a (3-2-1) ratio of Cinzano Rosso, Punt e Mes and Carpano Antica Formula which together creates a well-balanced delicious blend. On its own in some cocktails I can find Cinzano Rosso a little flat, Antica Formula too herbaceous and Punt e Mes too bitter but together in the right 3/2/1 ratio we have a beautiful, sweet spot. I should point out that a 30ml serve of our house blends comes out at 0.78c which is a great price for a house sweet vermouth when you consider Antica would cost you about 1.50c per 30ml. I am sure this blend is well known to many bars, so why not try it out at your bar or play around with different brands and see what works. Be sure to get in touch if you create something amazing as I would love to try it, as would many of our readers.
Adonis
45ml dry sherry
45ml Antica Formula
2 dashes of Angostura orange bitters
Stir down all ingredients with ice and
strain into a chilled cocktail glass.
30ml Campari
30ml 1757 Cinzano Rosso
30ml Prosecco
Build in mixing glass.
Stir and single strain over
Bare Bones ice into old fashioned glass
Piccolo Martini 50ml Fords Gin 10ml Noilly Prat Extra Dry Vermouth Stir over ice and double strain into coupette. Garnish with an olive or a lemon ribbon.