Story by Jono Carr. Jono is our regular Sydney-based drinks writer. You can reach him at drinks@spantonmedia.com. He also just opened his very own bar, About Time @abouttimesydney so go check it out.
A great playlist is different for every venue – in some you want the music to be a seamless background, in others, it is the main feature. Personally, I love venues where you never really know what they'll play next and yet it all gels seamlessly. That takes real skill! Thanks Cara Devine.
Music has a way of bringing people together and creating a space for collective joy. It can also be hugely polarizing and your venue's choice of it can separate your guests in a way the cocktail list never will.
The creation of a perfect playlist for your venue is a tricky one. Its gotta suit the joint, appeal to not only your core guests but also to people discovering it for the first time and match or create the vibe of the venue at the time it's playing. Again tricky and takes some tinkering from the person responsible for it.
ADVERTISEMENT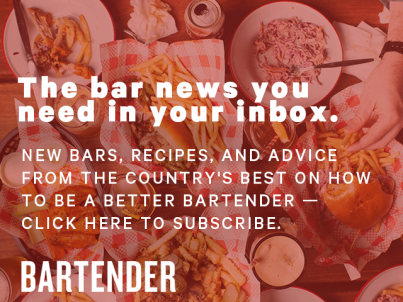 &nbsp
Throw in the aspect of live music and it is a whole veritable mix of styles. I asked some people behind some of the best music venues that I have visited about their views on music in-venue. Given they are all from different states and venue styles, it makes for a myriad of great answers.
Cara Devine, Bomba Rooftop in Melbourne
Jay Cozma, Shady Pines Saloon in Sydney
Aidan Beiers, Black Bear Lodge, Brisbane
Playlists
Cara: We usually let Spotify do the hard part but it can go off the rails or become repetitive quite easily, so it takes constant monitoring. I encourage the staff to contribute to music choices – it helps them take ownership of the venue and understand that the drinks offering is just one part of the experience you are curating for your guests.
Jay: Jason and Anton put the lists together way back in the day, the database is stored on a super old iTunes and backed up on a floppy disk I am fairly sure. We have 7 core playlists all with at least 500 songs on them and one list we call Primetime. Giving us a total selection of roughly 4000 songs saved. The way we choose which playlist is on cycle will be based on the room.
Aidan: when there's not a DJ or band playing, I have a series of playlists and mixes that the staff can choose from that are constantly updated.
The vibe of venue
Jay: It matches the energy of the room and the aesthetic tone of the venue. The vibe on the night should determine the tempo and volume. I like curated lists that follow a style and stick with it. It should also be approachable for as many people as possible or that perfect background music that just feels natural for the room.
Cara: The venue is a rooftop bar so the time of day and the weather play massively into music choices. Jazz Hop works really well for creating cosy vibes on a rainy night, whereas sunny Saturday afternoons are all about Funk and Disco.
Aidan: The music has to be constantly changing and evolving. The energy must never drop, There has to be an intention, always. Why is this music playing now? How do I want people to feel? What do I want to happen next? How do I want the night to end up? It's not just about the next song, it's about the next ten songs. Someone should be in charge of that or at the very least thinking about it. There hasn't been a better time in history for interesting music to be so accessible. There are no excuses!
Live music
Aidan: Live music adds a completely different dynamic to any space, or at the very least a DJ on busy nights. If you're paying that much attention to making your orange peel garnish look nice, then why isn't that level of detail used on a music policy? I can guarantee it'll make a far bigger impact on the quality of a patron's night.
Cara: Not at the moment but we would love to get a DJ in on weekends if we ever get back to normality. I think it would be great because it's hard not to get stuck in ruts when the same staff are choosing the music all the time – need some fresh beats!
Jay: For us, it's huge, live music is a massive part of Shady Pines. We kind of play around with the styles of music we book in, although the tone always remains Country in some way. Considering every show is a floor show the energy can just be insane at times, others nights might be relaxed and just good to sit back and enjoy. Live music always has an elevated level of engagement and energy and its great to showcase local talent.
For all the other great states with venues that have great music, I apologise for not including you, yet. Shout out to me your favourite joints and I would love to share your voice. Then visit them when times allow.