Melanie Hack is the Bar Supervisor at Beneath Driver Lane in Melbourne. You can reach her at melanie.driverlane@gmail.com. She reached out with this great editorial on the Great Staff Shortage and some of its wider reaching impacts that are happening right now, especially in Sydney and Melbourne. 
Where do we go from here? Our green bartenders have been thrown into the deep end of management with (in some cases) little to no experience. Why is this happening? It's simple. There is a drastic shortage of hospitality staff nationwide. How are we mitigating this as an industry? Let's open the discussion!
When I brought this up with my Dad, he said: "Is it like a first drafts pick in in the AFL, becoming captain in the same year?." Yep, you're spot on Dad.
There's this no man's land that hasn't been spoken about. It's a grey area of career progression that up-and-coming bartenders are going through due to the pandemic. So, let's start talking about it.
If I'm being completely honest with myself, I wouldn't be in the position I am right now (Bar Supervisor at Beneath Driver Lane, Melbourne ), without the pandemic.
Does it mean I'm not qualified for the job? No, not at all.
ADVERTISEMENT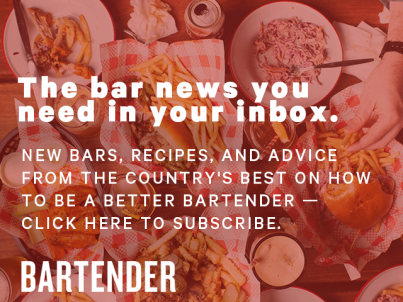 &nbsp
Does it mean I've had to sacrifice some essential progression of skill and education as a bartender to obtain my current role?
Unfortunately, yeah, I'd say it has. And I'm not alone in this.
It's a unique and interesting time for up and coming 'newbie' bartenders. If COVID never happened, those 20-something bartenders (like myself), would probably still be either on the floor, bar backing, or on the bar once or twice a week. We would likely still be mentored with a very close eye on all our skills. You had to show your worth and dedication, studying relentlessly every day, just to potentially get a shift behind the bar (for me, I was working at the Ghost of Alfred Felton in the Espy at the time.)
When I was telling my dad about this he turned to me and said: "So, for the non-hospitality folk, it would be like a first year apprentice of a trade, jumping up to third year without touching the tools for a year in between, or a first drafts pick in in the AFL, becoming captain in the same year?." Yep, you're spot on Dad.
Flash forward to November 2020,when I kickstarted my role at Beneath Driver Lane. Melbourne hospitality opens again! (It's a bit ironic the timing of this 2021 article, I know). Every day there were at least 100 + job ads being posted, every venue was clutching at eco-friendly straws for staff. It came to a point where venues were offering incentives like a $1k starting bonus, or 'refer a friend and get $500 cash.'
With zero backpackers, no international students, and a lack of certainty of working visas, The Melbourne hospitality scene was left crumbling like your Nan's Apple Pie.
Very quickly, we all realised there was this gaping hole in terms of staff, levels of skill, and experience that didn't quite match the par level back in March 2020. And this has not changed. If anything things have gotten worse. It's November 2021 now and its nearly impossible to fill a job. I heard one bar owner liken the search for staff to The Hunger Games.
So where do we go as an industry from here? What has it meant for someone like me?
And, what have I done, to make a difference for myself? Well…
I for one, religiously follow online platforms like Australian Bartender magazine, Boothby and the Melbourne Bartender exchange. Through these resources, I discovered that we are fortunate enough to have access to an extensive amount of free educational resources. Which has truly helped someone like me.
I have signed up to every 'scholarship', 'mentorship' and 'training program' I've been able to get my hands on, and I truly implore my fellow bartenders to do the same!
Here are just a few that I have used:
Ananas
The Blend Scholarship/ Training program
Henry Besant Scholarship
Speedrack academy mentorship program
Campari Academy
Diageo Bar Academy
We may not be able to physically exercise our bartending skills during these lockdowns, and when we do reopen, many bars don't have the facilities, budget, or time to train our staff like we used to. So with the help of these resources, the will, determination and commitment, we can continue to strengthen our knowledge and skill and get back on track as an industry, together.