Story by Jono Carr.
Jono is one of our regular Drinks Writers. He is also co-owner of Sydney bar, About Time @abouttimesydney. You can reach Jono at drinks@spantonmedia.com
I vividly remember sitting in the front row in a packed-out room to hear Salvatore 'The Maestro' Calabrese do a presentation. I instantly could see why is he one of the most recognised bartenders of our time. There is nothing like sitting in front of someone who commands the room with suave stories of his past. He absolutely captured my attention.
One of the stories he told was about his time managing the Library Bar at the Lanesborough Hotel back in 1994 and one of the things he implemented to set him and his bar apart. He began sourcing vintage Cognacs for his guests, giving an experience in liquid history. Years later, he went into history, making Guinness World Records, for first dropping and then succeeding in making the world's oldest cocktail using spirits and liqueurs from days past.
ADVERTISEMENT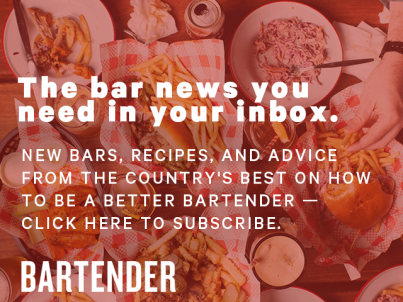 &nbsp
It made me think of what bars nearby that I could find a similar experience. That and who else might enjoy such tipples. Years passed and while working at PS40 an old regular (turned friend of many years) came in and ordered a cocktail made from some of the vintage products they had acquired.
St. Paul, as he is lovingly referred to by those who know him, is a true gent, tech genius and a purveyor of fine beverages and delicious food. Known for mixing often high strength spirits with various Chartreuse bottlings at room temp to find the perfect 'tipple'. He's the kind of guy that you want to sit at your bar.
When I asked him why he drops some decent coin on vintage cocktails he insightfully told me that drinking vintage spirits and liqueurs is time travel for the palate. He said that you can drink products that were made before you were born, in distilleries that have since closed, by distillers who have since retired or passed on, using methods that have since changed.
"Some people collect vintage products, but booze was made to be drunk and so was I, which is why I can say that vintage liqueurs are a whole new level of deliciousness." – St Paul
Bar manager of Will's and Mimi's in Coogee, Antonello Arzedi, himself a gentleman known for giving incredible service maintains a range of vintage products in his bars. Saying that the main idea behind this was to be able to offer multiple layers of service to enhance the guest experience. In this case, to offer a timeless classic made with vintage ingredients, done tableside on a cocktail trolley with the journey explained (usually) by bar managers while making the drink.
"We stock a range of spirits, selected vermouth and Campari all from the '70s and '80s as well as vintage Chivas 12, Johnnie Walker Black, Jameson, Beefeater, Olmeca Plata, Cointreau, Jim Beam Bourbon, Martell, Cinzano Dry, Rosso Antico, China Martini and Cora vermouth."
St Paul is one of few non-bartender 'Chartreuse Chevaliers' and has a mighty penchant for the monk-made liqueurs. "Chartreuse made in Tarragona, for example, is historically significant and very valuable," he says. "Some people collect vintage products, but booze was made to be drunk and so was I, which is why I can say that vintage liqueurs are a whole new level of deliciousness.
"They are typically fascinating to sip because their flavour profiles change so much over decades in the bottle. They can also elevate cocktails, but not in the sense of being able to charge $200 for a classic".
Antonello has some interesting plans with his vintage range saying that they are working on a new idea to launch after this lockdown. "We're thinking of moving away from timeless classics, and offer our revisited twist with vintage spirits worked with some more modern techniques, in line with the cocktails we offer at Will's and Mimi's."
Some other bars of note here in Sydney, that are offering the vintage experience are The Duke of Clarence (which has Pimms from across the ages) and The Baxter Inn which collects whiskies to showcase distillery styles that have changed. They look for interesting times in a distillery's past, like the years post World War Two when distilleries mostly used peat due to the lack of other heat sources for the kilns.
St Paul let me know that PS40 used to make a Widow's Kiss using vintage calvados, vintage yellow Chartreuse and vintage DOM Bénédictine and that was one of the very few things that he has ever described as divinity in a glass. "On that note, take me to church".