Story by Jono Carr. Jono is one of our regular Drinks Writers. He is also co-owner of Sydney bar, About Time @abouttimesydney. You can reach Jono at drinks@spantonmedia.com
If you were to look at a back bar for Aussie Spirits when I started bartending then you would be hard-pressed to find an offering, save for the iconic square bottle that is fronted by a polar bear. It's now 2022 and in most decent bars you can find recognisable Australian craft offerings among the international brands with much longer histories. We've come a long way in a relatively short time.
The craft spirit industry here in Australia is incredible. When asked why, co-founder of Never Never Distilling, Sean Baxter said: "We are often asked about why there is such a level of excellence by our international producer mates when it comes to the Australian craft spirits scene and I always say it's down to our capacity to work as an industry for the greater good.
"The Australian craft spirit industry is made up of our competitors, our peers and our friends. It goes to show that we are always capable of being all three." – Sean Baxter, Never Never Distilling
"Whether it be campaigning for better tax rebates, pooling resources for the best price on botanicals or sharing production spaces (we shared with Imperial Measures Distilling until our McLaren Vale distillery was ready) our industry is one of the best in the world when it comes to working together.
"The Australian craft spirit industry is made up of our competitors, our peers and our friends. It goes to show that we are always capable of being all three."
ADVERTISEMENT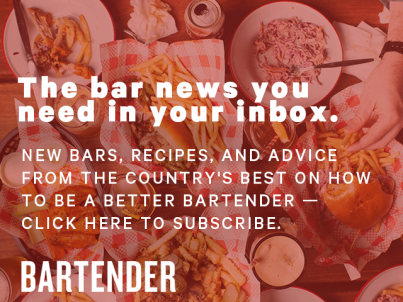 &nbsp
With over 300 distilleries in Australia showcasing local ingredients and both traditional and cutting edge techniques, we are known all over the world as not only strong drinkers but for having high-quality local products to enjoy.
Some bars have particularly embraced the Aussie spirits industry. Bad Frankie in Melbourne has long been known as a Mecca for all things Aussie, not to mention some very tasty jaffles.
In Sydney, 2021 Small Bar of the Year at the Australian Bartender Awards, The Cumberland in picturesque Manly is a bar that has a strong Aussie lean.
Pete Ehemann is behind the offering and says: "At The Cumberland, we not only love to showcase Indigenous ingredients in our drinks, but also champion Australian spirits, of which there are over 70. We stock predominantly whiskies, however also plenty of rye, rum, vodka, gin, brandy and liqueurs.
"Having a massive whisky focus in our bar gives us the ability to educate our guests on so many of Australia's beautiful craft spirits. From the well-known Lark, Overeem and Sullivan's Cove to limited releases from independent bottlers, and tiny distilleries making single products, we love to showcase quality Aussie booze."
Distilleries aren't just found in industrial areas or far-flung rural locations. Urban distilleries are becoming more prominent and are being used as spaces to make spirits but also for education as well as providing drinking and dining experiences. Check out the profile on Hickson House in Sydney's The Rocks precinct for a great example of this. Another urban distillery Brix located in vibrant Surry Hills has been making rum on-site under Head Distiller Shane Casey's (Ex Archie Rose) watchful eye.
"Being a part of this industry is extremely exciting. It's so rewarding to come to work every day and be among an industry of passionate, talented and driven people who produce an amazing array of diverse, world-class spirits," says James Christopher, Operations and Collaborations Manager at Brix. "The Aussie craft industry is littered with pioneers doing extraordinary things and for Brix to be a part of an emerging and growing industry is very, very special."
Archie Rose opened the doors to its distillery and stunning bar in Rosebery back in 2014, winning local and international awards for not only its spirits, like Best Gin at the Gin Masters competition in 2020 but also voted as the World's Most Beautiful Bar in a design competition. Archie Rose can now claim the title of being Australia's most awarded distillery.
They have also moved to their new large scale operation in Botany that is set up to produce a million cases of spirits a year, featuring stills never before made anywhere in the world. With an eye on the global market, this new site gives Archie Rose the ability to crack the elusive American market following the success that it Four Pillars have had the UK. The Rosebery site is now used for distilling custom orders and trial runs as well as hosting educational distillery tours.
The support for the Aussie spirits industry is strong from both consumers and bartenders alike. Guests brand calling local products is matched by bartenders proud to serve it to them. Responding to the industry love for all things Aussie, Bartender magazine created the Hottest 100 Aussie Spirits competition, in its third year this year.
In its inaugural year, South Australian distillery Never Never took out the top gong with its coveted Triple Juniper Gin. Sean Baxter says of the award: "We're producing Australia's most highly awarded spirits at the moment. Trophies at the World Gin Awards, San Francisco Spirit Awards and the International Wine and Spirits Competition, these are huge globally renowned comps that we are incredibly proud to have represented well at. The Top 100 is just as important."
This year's winner was Archie Rose's Single Malt Whisky, showing that Aussie Gins and Whisky are favourites among us bar folk. On learning that Brix White was voted in the top 10 this year, James Christopher was ecstatic. "Brix White is where it all started for us and we were so proud to be recognised in the top 10," he said. "It's definitely a versatile bartender's spirit and there is no better accolade for Brix White than a round of applause from Aussie bartenders. We are looking forward to releasing some barrel-aged expressions in 2022 so hopefully, more good things to come!"
It's not just in bars that consumers are flocking to Aussie Spirits. On several Whiskey chats, the demand for Aussie drams is incredibly high leading to an often-outrageous secondary market price. Whether we like it or not, the prices being demanded for bottlings show that people are willing to spend big on local offerings.
Sullivan's Cove offerings and even relatively newcomer, Highway Man from Dan Woolley's Queensland distillery are sometimes demanding prices double or triple what they were first sold for. Wild times.
"I think more and more career hospitality-minded folk will dip their toes into the distilling game. With the continuing low supply of Tequila coming into the country, we may even see a rise in several niche markets such as agave-based spirits." – Pete Ehemann, The Cumberland
So where is this leading to? Pete suggests that it's only going to go from strength to strength! "Of course we will see more decent Aussie gins on the market. I expect to see older age-statement single malt whiskies released that will continue to rival the global market," he says. "I think more and more career hospitality-minded folk will dip their toes into the distilling game. With the continuing low supply of Tequila coming into the country, we may even see a rise in several niche markets such as agave-based spirits".
It's a booming industry which shows that we can match it with the best in the world all the while giving a sense of place by using native botanicals and unique techniques. I can't wait to see what new and tasty things we'll see in the future.
These Aussie Spirits (and more) will be on show at Indie Spirits Tasting 2022. To buy your tickets visit: indiespiritstasting.com.au
The Indie Spirits Tasting Roadshow is back on for 2022. Here is a sample of some of our exhibitors who will be showcasing their Aussie spirits brands at our Melbourne event at The Craft & Co on Sunday, 8th May from 1pm to 4pm. Our Brisbane event will be in May and Sydney during Bar Week in September when we will also announce the Hottest 100 Aussie Spirits.
Karu Lightning Gin
Layered and compelling, juniper and spice run alongside other botanicals. Great mouthfeel with citrus at the fore and good botanical boldness. With added water, the floral parts open up a lot with waves of spice. karudistillery.com.au
Archie Rose White Rye
Distilled from rare malted rye and barley sourced from the finest producers, the White Rye greets you with soft herbs, tropical fruits and inviting floral notes. Twice distilled, it has a lingering finish, laden with sweet spice. Archierose.com.au
Never Never Juniper Freak Gin
This pungent 58% gin really lives up to its name, celebrating the Juniper Berry with aromatics and botanicals chiming in to highlight the tart-sweet flavour of gin's characteristic ingredient. Fragrant pine and earthy angelica make this a perfect gin for a chilly winter evening, blending with olive juice for a succulent dirty martini. Neverneverdistilling.com.au
Poor Tom's Imbroglio Amaro
A bitter/sweet Amaro Australiano right at home in a negroni, a spritz, or straight over ice. This sticky situation involves 25 obscure herbs and outrageous fruits both steeped and distilled, native and internazionale. The ensuing calamity is a fresh, herbaceous frenzy that'll make you forget whether you're coming or going. Poortoms.com
Prohibition Moonlight Gin
An homage to all things flourishing under the cover of darkness. A dance of flavour, florals and aromas, watch the colour-shift explode with luminescence when mixed. This bootlegger's bouquet combines cold distilled pink lady apple with native blood limes and rare red juniper. Black goji, clove and hibiscus tease the mid palate, sandalwood nut provides mouthfeel while honeybush gives length. Prohibitionliquor.co
Tara Distillery Pot Still Gin
A striking blend of gently distilled botanicals includes traditional juniper, coriander, angelica, and local Australian pepperberry leaf, locally-foraged sea lettuce, native lemon myrtle, and macadamia.  Combined beautifully with Irish rowan berry, hawthorn, heather, and Newfoundland savoury making this a distinctive, well-travelled, and truly classic dry gin. Taradistillery.com
Unico Mando
Using the biggest & juiciest of all the Mandarins – the Dekopon – we made this refreshing, vibrant liqueur from exclusively Riverland citrus! The perfect ingredient for the ultimate Summer beverage. Try it in a spritz. Applewooddistillery.com.au
Australian Distilling Co. Shiraz Gin
Made from award-winning gin steeped with premium shiraz grapes, Shiraz Gin has a nose of pepper, spices and blackcurrant with a sweet, complex and full-bodied palate overlayed with hints of raspberry. Australiandistillingco.com.au
White Light Barrel Aged Vodka
Our triple distilled spirit is aged in new Hungarian Oak barrels, imparting a light straw colour and silky creaminess with a rich full bodied mouthfeel.  Savoury hints of nutty malt lead to fresh citrus and vanilla. Whitelightvodka.com
Boat Rocker Double Barrel Aged Rum
This rum release undergoes double maturation, initially in ex-bourbon barrels for more than two and a half years followed by a further 6 months maturation in level 3 char virgin American oak barrels. A small percentage of in-house solera dunder is added to every distillation. The rum has an amazing array of complex aromatics of allspice, dark chocolate and vanilla with a palate of candied orange peel which teasingly opens up to brown sugar and molasses, coconut lactone, vanilla, ending on a pleasing oaky finish. Boatrocker.com.au