Story by Jono Carr. Jono is one of our regular Drinks Writers. He is also co-owner of Sydney bar, About Time @abouttimesydney. You can reach Jono at drinks@spantonmedia.com
It's competition season again. After a hiatus, cocktail comps are back with fresh brand budgets, new requirements, and some serious prizes to be won.
Once upon a time, I entered almost every comp that I could, meaning I've lost more than most have entered and even scored a win or two along the way. So here are a few things I've picked up along the way: learn from your mistakes, put in the work, and you may just get that prize money/international trip/bottle of booze that has caught your interest.
Entries are open – Where do I start?
Understand the brand – they are paying for everything after all. Do your research before anything else.
Read the brief criteria and then re-read them – if they don't allow homemade ingredients, it's good to know before making them.
Understand the rules before you get creative – have a solid idea of what you want to create before you go and infuse a whole bottle of (insert spirit here).
Run the idea by the brand ambassador/ friends/ bosses – they may be able to steer you in the right direction early as to what's feasible.
Set a reminder to enter a week before they close – your fantastic idea is just that if you don't actually enter and the last minute isn't best for comp entries, trust me.
If you don't take good pictures, ask your friends, someone you know has a DSLR sitting at home or takes great iPhone shots.
Social media is a part of the comp, even if they say it's not.
You are through! What next?
Celebrate! Then make the drink/ serve as much as possible in the venue (if you can).
Practice the chat while making the drink. Refine the prep and garnish till you know it.
Keep up the socials.
Before the day:
Try to learn about where the comp is being held and go there. Check the bar setup where you could be presenting.
Try to re-create that in your venue.
Hand write out your chat – have key dot points to go back to if you lose your way.
Practice with water, then practice with booze.
Know what you're going to wear, and have it washed and ready.
Get your tools together and bring them. Nothing worse than trying to use other people's stuff.
Have more than you need of everything, especially glassware and bespoke ingredients – have a checklist.
If there is an exam on the day, study.
On the day:
Don't get drunk the night before.
Eat beforehand. Nerves ruin stomachs.
Get a space, make it your own, set up your things, and ensure you have everything.
Use the checklist.
Chat to other competitors and network – it'll come in handy later that day if your missing something and in your career in general, friendships are made in this time.
Take headphones and practice your speech.
Have a drink or two, not 22.
Figure out your line-up. If you are on early, chill backstage or off to the side, say hellos but stay focused.
If you are on later, mingle but keep an eye on the clock.
Pre-prepare garnishes if you can.
Presenting:
If you can, top up the judges' waters.
Introduce yourself, thank the brand and the judges.
Preach your speech but then remember the dot points.
If you get off track, go back to your dot points.
Remember the motions of making the drink/s at your bar and keep it fluid.
If you fuck up, it's ok. It's not about the drop; it's about the catch.
Timekeeping is important.
Get the drinks up while chatting- not one then the other.
Finish and thank the crowd, judges and the brand.
Don't get belted before the winners' presentation.
If you win, that is great! if you don't that's fine too, remember what you learnt for next time.
How you act after either will be remembered.
Cocktail competitions are a great way to challenge yourself, be creative, network, and meet people from other bars or states. The camaraderie backstage at comps is something special and a reminder of how close-knit this community can be.
ADVERTISEMENT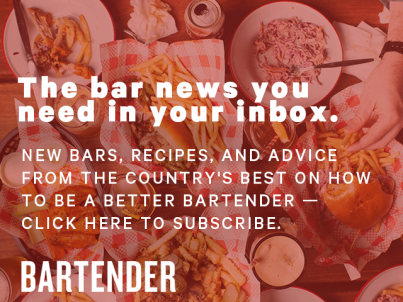 &nbsp
Some comps will take months of work, and you will have to give a lot to the brand to win, though the prize can be life-changing. Smaller comps are a great way to build up the skills to win those if that's your goal. Either way, if you are thinking about entering comps, do it. You won't know if you don't try.
There is still time to register to compete in the Bartender of the Year competition sponsored by Monkey Shoulder & Hendrick's at Sydney Bar Week. Click here for all the details.
The Bartender Magazine Bartender of the Year Comp forms part of the massive line-up at this year's Sydney Bar Week. 35+ events from 3-7 September. Click here for our full timetable.