Story by Cara Devine. Cara is our Melbourne-based drinks writer. She is the manager of Bomba in Melbourne and the face and talent behind the cocktailing youtube channel Behind the Bar. You can email her at behindthebarchannel@gmail.com
There is a plethora of bartending and booze books available (which my own bulging bookcase can attest to), so why choose this one? Well, I want this to be a one-stop shop – more than just a list of recipes. This book deconstructs cocktails to their constituent parts and helps you understand how to put them back together again through the use of the 'Taste Triangle'.
"Cocktail, then, is a stimulating liquor, composed of spirits of any kind, sugar, water, and bitters." This is the earliest written definition of the cocktail and, while at first glance it might not look like it has much in common with '80s disco drinks or modern molecular mixology, it actually lays out the foundations of every successful cocktail – strong, sweet and bitter (or sour). These three elements form the three sides of the triangular base that has underpinned cocktail creativity from 1806 to the present day!
It is important here to differentiate between 'taste' and 'flavour'. We start with the Taste Triangle because 'taste' is a basic sense – it is how your tongue perceives sweet, sour, salty, bitter and umami (savoury), and therefore how it perceives balance. It's mechanical!
The Taste Triangle can lean more heavily in one direction – some cocktails are a bit sweeter, some a little more sour – but you absolutely cannot miss out one side entirely or the whole cocktail falls down.
Flavour is a little more convoluted – it encompasses taste but also specific flavour compounds, aroma, texture and, I would argue, sense-memory to create an overall impression of what you're drinking. The Taste Triangle can lean more heavily in one direction – some cocktails are a bit sweeter, some a little more sour – but you absolutely cannot miss out one side entirely or the whole cocktail falls down.
ADVERTISEMENT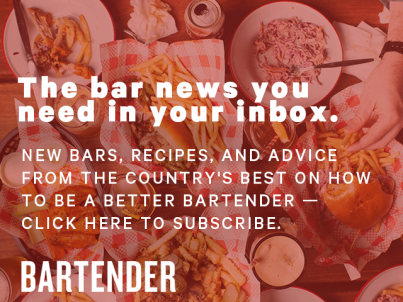 &nbsp
In the book, I explain where common cocktail ingredients sit within this framework with the aim of helping readers understand what they can switch out and substitute, whether in a pinch or in pursuit of experimentation. Cocktail recipes are broken down into styles (e.g. short & boozy, tall & refreshing) rather than by spirit, meaning that other spirits can be swapped into each recipe, and within each category there is a 'Famous One', 'Fun Twist' and 'Honourable Mention' showing how you can take the template of, for example, a Daiquiri and play around with it to create other delicious libations.
I hope 'Strong, Sweet & Bitter' will provide a thorough grounding for home bartenders and professionals alike, and encourage people to have some fun with their cocktails rather than learning them by rote and panicking if they don't have the exact ingredients called for. Tasty drinks for all, always!
Citrusy and Fresh:
Corpse Reviver No. 2
'Four of these taken in swift succession will unrevive the corpse again'.
20 ml (? oz) gin
20 ml (? oz)
Cocchi Americano or Lillet Blanc1
20 ml (? oz) curaçao or other orange liqueur
20 ml (? oz) fresh lemon juice
Absinthe, to rinse
Garnish: lemon zest twist
Glassware: coupe or martini
Add all the ingredients, except the absinthe, to your shaker tin. Fill with ice and shake hard! Spritz your chilled coupe with absinthe and double strain the cocktail into the glass. Fold your twist over the top to expel the oils, then use as a garnish.
Wildcards and Weirdos:
The Alexander
The Alexander is a Grandfather cocktail, having been around since the 1910s, and was actually originally made using gin! Nowadays, brandy is often used instead but both work. Here, the cream actually provides balance through lactic acid, and I like to split the cacao with some coffee liqueur for a bitter note.
30 ml (1 oz) gin or brandy
15 ml (½ oz) crème de cacao
15 ml (½ oz) coffee liqueur
30 ml (1 oz) cream
Garnish: grated nutmeg
Glassware: coupe
Add all the ingredients to your shaker tin, add ice and shake hard – you want to make it nice and airy. Double-strain into a chilled coupe glass and grate nutmeg on top using a microplane.
Tropical and Fun:
Mai Tai
Both Don the Beachcomber and Trader Vic claim this drink. This recipe is very much Trader Vic's original take, invented in 1944. Don's drinks are notoriously complicated whereas Vic's original Mai Tai is tight, sharp and well balanced.
60 ml (2 oz) aged rum
25 ml (¾ oz) fresh lime juice
15 ml (½ oz) curaçao
10 ml (? oz) orgeat
5–10 ml (1/6–? oz) rich demerara sugar syrup
Garnish: mint sprig and lime husk
Glassware: novelty or rocks
Add everything to your shaker tin, add ice and shake. 'Dump' the contents of your shaker tin into your glass – i.e., you don't have to strain. Add more ice if necessary to fill the glass and garnish, arranging your lime husk and mint sprig to look like a desert island and a palm tree – cute!