Basement 96 Currie St Adelaide SA  (enter via Cold Chisel Lane)
@trap.adl
Back in June, Lachlan Gunner, who was a longtime employee of Sydney-based group Liquid & Larder opened his very own venue in Adelaide's West End, a 30-person underground cocktail den called Trap. A much-needed addition to the Adelaide bar scene, Trap brings seasoned bartenders (including ex-Memphis Slims legend, Jack Somers) who are passionate about cocktails as well as genuine customer service and big welcomes.
What is the idea behind the venue?
In some circumstances, being trapped can ironically be liberating. Like moving back home with parents, or like being the main character on the Truman Show. This is because all your day-to-day is being looked after for you. It's this idea that reminds us of good hospitality. When you step down the steps into the intimate basement of trap., all your worries disappear and you can relax knowing that you're being looked after by experienced and friendly staff and guided on a top-notch good times drinking experience. It's a small space designed so that the staff can get a chance to create a dialogue with each and every guest. We have plans to incorporate more space for the vibrant Adelaide festival/events scene, but that's only mulling in the background while we focus on our first few months of operating.
"When you step down the steps into the intimate basement of trap., all your worries disappear and you can relax knowing that you're being looked after by experienced and friendly staff and guided on a top-notch good times drinking experience."
What is the beverage program like? Any highlights
Intimate. We have 2 beers, 2 wines and 5 cocktails listed. While most of each of our drinks are batched, it gives us time to foster and build relationships with our new guests. Each of our designed cocktails has a specific purpose in mind. Our first menu is to introduce and hero some of the more popular techniques in high-concept cocktails to a market that hasn't really seen them compared to other capital cities. We have a strawberry gin-washed milk punch for instance, as well as a stir-down tropical boozy drink dusted with bee pollen and banana skin dust. But we want to keep the tone of the menu quite playful too. This is done by stenciling the word trap. on a fluffy rum pome sour using cinnamon sugar – which always draws a wow from the guest.
Who are some of your key staff?
I've got a wealth of experience from working in Sydney for a number of years. Liquid and Larder helped support a growing love for cocktail competitions. Moving back to Adelaide I met Jack Somers, ex Memphis Slims and all-around legend. Not only is he the nicest guy you'll ever meet, but he's also super talented and interested in drinks design. As our bar manager, he really drives a lot of what you see on the menu and the experience you have in-venue. Our team is pretty small – Saskia Lopes has heaps of experience abroad and is very quick to know what people really want. She's done a huge stint managing The Pontiac Bar in Hong Kong, which got to #26 on Asia's best bars list in 2021. Our most recent addition is Yudai Kato – who most people know as a veteran in Adelaide hospitality having worked at Hains and Co for many years! No specific person is key at trap. Instead, we all act as soundboards off each other designing drinks for either the venue or competition. I'm so excited to see what comes out of this group for our next menu.
ADVERTISEMENT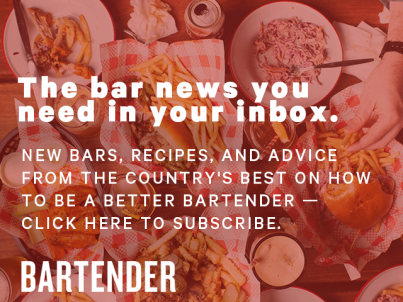 &nbsp
What's the look and feel of the space?
Guiding people's focus has been a big part of opening with quite a minimalistic design. We made deliberate choices about where to invest in setting the bar up. We want people to focus on their friends, the drinks and chatting with bartenders! Most of the space blends together until you begin to notice little touchpoints we're cultivating that will really pop as we age a little. An example of this is how welcoming we are for people to leave their mark on the venue. Where all the walls are white, it's quite striking to see a mix of phrases, names and illustrations marked in black on our fridges behind the bar. Everyone also gets the opportunity to add to our coaster collection of quips and sayings by writing on them with a provided Sharpie – I won't spoil any of them here but it's great seeing people get all giddy with their chance to write something creative. Some common feelings that people mention when they settle into the bar is that it has a very homey feel. Like drinks in the kitchen of a friend's house at a party. I love that because it means it's very welcoming, friendly and conversational.
Any struggles that you faced with opening?
The time in between getting the keys to doors open was only just over a month (after 6 months of heavy planning). It's only been a couple of months now since it opened, so we're still in the midst of generating the momentum of regular trade midweek. We're committed to opening from 4pm every day, but being hidden in an alleyway with no obvious street presence, we're really relying on word of mouth. We've tried to make sure we've had all of Adelaide hospitality through the doors now to come check us out, I think we're almost there now, which means we can focus on events and offerings that general punters can get around too!
What's the response been like?
99% positive. I was hoping it would be good, but not that good! Hospo has been so welcoming, and I swear it's not just because we're doing $10 negronis and daiquiris on a Sunday! I also think it's because we actually create a dialogue with our guests – being so small, we can afford to have a chat, ask things about them and, I would say most importantly, gauge their experience in real-time and adjust accordingly.