5 Kensington Street, Chippendale
@longshore.syd
Chippendale's newly opened seafood restaurant and wine bar, Longshore, from former Hartsyard owners Dorothy Lee and Jarrod Walsh, boasts an impressive drinks list.
Longshore's beverage program is curated by Head Sommeliers Isobel McFadden (ex Chin Chin and No 92 GPR) and Elly Walsh (ex Bennelong and Margaret).
While the wine list is carefully constructed, there is still room for cocktails. One of the crowd-favourite cocktails Strawberry Old Fashioned, a fusion of Strawberry-infused whiskey, agave and bitters.
Strawberry Old Fashioned
60ml Strawberry Whiskey*
15ml agave
1 dash orange bitters
Pour all ingredients into a glass jug, stir with ice and strain into a rock glass.
Garnish with dried orange or fresh strawberry.
ADVERTISEMENT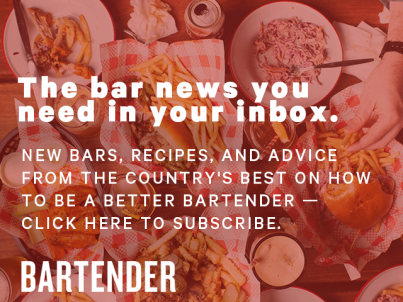 &nbsp
* To make the Strawberry Whiskey:
700ml Blonde scotch whiskey, 500g any strawberry trim (flesh only), 2 big bunch of strawberry gum powder, 20g agave
Vacuum seal ingredients in a big bag and punch down all the strawberries to release their juices inside of the bag. Steam this in a 70-85 degree oven for at least 45 mins, chill down with ice and fine-strain the liquid.