Last week we wrote about the
Whiskey Apple
cocktail at Sydney bar,
Double Deuce Lounge
; today, we've got another delicious sipper from them for you.
For the uninitiated, Double Deuce Lounge is a 70s-ish take on the cocktail lounge (with a hat tip to the early days of LA porn), and the second bar from the trio behind bartender-favourite Ramblin' Rascal Tavern. And whereas Rascal is a workaday, five star dive bar experience, for Double Deuce Lounge they kicked up the drinks and service a notch.
The Whiskey Apple, and this drink here — the BabyCham — are great examples of how they take their unpretentious approach to drinking (it's all about the fun, after all) and apply some back of house techniques to really make the drinks sing.
There's plenty of work put into these drinks, says bar manager Oliver Churcher; the BabyCham has been on the list since the start, but has evolved in the seven months they've been open.
"The BabyCham went through quite a few tweaks because it wasn't selling quite as well as we hoped," Churcher says. "We kept the core structure of the drink the same, but just changed it a little bit, and it has worked a lot better."
ADVERTISEMENT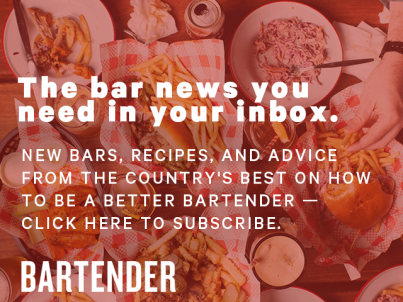 &nbsp
But be advised, should you wish to replicate the drink yourself: the clarified corella pear juice is what elevates this drink, and there's a fair bit of work involved in making it just so.
The results, though, if you persist? Delicious.
Batched and force carbonated, served in a champagne flute.
For the clarified corella pear:
Cut corella pears into quarters, and place 1 teaspoon of ascorbic acid into the liquid receiving container.
Feed Pears through Breville Juicer. As the first juice comes through, stir quickly to dissolve the ascorbic acid.
Once pears have been juiced and have settled for a moment, skim foam from the top using a julep strainer.
Add Pectinase to the pear juice at the ratio of 4 grams per liter, then stir to dissolve. Allow to sit for at least 15 minutes.
Pour pear juice into cloth filter bag with receiving container underneath. As the juice is straining through, check the clarity using a tablespoon every few minutes. Once the liquid is running perfectly clear, place a new receiving container underneath.
Pour the remaining cloudy juice very gently down a barspoon into the cloth bag, being very careful not to disturb the filter layer of pear solids at the bottom of the bag.
Recipe by Oliver Churcher, Double Deuce Lounge, Sydney.