It's just not September in Sydney without the celebration of all things boozy and bartendery that is Sydney Bar Week.
For four days in September, from the 27th to the 30th, bartenders, bar owners and passionate imbibers from all over the country will descend on Sydney to network, learn, and have a ball.
Take a look at all the events below ( or visit barweek.com.au to see the schedule of events) and follow the links to book tickets and RSVP. And don't forget to click here to head to barweek.com.au to book your day pass for the workshops and your seats for the 14th annual Bartender Magazine Australian Bar Awards.
Want your bar to get involved in Sydney Bar Week? If your bar wants to host an event during Bar Week, there's still time! Simply email david@spantonmedia.com with your fantastic event idea!
ADVERTISEMENT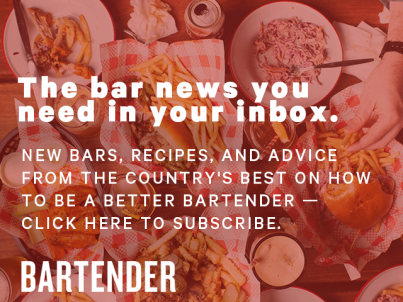 &nbsp
Saturday 27th September
 Made in Britain
Time: 3pm – 5pm

Venue: The Barber Shop, 89 York St, Sydney

Cost: $75 per person incl snacks (Charcuterie & Cheese table) and 4 Gin Cocktails. hello@thisisthebarbershop.com

Mikey Enright and the Barber Shop team will take you on a historic journey of Gin Cocktails created and made in Britain over the last few centuries.
 Japanese Whisky Tasting
Time: 5.30 – 6.30pm
Venue: Uncle Ming's, 55 York St, Sydney
Booking: $30 general public – $15 industry staff. Max 30 spots. Bookings essentialinfo@unclemings.com.au

With an extensive range of Japanese whisky, Uncle Ming's will be holding a tasting session featuring Nikka, Yamazaki and a special gem that only the venue has its hands on.
 Perrier Jouet Champagne Tasting
The Roosevelt, 32 Orwell St, Potts Point
Time: 6pm
Booking: Roosevelt Facebook page,amy@theroosevelt.com.au or 0423 203 119.

Experience the Perrier Jouet range, complemented with matching cheeses, a champagne cocktail demonstration. Hosted by Chris Sheehy, Champagne ambassador.
Sunday 28th September
 Rum Tiki Battle
Time: 1pm – 4pm
Venue: Lobo Plantation
RSVP: coming soon

Tom Bulmer is once again bringing rum lovers together. But this year it will be a cut-throat tiki cocktail competition. So bring your cocktail umbrellas and lots of flair if you plan to take out this rum fuelled contest.
 Mojo Beer Fest
Time: 2pm — 4pm
Venue: Mojo Record Bar
Cost: $20 entry fee will get you 10 beers & a hot dog – not too shabby! Purchase tickets on the door.

Some of Australia's best craft brewers will be coming down on Sunday the 18th with their best brew fighting it out for the Gold Record Award. Each of you will get a voting ticket to decide who wins this award for best brewer of the day!
 Dram Club Whisky Tasting
Time: 2pm
Venue: Parkside Bar @ The Bat & Ball, Cnr of Cleveland & South Dowling Sts, Redfern
How to book: Tickets are $30 viadramclub.com.au/events

Come and sample different whiskies and learn about the history and differences of one of the world's most fascinating drinks. Free snacks and free info.
 Hinky Luau Party
Hinky Dinks, 185 Victoria Road, Darlinghurst
Time: 5pm – 7pm
Booking: $65 for 3 cocktails/ canapés: Dark Dinky 'N Stormy with Polenta Chips; Passionfruit Colada with Tiki Wings; Zombie with Popcorn Chicken.info@hinkydinks.com.au

Celebrate Sydney Bar Week at Hinky Dinks, tiki style! Delicious tiki cocktails, tasty treats and luau fair. Doors open at 5pm, but the good times never stop…
 Little Island, Big Smoke
Time: 7pm
Venue: Eau De Vie- 229 Darlinghurst Rd
Tickets $75. To book, amy@eaudevie.com.auor call 0422 263 226.

This masterclass will focus on the Isle of Islay and the definitive style of whisky that's produced there. Dan Woolley has put together an amazing array of smoke-filled drams.
  The Big Last Word
Time: 5pm-7pm
Venue: The Rook 7/56-58 York Street Sydney
Booking: Open to all in the bar industry

The Rook in conjunction with Chartreuse presents The Last Word – en masse. The Rook team will be batching up the world's biggest Last Word cocktail, and dishing it out to Sydney Bar Week. Entertainment will ensue.
 Idiot Savant Prizes
Time: 7pm – late
Venue: The Rook 7/56-58 York St Sydney
More info:https://www.facebook.com/idiotsavantprizes

After a thrilling first year the Idiot Savant Prize team is ramping this night up from vanilla to just below lime milk. Prepare to celebrate and enjoy all the odd balls that make this industry great.
Monday 29th September
 Movers & Shakers
Presented by Bartender Magazine & The Keystone Group
Time: 6pm-8pm
Venue: The Winery 285A Crown St Surry Hills
Bookings: Invite only

Australian Bartender Mag and The Keystone Group have teamed up once again to host a party for the who's who of the national bar scene from operators to managers, bartenders and suppliers.
Havana Club Cantinero Club
Time: 7pm -10pm
Location: TBC
How to book:facebook.com/HavanaClubAustralia. Keep an eye on the Havana Club Facebook page for details.

As the proud sponsor of the Australian Bartender of the Year comp 2014 Havana Club will celebrate Australian Cantinero's. Appreciating the craft of bartending from the mecca of cocktails Havana.
 Mezcal Master Class
Time: 7pm
Venue: Mr Moustache, 69 Hall St, Bondi Beach
Bookings: email mike@mr-moustache.com.au for details

Come on a journey tasting Mexico's  mystical spirit, mezcal. Be taken through a flight of mezcals by Sydney bar guru, Mike Tomasic, and discover what this smoky spirit is all about.
Tuesday 30th September
 Japanese Whisky Masterclass
Presented by Suntory Whisky

Time: 11.30am – 12.15pm
Location: theloft, King Street Wharf
Cost: Day pass $25. Click here to book.

Discover the art of Japanese whisky and gain an insight into Suntory's highly acclaimed whisky distilleries, presented by Club Suntory.
 The Race to stock the Geekiest Brands is on!
Time: 12.30pm — 1.15pm
Location: theloft, King Street Wharf:
Cost: Day pass $25. Click here to book.
Panel: James France, Vanguard Luxury Brands; Stu Gregor, Four Pillars Gin; Sven Almenning, Speakeasy Group;  Ben Davidson, Pernod Ricard; Jason Williams, Group Bars Manager Keystone, Jeremy Spencer – West Winds Gin

We discuss the rise of the limited releases, small batch producers and distributors and how to get your hands on the best stuff first.
 Craft Bourbon
Presented by Woodford Reserve
Time: 1.45pm – 2.30pm
Location: theloft, King Street Wharf
Cost: Day pass $25. Click here to book.

What is a true craft Bourbon?  This masterclass is presented by Woodford Reserve, a distillery which has pioneered innovative practices that have shaped the entire Bourbon industry.
 Bar Publicity & Advertising
Time: 2.45pm – 3.30pm
Location: theloft, King Street Wharf
Cost: Day pass $25. Click here to book.
Panel: Jeanine Bribosia – the crumedia, Corinne Mossati– Gourmantic, Ben Shipley – Everyday Drinking, Sam Bygrave – Bartender Magazine, Mike Enright – The Barber Shop

The do's & don'ts when using trade, consumer & social media to promote yourself or your bar.
 Jalisco Heartbreak
Presented by Herradura Tequila

Time: 3.45pm – 4.30pm
Location: theloft, King Street Wharf
Cost: Day pass $25. Click here to book.

A glimpse into the sustainability of the Blue Agave & Tequila industries.
 Bartender Magazine 14th Annual Bar Awards
Time: 5.30pm – 11pm
Location: Doltone House, Jones Bay Wharf
Dress: Cocktail Attire
Click here to book your tickets

Join the best in the Australian bar business at the 'Oscars' of the Australian bar industry for a night of congratulations for a year of hard work and groundbreaking efforts.
 Experience Tasmanian Whisky
Time: 7pm to 10pm
Venue: Shirt Bar, 7 Sussex Lane, Sydney
Bookings: $50 includes dinner and tastings. Call 02 8068 8222

If you've been hearing about how good Tasmanian Whisky is, now is your chance to try it for yourself while hearing directly from the distillers. Whiskies by Lark, Overeem and More.
 Put it in Your Mouth! Bar Awards After Party
The award winning team behind Put It In Your Mouth (Andy Penney & Rossco Charman) are back. But what happens after Prom? The answer is, forward and into the future! That's right, get your futuristic space attire dry-cleaned because here it is!