After two days, three rounds, and one tough exam, we have a new Bartender of the Year: Michael Chiem, of Sydney bar PS40. The 2016 Bartender of the Year sponsored by Bacardi & De Kuyper presented as one of the toughest editions of the comp to date — here's how it went down.
On the Monday of Sydney Bar Week, some 65-odd bartenders gathered at the ungodly hour of 10:30am at Ramblin' Rascal Tavern: ahead of them, the one hour, 70-question exam that marks the start of the Bartender of the Year competition.
This exam is not for the easily-stressed or the unprepared — it's a test that most will fail at their first attempt, and that's kind of the whole point: we're looking for the best of the best here.
We whittled their number down after the exam to a Top 18 — coming out on top of the exam this year was Paul Hammond from Bulletin Place.
ADVERTISEMENT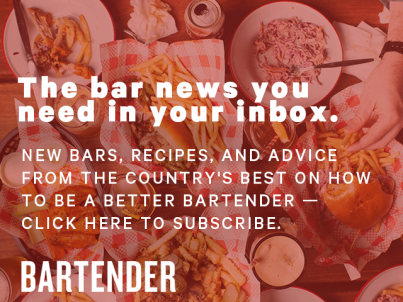 &nbsp
The Top 18 round saw a mystery box challenge take place: two bartenders competing side by side at Ramblin' Rascal, with one minute to familiarise themselves with ingredients, and then two minutes in which to make both a drink from the mystery ingredients, and a classic cocktail (the Daiquiri) for the judges. It's an insane amount of pressure in that environment, but just about everyone got their two drinks up this year.
With round two completed, the Top 18 went down to The Lobo Plantation to take their VIP places at the exclusive Facundo Rum tasting put on by Bacardi — and then the Top 8 was announced.
Round three kicked off the following evening at the 16th Annual Bartender Magazine Australian Bar Awards. Judged by some of the most experienced palates in the business — reigning champion Lee Potter Cavanagh; rum god Tom Bulmer; Bonnie Shearston of Brisbane venues Red Hook and Coppa Spuntino; Amy Cooper of the Sun Herald; Raj Nagra from the Bombay Spirits Company; three time Bartender of the Year Marco Faraone; and Australian Bartender publisher David Spanton — the title was anyone's for the taking this year with only a handful of points separating the competitors.
In the end though, it was Michael Chiem — his third year running in the Top 8 — who took out the top gong. Paul Hammond made his first appearance in the Top 8 and took out second place, whilst Dan Gregory from The Gresham in Brisbane came through in third place, his first attempt at the competition since he last made the
Top 10 in 2012.
The team at Australian Bartender would love to thank our sponsors, Bacardi and De Kuyper, without whom putting on this longstanding comp would not be possible, and the great team over there.