New Brisbane bar Savile Row is due to open next week, and it is the first outing in Fortitude Valley for Cobbler's Martin Lange.
Lange, who is opening the bar with business partners Trent Goodwin and Kahn Mills, is finishing up the final details on the space — 900 bottles will adorn the back bar, which forms the centrepiece for the venue. Stairs take customers up and around the bar, to booth seating and spaces for couples, all of which look down on the bar below.
"It's a very interesting space because it has a lot of focal points," Lange says.
The bar has taken the best part of two years from the first site visit, to the opening of the doors next week. "The first time we saw this site was in August of 2015," says Lange. They've encountered their fair share of building complications given they've taken two former retail shops — the place was a butcher shop in the 1950's — and combine them into one, multi-tiered space.
ADVERTISEMENT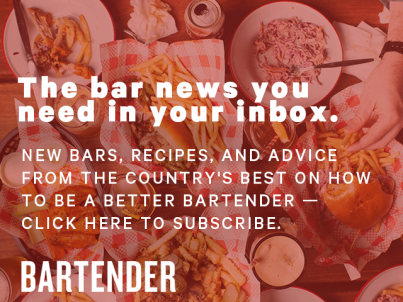 &nbsp
The idea behind the bar is a simple one, Lange says. "Just cocktails and spirits," he says. It's not a whisky bar — though given Lange's fondness for the stuff, there'll be plenty of that. And it's not a gin bar, either, despite having a healthy selection of that spirit on hand.
"It's a bar, you can come and have a really good drink, good service, and good music — that's it," he says.
Which really is what a bar is supposed to do, right?
Lange wants to appeal to an older demographic in the Valley, he says, with many of the district's venues targeting people up to the age of 26. "After that, there's not much here that appeals to that older crowd."
To cater to that, there'll be a healthy selection of champagne along with 15 whites and 15 reds.
"I just want to feel comfortable drinking at a bar. We're trying to attract the pre-dinner crowd, which is almost impossible in the Valley, because there's not many places you can go sit down and have a quite drink before you go to dinner."
In terms of the cocktails, the list is capped at 20 and not governed by any particular trend or mixology of the moment. And, tired of cocktail menus that list six per page and number in the many dozens, Lange has simplified his menu at Savile Row, with the menu laid out with one cocktail per double page spread.
"Each page has a story," he says, "so the cocktail is four or five ingredients tops, and if you really want to read about what the cocktail is there's a little blurb. The other page is artwork that relates to the cocktail."
In terms of service, the whole venue is going to be table service, and you can expect some of Cobbler's signature charm and a good bit of cheek — think of Savile Row as Cobbler's grown-up older sibling.
Expect to see Savile Row trading seven nights a week, from 5pm until 3am in the morning.