By David Spanton
It's time to farewell Simon "Cuzbro" McGoram from the Bartender magazine stable as he takes on his new ambassador role with Diageo. Simon has been instrumental to our success over the past five years since he won our Bartender of the Year competition in NZ. Since then he has firmly established himself as a genuine drinks authority in Australia. Good luck and thank you Cuz.
With Simon's departure from our pages I saw an opportunity to have a really good look at what we do and see how we can continue to better represent Australian bartenders each month within the premier bar title. What came of this review (and thank you to all my industry friends who emailed back their feedback) was a decision to do the following three big things to extend and build Australian Bartender into an even stronger brand.
First is to create an 'Advisory Panel' of respected bar professionals from around the country who will address local issues plus voice their opinions every now and then with editorial contributions to Bartender magazine. And don't worry, all our other popular sections and international contributors will continue to be showcased. To find out who are our 2013 Advisor panel members' just turn back to page 4. Thank you again to all our members, as I know how busy everyone is.
ADVERTISEMENT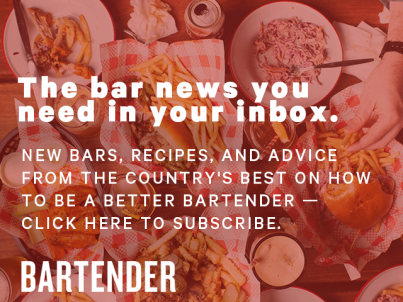 &nbsp
The second big development is that Australian Bartender magazine is now available to buy from the Apple App store! Yes, after almost 150 issues (147 to be exact) it feels the right time to extend the brand and make it available to read via today's booming iPad platform. We plan to make it available via the Android and Google Play store soon. What's exciting about this is that for $2.99 a month (less than half the price of a print subscription) you can always get your hands on Australian Bartender. One of the complaints from bartenders is that they say, "yeah, I read some of it then it disappeared into the manager's office". Well, problem solved. So head to the App store and download Australian Bartender.
The third major change for us this year is the recent re-branding of our website 4bars.com.au to australianbartender.com.au. By doing this we focus on one well-known and popular brand and via print, digital and now web platforms we can further establish Australian Bartender as the No.1 trade media brand to reach bar professionals. And with this change we will be sending out weekly free e-newsletters and also will be featuring all our hottest news online as soon as it comes across our desks – no more waiting for the mag.
I look forward to hearing your feedback on these big changes to our brand and hope they enhance your relationship and viewing habits with Australian Bartender.
Finally it's with great sadness to see James Miller recently passed away. James was one of Sydney's leading pub operators who along with partners from the Drink N Dine group created a premier collection of cool pubs over the past five years. I first knew James when he created the super successful Sumo Salad empire and was struck by his intelligence, enthusiasm and passion for life. James was a true entrepreneur and will be sorely missed by so many. Rest In Peace.