Chris has done the rounds at some of Sydney's best-known venues, and has now found himself at Drink & Dine's boozer, The Abercombie, as venue manager. Which we think is great, because he's a good guy to have a drink with — and we have to agree with him that a Sunday afternoon beer is one of the all-time best occasions for drinking. Read on…
Career:
How long have you been bartending? 
5 years.
Where have you worked previously?
ADVERTISEMENT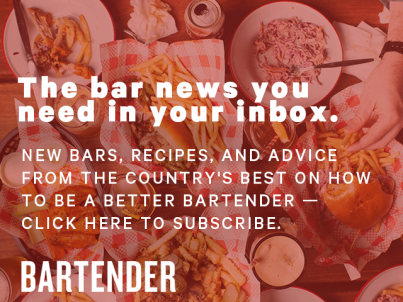 &nbsp
Verandah Bar, The White Horse Hotel, Manly Wine, and the Belvedere Hotel.
Before you were bartending what were you doing with yourself?
Rocking the floor as a glassy. Before that, anything that would pay the bills from a car washer to an annoying telemarketer. Sorry if I called you.
What is your proudest moment behind the bar?
Probably this, but I think there's nothing better than getting a compliment on a drink from any customer. Especially when it's a drink I created.
And the most embarrassing?
One night while working at the White Horse, I entered the bar in a rush carrying a rack of glasses, slipped over, and broke every glass I was carrying, all in front of a packed bar. Surprisingly, I have no scars from this.
How do you keep the 'chat' up while at work?
Get customers involved in what were having a laugh about behind the bar and putting my staff in awkward situations with customers that we can all have a laugh about.
What advice would you give a rookie bartender?
We've all been that guy. I always tell them to not be scared and that no matter how busy and crazy it gets the shift will always end eventually.
Favourites:
What's been your favourite bar to work in?
I'm going to lose some friends over this, but I have to say The White Horse. I was there for three years and it was loose. So many big staffy sessions and many hung-over shifts with the whole crew who had been out together the night before.
What's your favourite bar gadget?
The lime juicer, it's fun to use and the faster and fresher the better.
What's your favourite city to visit?
Amsterdam is beautiful and has a great night life but Lagos in Portugal is amazing. It's like a European Thailand.
What's your favourite movie?
Argo is the best I have seen lately.
What's your favourite song?
Too many but the first that popped into my head is Johnny Cash Hurt. A cover of a nine inch nails song.
What's your favourite sport?
Skateboarding. I've been doing it since I was twelve and although it's more of a mode of transport these days than a toy, I'll always love going for a roll.
What's your favourite cocktail?
Old Fashioned
60mL Woodford Reserve Bourbon
1 sugar cube
A dash of orange and angostura bitters.
Stir slowly and ad ice gradually.
Can't beat a classic!
Drink:
What spirit should people drink more of?
Tequila – everyone has a bad experience with it but they need to get over it. It's so versatile and shooting it is great but there is so much more that can be done with it.
Can you tell us some of your favourite bars to drink at?
• Name this Bar on Oxford Street is definitely up there. Great spot for anything whether it be a quiet drink or a long session with some dance floor moves. The drinks are good and the people are great.
• Santa Barbara in The Cross is great. It's a perfect spot to avoid the craziness of the cross, get a great feed and have a dance or a quiet drink with friends.
• Cohibar for after work drinks with people from JJO
• I went to Grasshopper the other night and had some great drinks and loved the relaxing atmosphere. I will be heading back there soon for sure.
What is your favourite product to work with at the moment and why?
Kings Ginger because I love ginger in anything and I think it can work with so much and come out as a key flavour in the drink or a subtle aftertaste.
What is the weirdest or strangest drink you've ever had?
Years and years ago I asked the bartender what he would drink if he could have anything. I was served a shot of Makers Mark and a shot of Amaretto on the rocks. I haven't found anyone else who likes it but I'm a huge fan.
What's the most enjoyable occasion to have a drink?
Sunday afternoon beers with mates in the sun can't be beaten I reckon. Find a good beer garden and plant yourself there for the afternoon.
What do you drink to…
Unwind after a long shift?
Beer – at the moment either Kosciuszko Pale Ale or 150 Lashes, don't mind throwing a shot of tequila down with it either.
Impress a date?
Pinot Noir – one from a warm
climate that's as big and fruity as a pinot can be.
If you could have a drink with one person (alive or dead) who would it be and why?
Liam Neeson, I think this needs no explanation but I reckon he has to be a top bloke and he used to work at Guinness so he must love a few as well.

Rye Whiskey or Tequila?
Tequila.
Other Stuff:
What drink trends are popular at the moment?
Craft beers and bitters are the two main trends that I have seen of late.
If you could have a superhuman power what would it be – why?
To fly. It would make day to day travel traffic free and highly enjoyable.
There would be no fighting to find a cab at change over time and I don't think there is a law against drinking and flying.
If you were to be something other than a bartender, what would it be and why?
Other than a famous something earning huge amounts of coin, I think a Chef. I love to cook and have done a few shifts in the kitchen here and at The Belvedere and it's not that different from bartending in a way. It's a fast paced environment were planning and preparation is key. You also don't have to deal with those rude customers that come along all too often. I would miss the banter with customers though.
Who's your hero?
I have to say my Dad. He worked hard all his life and has been extremely successful because of it. And is now reaping the benefits of retirement and being able to play golf three times a week. I hope I can be half the man he is and as good a father.
What products do you think will be popular over the coming months?
I can't comment so much on the coming months but in the future I think there will be more of a focus on Australian made products. There is so much quality being produced in our country that the big international products may have a bit of a challenge on their hands.
Where do you see yourself in 20 years?

Still in the industry hopefully with a few venues with my name on the door.
Last drink ever – what would it be?
Has to be an old fashioned and hopefully a double sized one which I can drink slowly to savour the moment.