Interviewed by Alex Ross & Chanel Liquori
Since the days of Ada Coleman, females have been behind the stick next to their male counterparts working 12-hour shifts, shaking up a storm and creating banging drinks.  We asked some of our nation's best male bartenders who they'd back as their lady mixtresses.
Jessica Page
Cecil, Perth
Do you feel supported as a bartender? 
ADVERTISEMENT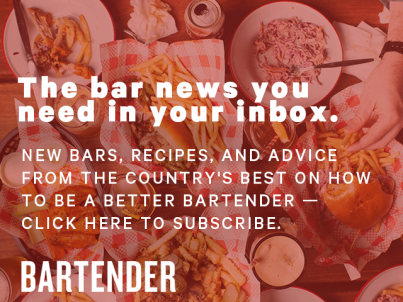 &nbsp
The community in Perth is ridiculous. I've never felt more close to any individuals. I adore Perth's bartending scene and my best friends have sprung from it. Lady parts or nay, I've always felt respected.
What do females need to become leaders in hospitality? 
Just commit! There is admittedly a culture of sexism in bartending and hospitality, knocking it on its ass is easy if you come at it head on and don't back down. Don't let O.D.B's determine your course.
Ben Tua
Purl, Perth
Would you be shaking in your boots if you ever had to go head to head in a comp?
Do I really need to answer this? That's like asking if a Spinosaurus would be scared of a lion. Sure Lions are pretty ferocious in their own right but the Spinosaurus was the biggest carnivore that has ever walked the earth. The Spinosaurus had 2 tonnes on the T-Rex and could have eaten 10 lions and still be hungry.
What advice would you give to aspiring female bartenders?
If you are a hard worker, no one cares you are a girl.
Heather Garland
The Everleigh, Melbourne
Where would you like to see women in hospitality in 10 years? 
It's 2013 and we still get the occasional person asking to be served by the barman rather than the 'bargirl'. To change this way of thinking we need to see more women at the top of our field, winning competitions, working as brand ambassadors, writing cocktail books and behind the best bars.
What advice would you give to aspiring female bartenders?
Just stick it out. This is an incredibly rewarding industry. It's hard work especially when you're starting out but nothing worth having comes for free.  I spent a few years is some pretty questionable bars before I could get the jobs I really wanted. I learnt the most in those places, and they made every job I've had since seem like a dream.
Evan Stanley
Le Bon Ton, Melbourne
What makes Heather Garland the First Lady behind the stick?
If you ever get rubbish chat or an average drink from Heather, let me know, and I will have a go at eating this issue of Bartender.
One skill she possesses that you wish you had? 
The core strength to shake on lump ice all night in that crazy wind-up windmill fashion. It's intense!