Sean Forsyth, Gary Mehigan, and Andy Wren
Here's a pop-up bar Melbournians can look forward to. Project Botanicals, from Bombay Sapphire, is a three week pop-up bar that will run Wednesday through to Saturday from the 19th of November.
Here it's all about the gin cocktails crafted by Bombay Sapphire ambassador — and finalist this year for Brand Ambassador of the Year — Sean Forsyth. He's produced 10 cocktails, each driven by one of the 10 botanicals in Bombay Sapphire.
Makes sense, right?
Matched with these cocktails — and here, it's the food that gets matched to the drinks, not the other way around — are ten very fine dishes by Gary Mehigan.
ADVERTISEMENT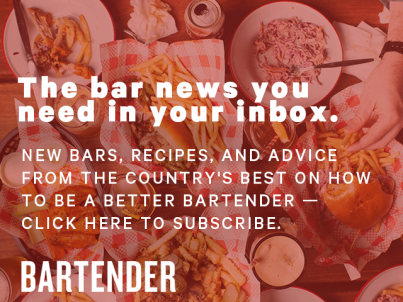 &nbsp
(Mehigan, of course, is known as the one judge on Masterchef that everyone agrees they like, as well as damn fine chef).
The food is a textural and layered complement to the drinks, and one of the most successful cocktails and food matchings we've seen. Yet the best part about Project Botanicals is that this cocktail and food matching experience isn't getting all high and mighty, despite the quality of the food and drinks. They want people to enjoy themselves, and  they want wide range of people to enjoy the experience, so they're offering tickets at $35. That'll get you two cocktails and two dishes and if you throw some great tunes into the mix (there'll be DJ's doing their thing, too), you've got yourself a good night out.
Project Botanicals is on at  64 Sutton Street, North Melbourne. It runs for three weeks from the 19th of November to the 6th of December — to find out more, head to projectbotanicals.com.au.