Liqueurs have a storied history, having been around since the medieval days — first used as a handy means of dispensing medicine (along with a healthy alcoholic buzz), they've come along way since then. In this feature, we take a look at some liqueurs old and new, and further on, some lost and found liqueurs.
Galliano L'Autentico: Created in 1896 in Livorno, Italy, by Arturo Vaccari, Galliano is made from a special blend of 30 herbs such as star anise, juniper and other floral aromatic ingredients. It's a complex liqueur, the result of seven infusions and six distillations, and is iconically served in retro classics like Golden Cadillac and the Harvey Wallbanger, which we've got here. CCA
Esprit de June: This new liqueur comes to our shores by way of HMH Beverages. It's described as the only liqueur in the world made from vine flowers. Which vine flowers? Flowers from the ugni blanc grapevine offer up aromas of pear, peach and white floral notes. The merlot flowers offer strawberry and cherry blossom characters, whilst the aromas from the cabernet sauvignon give raspberry and violet to the mix, they say. It combines with vine flowers from folle blanche and sauvingon blanc to provide a complex character carried along neutral grape spirit. It's not overly sweet, and comes in at 28% ABV. HMH Beverages
ADVERTISEMENT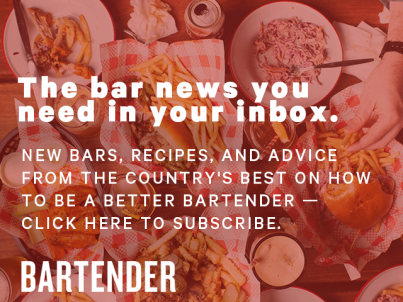 &nbsp
Harvey Wallbanger

60ml vodka

15ml Galliano L'Autentico

100ml freshly squeezed orange juice


Build all ingredients in a tall glass with ice.

Apparently — perhaps believably — this drink was invented for a surfer back in the 1950's, who used to get so belted after riding the waves that he'd bang his head on the walls of the bar. Whatever the history, it's one of those iconic 70's drinks; made with care and premium ingredients (don't skimp on the freshly squeezed OJ), it's a retro classic worth coming back to.
The experience of thumbing through the Savoy Cocktail Book can be a frustrating one. Harry Craddock's 1930 classic has many a great recipe, but will also leave you grasping for ingredients. How many bartenders have kummel on hand? Do you have healthy stores of Swedish Punsch?
It's fair to say that Craddock's book calls for the obscure more often than many other books do: there's a number of shoutouts for kirsch (a bone dry cherry eau de vie — not to be confused with cherry brandy, which for the most part is a liqueur), apricot brandy gets a great run, and there's recipes calling for Forgotten Fruit Liqueur and Caperitif. And to make a Wow Cocktail, apparently you'll a drop called Hercules.
Kümmel: This liqueur, flavoured with cumin and caraway, is popular in Germany, probably first produced in the Netherlands, and found throughout the Savoy Cocktail Book.
If you're looking for a bottling, Combier Liqueurs make a great Kummel which we sampled at Tales of the Cocktail last year.
Swedish Punsch: Swedish Punsch is essentially a concentrate; add it to a bowl, add some ice and dilution, and you've got yourself ready to go Punch. It is traditionally an amalgam of sugar cane syrup, spice and citrus, blended with a base of Batavian Arrack, a sugar cane spirit that is fermented with Javanese rice and has a funky, smoky flavour.
It's pretty hard to come by proprietary bottlings here in Australia, but in the US you can pick up Kronan Swedish Punsch.
Forbidden Fruit: Now this bottle is one you might recognise. The story goes that Forbidden Fruit liqueur was made in the US by Charles Jacquin, a Frenchman by birth, in the early 1900's. It was a brandy-based liqueur flavoured with pomelo and spice, and was bottled at 64 proof in orb shaped bottle, very much like the Chambord bottle before its recent redesign. Apparently the popularity of Forbidden Fruit began to decline, and Charles Jacquin picked up the recipe to Chambord, and gave Chambord the Forbidden Fruit bottle. Interestingly, the son of the owner of Charles Jacquin is one Rob Cooper — the man who developed the successful St Germain brand, and he currently has plans to revive Forbidden Fruit.
Hercules: Here's a cocktail ingredient that is seemingly lost to time, with no vintage bottles kicking about. Erik Ellestad, who went on a crusade to create every cocktail from the Savoy book for his blog, the Savoy Stomp (and one definitely worth checking out), found that it was a "fortified wine aperitif, spiced, and juiced up with Yerba Mate."
Beyond that, though, no-one as far as we know knows what it tasted like.
Charlie Chaplin

30ml sloe gin

30ml De Kuyper Apricot Brandy

30ml fresh lime juice


Shake all ingredients with ice and strain into a chilled coupette.

Here's the trouble with apricot brandy: most recipes that call for it are after an apricot liqueur — not a brandy distilled from apricots. It's just one of those curiosities of the bar world, where the thing it's called is different from what it really is.

And this recipe — beautiful in its simplicity, and moreish in its taste — just wouldn't be the same with a much drier, distilled apricot brandy. All that lime juice isn't going to be balanced out by the sweetness of sloe gin.

The recipe is one from the Old Waldorf Astoria Bar Days book, published in 1931, and is a great example of apricot brandy in action. The liqueur itself has never really gone out of production, but was long consigned to the dirty, dusty bottom of the bottle shop shelves – you know, right next to the parfait amour. But with every bartender resurrecting lost classic cocktails, apricot brandy is undergoing a bit of a renaissance.



De Kuyper Apricot Brandy
This recent release from De Kuyper seeks to give bartenders a hand in recreating the classics, like those from Craddock's book, and is an essential flavour to have on your bar. Made from crushed kernels and fresh apricot, the distillate is blended with brandy. Bacardi Lion