Holland House
60ml Rutte Old Simon Genever
20ml Noilly Prat Dry Vermouth
10ml lemon juice
5ml De Kuyper Marasquin
Shake all ingredients with ice, serve up. Garnish with a lemon twist.
Story by Sam Bygrave
Photograph by Christopher Pearce
In association with Rutte Gin
GENEVER, to me, occupies a similar space to mezcal; they're products that have been around for centuries, they're not always approachable at first pass, and they speak to tastes are more elemental, more primordial.
This, of course, is not to say that genever isn't delicious — quite the opposite. But whereas new world gin is still a spirit that is carving out a role for itself in the cocktail world, genever has been there all along, and it's in classic cocktails where it comes into its own.
ADVERTISEMENT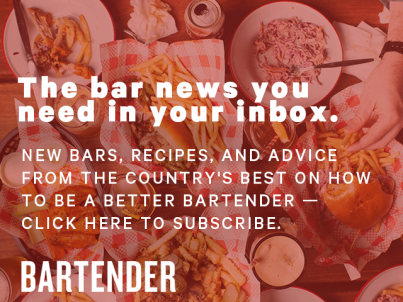 &nbsp
Take the Martinez, for example. Some people love it with a pristine, clean and bright gin, but when you switch in genever — as the original may well have called for — the drink makes more sense. The juniper is dialled back and more in sync with the sweet vermouth, and the malty, rounder flavour profile of genever makes a Martinez more reminiscent of its sibling, the Manhattan.
The same goes for this drink here. This classic Holland House recipe is as obscure a classic as you get (there's mention of it with gin in the Savoy Cocktail Book, and earlier on, in Kappeler's 1895 Modern American Drinks calls for rye whiskey), but with genever in the mix the drink sings.
As to its origins, the drink was the signature drink at the Holland House; Kappeler worked there, and published his rye based recipe; so too did Harry Craddock, whose recipe calls for London dry gin, pineapple, maraschino and dry vermouth, too.
We've taken our specs from a thoroughly more modern book, The Curious Bartender's Gin Palace by Tristan Stephenson, and called for genever.

Rutte Old Simon Genever
NOSE: Subtle wheat aromas, accompanied by herbs and nuts.
FLAVOUR: Wonderfully nutty. Hazelnut and walnut seem to take turns. Spicy grain rounds off the experience.
FINISH: Nutty finish. Creamy, velvety structure. Pleasantly soft and long lasting.
Bacardi-Martini
*tasting notes supplied by Rutte
The Banter
Rutte Old Simon Genever is made according to an original recipe of the company founder Simon Rutte.
Key ingredients of this aromatic composition are roasted walnuts and hazelnuts. These are added to the pot still during distillation, along with juniper berries and herbs such as coriander and angelica root, creating an especially natural nutty flavour. The nut and herb flavours are complemented and enhanced by the addition of mace and celery. The graininess of the malt wine is balanced with fresh fruit, which are – just as the nuts – a unique ingredient for genever in general.
The Genever bears the addendum "Oude" (old). However, this does not refer to its ageing. The term rather means 'old style', a category of genever resembling the style of the first genevers.