Mjølner made waves when it opened back in March, what with its whole animal cooking, the viking accoutrements, its focus on whisky and some banging cocktails.
Overseeing the restaurant and bar is venue manager Alexandra Dahlenburg, whom we first met when she ran Sydney bar Grain (and who steered them to a win for Hotel Bar of the Year at the Bar Awards last year). Here, she talks about the change from the hotel world to Speakeasy Group, her love of whisky, and what you ought to expect on your first night for a new bar.
As told to Sam Bygrave
I started washing dishes when I was 14 years old, for a catering company on the Northern Beaches [of Sydney]. I needed money to fuel my horse addiction, so I started working. I started bartending at 18; at 19 I went into high volume pub and cocktail bartending — super high volume, at the Hotel Steyne, back between 2003 and 2007. So I was bartending there, on and off, for four and a bit years. I ended up running the entire operation upstairs which was 1500 people, 26 security guards and around 30 staff; then I had my first liquor licence at 22, a nightclub licence at Henry Afrika's, and my first pub licence at 24.
At Grain, I was the venue manager — I went in there with some great instruction from the food and beverage director of giving [him] an amazing bar. He gave me wonderful scope to do whatever I wanted in there, and one of my goals was to make it industry-recognised, because I believe that the hotel bar scene in Australia isn't where it needs to be in comparison to the international scene. Grain was absolutely amazing. I loved the place so much.
ADVERTISEMENT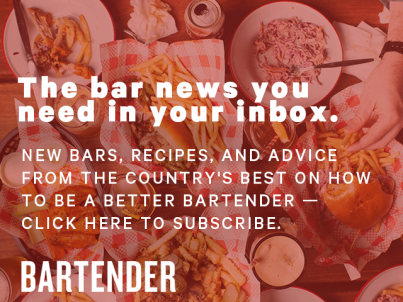 &nbsp
I'd been wanting to come back to industry for a while — individual owner-operators, the guys that get to make their own decisions, like Sven who build a viking bar because he likes vikings. Whereas the hotel [industry] is more corporate. If I wanted a new whisky on the back bar in the hotel game, I had to go through the pre-approval process. Here at Mjølner, I've got guys asking me, "can you just buy 200 more whiskies for the back bar?"
The [first] three weeks — beautiful chaos. You have to be prepared for what's going to happen and you're pretty much not going to know what's going to happen. You've got to be prepared for all scenarios. You've got to go through training to be prepared for the unknown, as much training as you can going into a new venue, budget allowing. The systems need to be right, you need to have tested every system.
Every time we have a rough service we make sure we retrain and fix it the next day. You're not going to know until your first night about all the problems — that's why you have a trial night. One of the key factors was that we took feedback on that first night, we gave everyone feedback forms. We collated all of that, and that went into the training the next day. We went through that feedback.
We're a restaurant first and foremost, with a focus on whole animal cooking, with a Scandinavian influence to the food and the venue. Then secondary to the restaurant, we're a whisky and cocktail bar. We're putting out some amazing cocktails — Andy Griffiths (Speakeasy's head of mixology) has done an awesome job. There's a lot of prep with it, and a lot that's handmade.
We're also really focusing on ethical consumption. Repurposing the whole animal, again with that whole animal cooking, in what we're doing with the drinks. For example, all of our off-cuts from fruit go into a sous vide bag, and we end up making a tropical punch out of it. We've opened without bev naps, we've opened without plastic straws, we have none of those in the venue.