There's many drinks that fulfil the role of after-dinner drink. Port, a fine single malt, perhaps an armagnac — many drinks have been
employed as a way of punching a hole through that meal you just ate.
But none perform the job quite so well as amari, that Italian (or Italianesque) category of liquors that range from bittersweet to gag-inducing, bracingly bitter.
A sip — or a shot — after the meal helps to settle the stomach, to get rid of that bloated feeling. Not that they're only useful for after a meal; indeed, the bitter qualities can get you salivating for a meal, too.
Styles of amaro
We're applying the term amaro — and the plural amari — to bitter drinks that are somewhat Italian in either origin or style, but that doesn't mean that bitter liquors only come from Italy. The French do a great line in gentian-flavoured liqueurs, and these are as earthy and bitter as liqueurs tend to get (Suze is but one example).
ADVERTISEMENT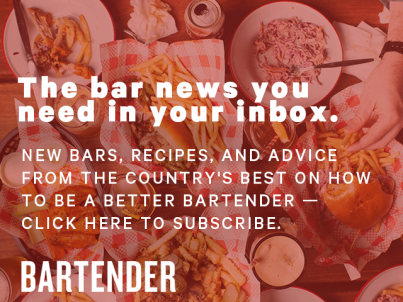 &nbsp
Alpine amari refer to those made in the north of Italy, and as such will tend to use more alpine botanicals; the south of Italy sees more citrus-driven specimens.
Fernets are a category within the overarching category of amaro, the most famous of which is Fernet Branca. Bracingly bitter, it's not for the fainthearted. Fernets are usually more medicinal tasting than other amari, and weigh in at a higher ABV (Fernet Branca tips the scales at 40%).
it isn't easy to categorise the different styles, but of the Italian-leaning bitters we've got here, we've loosely grouped them upon a continuum from easy, subtle bitterness to the wow-what-just-slapped-me-in-the-face bitterness of fernets.
Amaro Cobbler
50ml Amaro di Angostura
30ml lemon juice
15ml pineapple syrup
10ml dry vermouth
Dash of Angostura orange bitters
Build over crushed ice in a tin cup. Garnish with mint and fruit.
Recipe by James Irvine, Shady Pines Saloon
Softer, subtle bitterness

Aperol
Citrusy, low-alcohol Aperol is one of the rare bitter drinks to achieve mass popularity, thanks largely to the Aperol Spritz. If you don't like that drink, you're probably someone who hates puppies
and spends their time prepping your underground bunker for the end of the world. Not much time for fun with an attitude like that,
is there? Distributed by Campari Australia.
Amaro Meletti
Search around and you'll find info about this particular amaro is hard to come by, though inuakena.com — which has a great series explaining a range of different amari — describes its known ingredients as saffron, anise, and violet. It's kind of citrusy, too, and altogether rather pleasant. It's distributed by Enoteca Sileno.
Campari
Arguably the most recognisable bitter in the world, the carmine-hued Campari is a staple of the aperitivo hour, and used in more classic cocktails than we have space to mention (the Negroni and the S'bagliato spring to mind, though). It's distributed by Campari Australia (obviously).
Averna
Averna is made using the same recipe made popular by Salvatore Averna in Caltanissetta in 1868, and is the second-highest selling bitter in Italy. It's velvety on the palate, with a rich taste and a delicate citrus fragrance. Get it through Campari Australia.
The nips are getting bitter

Cynar
Cynar, pronounced as chee-nar (or something like that), is also known as "that artichoke amaro". Not a fan of artichokes? Don't worry, because you're not likely to identify much artichoke going on; it instead lends an earthy bitterness to the drink, which has aromas of nuts, dried fruits, and wood, leading to a light, sweet citrus palate which finishes nice and bitter. This great stuff you can get from Campari Australia.
Rabarbaro Zucca
You might not speak Italian, but you should be able to get the hint that this amaro contains a good whack of rhubarb. It's earthy, with notes of orange and tea and herbs; sweet citrus on the front palate followed up by herbal characters and a long drying finish. Distributed by
Combined Wines.
Braulio Amaro Alpino
One of the alpine styles of amaro, and a beautiful drink that just makes you think of ski field chalets (well, it does for us). There's a mix of alpine botanicals involved — including gentian, juniper, wormwood, and yarrow — and it's matured for a couple of years in oak before bottling. You can pick it up through Campari.
Amaro Montenegro
Ask a bartender for their favourite amaro, and the answer often comes down to two: one, Fernet-Branca, or two, Amaro Montenegro. Indeed, the last amaro blind tasting we held rated Amaro Montenegro as their favourite.
It's Montenegro's complex yet approachable nature that does it for many a bartender who is fed up with the slap in the face delivered from Fernet-Branca (it's not exactly delicate). Montenegro pours a golden brown, with vanilla, citrus, orange, and floral notes on the nose. It's got a sweet palate, with burnt orange and herbal characters leading to a pleasantly bittersweet finish. You can get it from Combined Wines.
Amaro di Angostura
One of the newer amari we've got here, and one that has been quickly adopted across the bar world, Amaro di Angostura comes as you'd expect, from the House of Angostura. It was first unveiled at Tales of the Cocktail in 2014, and has a distinctly Angostura aromatic bitters core to it. You can get it from island2island.
Fernetarama
Fernet-Branca
The Branca story begins all the way back in 1845, when old mate Bernadino Branca first created what has become one of the world's most iconic amari, and continues when San Francisco bartenders adopted it and spread it worldwide. (It's been a favourite in Argentina the whole time, though, where it's drunk with cola). There's saffron, myrrh, gentian and a host of other herbs and spices in the mix; Fernet-Branca ages for at least one year in oak barrels and has a rich brown colour with amber hues. Its aroma is intense, penetrating, balanced and rich. Get it from Think Spirits.
Fernet-Vallet
This Mexican-made fernet is bracingly bitter — it's not for the faint-hearted. It pours an inky, thick dark black and has aromas of mint, gentian, oak and cardamom and clove. It is made from a maceration of aromatic plants, roots and spices including cinnamon, clove, quassia wood, gentian root and cardamom. Challenging, but very much worth it if bitter is your thing. Get it through Cerbaco.