How does a bar make the World's 50 Best Bars list? What makes a bar a world-beater? During Sydney Bar Week, this was the topic up for discussion at the Business of Bars Conference at The Whisky Room at The Clock Hotel.
On the panel were some heavy hitters: Luke Whearty, from Operation Dagger, Chris Hysted-Adams from Black Pearl, Jason Williams from Proof & Company and 28 Hong Kong Street, and Jason Scott from Swillhouse — all of whom are from bars on the World's 50 Best list — along with award-winners Mike Enright from The Barber Shop, Jeremy Shipley from Solotel, and Hayley Morison from Beam-Suntory.
Here's a few highlights from the discussion.
JASON WILLIAMS It's clear that a lot of the 50 Best Bars have a strategy and an outreach campaign, whether it's through popups or guest bartending and stuff like that, but also overwhelmingly, they're all amazing bars, they all have an overwhelming commitment to quality, and it's tough to do as a business. They're not scrimping on the glassware or the uniforms or the music curation or whatever it might be. They're all passion projects — the guys from Dead Rabbit spent years trying to open that venue, on two continents.
ADVERTISEMENT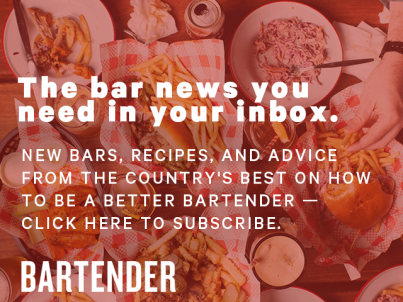 &nbsp
JASON SCOTT For me, something that isn't replicated around the world is just our sense of fun in the service, there's a bit of banter going on, the great Australian bar is pretty unique. It's something we bring to the table and we should amplify it as much as possible. I think everyone goes to a bar to have fun. Once you've given up evaluating the glassware and the drink curation and that sort of stuff, once you're three drinks in, you're kind of looking to have some fun. Which is a part of the bar experience that these listings is don't take into account, they don't measure how much fun you're having.
LUKE WHEARTY As soon as we did start getting these accolades, I pulled my team aside and gave a pat on the back, everyone should be proud of themselves, but realise it's going to be 100 percent more difficult from now on in, because people do come in and try and nitpick and whatever. And especially with the style of bar that Operation Dagger is, it does open itself up to being nitpicked because we do, in meticulous detail, we focus on these little things whether it be the glass or the garnish, and there's always someone for whom it won't be their cup of tea. I've always said from day one that Operation Dagger isn't the bar for everyone. In saying that, is it one of the world's best bars? I don't know, you'd have to tell me. But it's a really difficult thing to categorise — who's to say that the bar on the corner of the street that just serves beer and whisky isn't as good as the Dead Rabbit? To me if you're in on the jokes [with the staff], and you feel good, then on that night it's the best bar in the world.
If you got into it for awards, then you got into it for the wrong reason. We did what we did before the accolades, and if we din't get them we would still be doing that because it's what I love doing.
MIKE ENRIGHT I don't know if [the awards] made us any busier. Awards are good for staff morale and recruitment, and if you don't win an award, then it just means that you've got to get better at what you do. You go back to the table and figure out how you're going to write your menus, what your going to do, what does the customer want as well.
JEREMY SHIPLEY When you talk about these great bars there's always a key person who drives that ship, that everyone always wants to go and see, and I think it always starts from the top. The staff, for me, really make the guest experience.
JASON SCOTT The awards definitely help — the staff want to work there, and it's like an independent congratulations, rather than just me going 'good job, guys' at the end of the night. You got to treat them with respect. There's some people who just like being in busy bars and they like being flogged and doing 60 hours a week, and they kind of seem to end up with us. You've got to pay, better than the competitor — no-one really leaves for less money. And you got to reward them.
JASON WILLIAMS In the consultancy work we do, we talk a lot about concept. There's a vision and a concept, Swillhouse and these guys here have nailed it because they've had a vision and they've had a concept and they've stuck to it. It's not so much a theme, maybe they've got one in their mind but it doesn't come out in this Disney, cartoonish way, but it comes through the experience. There's definitely a concept that has to be stuck to, but there's a fine line between doing it for yourself or doing it for the guest experience.
HAYLEY MORISON A bar needs to find their brand and they need to be true to their brand, and true to the strategy that they have. Remember, consumers have a very different point of view of what they want than do bartenders. Bartenders are experienced, they know booze but consumers are new to this.