Byron has been the home and/or holiday destination of the macadamia milk-drinking, hemp-wearing, barefoot earthing, bone-broth guzzling, yoga-loving set even before those things were trending all over the place. It's the preferred nesting spot for returning Aussie film stars and a highfalutin holiday spot but it wasn't always the case. Byron Bay, on the New South Wales north coast, started out as just a working-class town known for mining and whaling. Say what? I think a few vegans just died. But yep, that's right, in the 1950s a company called Byron Bay Whaling Co was a big player in town.
Thankfully, whaling fell out of favour and in the 1960s surfers moved into the area. They were followed by the hippie crowd who came in droves for the 1973 Aquarius Festival. It was pretty much Australia's Woodstock – a ten-day event (that only happened four times) that attracted something like ten thousand people and was widely considered the birthplace of the hippie movement in Australia. Once it was over, lots of the festival folk stuck around and the chapter of the 'peace, love and mung beans' Byron Bay was well underway.
These days Byron is so popular (and expensive) it's well and truly into its phase which I will call Byrondi. Byron meets Bondi. And while you hear
people moan nostalgically about how awesome Byron was 15 years ago, it hasn't been all bad news. I mean, let's face it, when you spend 15 grand renting a house for a week, you want a decent coffee, and you will get it. And it's not like the hippie charm has completely gone. There are at least eight different yoga studios in town, hempshakes a-plenty, windchimes, dreamcatchers, and incense. But truth be told my favourite bit of real Byron came in the form of our cab driver with his dreads and his anti-establishment rant about cops stealing his car and his invitation to the Cacao Festival he was planning on the Gold Coast on the weekend – "it will be really sensual," he said. "it's just loads of people vibrating on the same high frequency, you guys should come…" I loved him so much I nearly kidnapped him and put him in my carry-on luggage. As we left the cab (no, I didn't kidnap him), my mate asked where he was from. "Sydney," he said, "moved up here a few months back".
Anyway, who cares about authentic hippie charm. We just wanted a few good meals, some delicious drinks and a sunny day at the beach. And we got all those things. So read on for our top tips in Byron right now…
The Bolt Hole
9 Fletcher Street, Byron Bay
Open Wed – Sun, 5pm till midnight
ADVERTISEMENT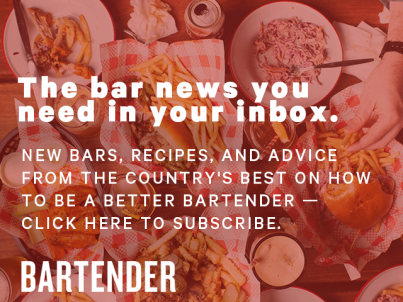 &nbsp
Byron's own industry hang-out and a recent nominee in the Regional Bar category at the 2018 Bar Awards, The Bolt Hole serves up peace, love, grog and barbeque in equal amounts. The man at the helm, Chris Mills, has brought along a kit full of experience thanks to time spent at The Barber Shop in Sydney and he's brought a whopping spirits selection and cocktail know-how to this coastal town.
To make the most of the view at The Bolt Hole you have to navigate some stairs but it's primo position in the heart of town gives you panoramic views of the Byron hinterland where you can sip on some whisky or a tinnie (it's a bottle-free venue) and watch the sunset with some blues and barbeque cranking in the background.
The digs themselves are pretty eco-hipster. Lots of reclaimed goods have been repurposed for the fit-out including timber beams from a closed surf shop and a backpackers. Even an old lawnmower has been refitted into a coffee table. Inside it's all green chesterfields and antique light fixtures. Did anyone say Byrondi? Okay, that's the last time I promise.
The 6m bar showcases over 200 whiskys & gins and serves craft cocktails, artisanal spirits, organic wines and canned craft beers from all over the world. On the cocktail front, you'll find a creative list with highlights including the Memphis Bid'ness – Chorizo Mezcal, Aperol, Pineapple Vinegar, Memphis BBQ Bitters, Lemon & Tajin. They also boast two signature bottled cocktails – the Bulletvardier (Laphroiag, Campari, Vermouth, fig & cinnamon bitters & Coffee) and the l'Sage (Jim Beam Ry, Citric Sage & Cardamon Bitters).
But the big push here is about being eco-friendly from the eucalyptus cleaning sprays to the handmade soy candles in recycled jars. This is something owner Chris Mills is really passionate about. "We don't waste any fruit," he says. "We make all our own juices and syrups and skins are used as garnish."
The hand-crafted wood fired smoker imported from the US is the source of the 'low and slow cooked' BBQ treats all ethically sourced locally with seasonal variations including Certified Angus Beef (CAB) Brisket, Smoked Berkshire Pork, Apple Wood Smoked Pork Ribs, Smoked Sticky Salmon, Hickory Smoked Chicken and some killer burgers.
Balcony Bar & Oyster Co.
Corner of Lawson Street & Jonson Street, Byron Bay, NSW
Open 7 days
Since acquiring The Morrison back in 2012, Sydney hotelier Fraser Short has been busy acquiring a bunch of other iconic venues into The Sydney Collective. This includes Daniel San and The Beachside Dojo on the Manly waterfront, Northies Cronulla Hotel, Mona Vale Hotel and of course, Watsons Bay.
In 2016, The Sydney Collective, stretched its wings beyond the city limits, taking over the iconic Balcony venue in Byron Bay, with a completely new-look and a slightly new name – Balcony Bar & Oyster Co. Byron Bay was a natural fit for the company. According to Short, some people are lucky to have Byron Bay as a home away from home but for most of us it's a dream destination. "The Sydney Collective is really a lifestyle company that doesn't want to be too serious," he says. "So a little business in a magical place like Byron really suits our direction and advances our ability to offer our staff and customers amazing experiences outside of Sydney, while interacting with our company and teams." 
And you couldn't really ask for a better spot. If you've been to Byron, you've been to Balcony. It's just metres from Main Beach, and sits one floor up, looking over the buzzing streets of the Byron town centre. And what they do, they do really well. It's a place for big groups to chill out on the deck, eating freshly shucked Australian oysters (on ice of course), with an icy cold beer and of course, the signature cauliflower popcorn with habanero mayonnaise. They also have a rotating menu of specials which include $1 oysters and $12 espresso martinis so check their website for special events.
Once again, head chef Sean Connolly has brought his magic touch to the venue with his food offering. Short and Connolly have a long working relationship and the contemporary menu focuses on locally sourced and sustainable produce. Being beachside, you'd expect a bounty of other fresh seafood and the menu doesn't disappoint – with Peel 'N' Eat Yamba Prawns, Crab & Lettuce Tacos and Duck Fat Fish & Chips.
While on the drinks front, the menu is short and sharp featuring a good range of cocktails, beer, wine and spirits for the beachside locale. Lots of local beers with a particular focus on Stone & Wood, a local Byron Bay brewery. Cocktails are necessarily of the thirst quenching variety – think the Chilli Coconut with lots of rum served in a whole coconut or the Ginny Hendrick's- a concoction of gin, elderflower and cucumber. And if you're on a wellness getaway, don't be deterred, there is a list of raw drinks featuring fresh young coconuts and kombucha.
Open late seven days a week, Balcony Bar & Oyster Co., has breathed new life into an old Byron staple. If you're not lucky enough to live there already (or nearby) and that's probably most of us, then add it to the bucket list.
Raes on Wattegos
6 – 8 Marine Parade, Byron Bay
Lunch & Dinner, 7 days
Yet another icon of the Byron Bay dining scene, Raes is a place you have to visit at least once in your life. The Spanish-inspired mansion (which has had a recent overhaul) is perched above Wategos Beach and encapsulates old Hollywood glamour. If you can afford it, you should probably stay here at least once, too. Rooms start at about $620 a night but a penthouse is more like $1500 plus so it's not for the budget traveller.
Known for its long lunches, the 50-seat dining room features contemporary Australian cuisine with a Mediterranean twist from chef Jason Barratt. It's definitely a place that's all about the seafood – with a menu featuring oysters galore, scallops and fish, many different ways. For those industry die-hards it was also nice to catch Dustin Davis, one of Brisbane's finest bartenders (circa 2004) working the floor like a champ.
Bayleaf Café
2 Marvell Street, Byron Bay
7 days, 7am till 2pm
Let's face it, Byron Bay is the kind of place that makes you think of wellness – a bit of hot yoga, a spa day, a lighthouse walk maybe some surfing if that's your thing. It's the whole balance thing, right? If I do some good, healthy stuff I can justify eating seven bowls of cauliflower popcorn with many, many glasses of rose.
But you can definitely put your breakfast in the healthy basket if you go to Bayleaf Café on Marvell Street. There is the usual offering of eggs done all different ways with your own selection of sides like avocado, tomatoes, pulled pork and the like. But my top pick is the brekkie greens – a dressed mix of raw broccoli, shredded kale, avocado, chilli, buckwheat grains, herbs and pistachios served with two poached eggs. The coffee is also on point.